Place
American Beach Nana Sand Dune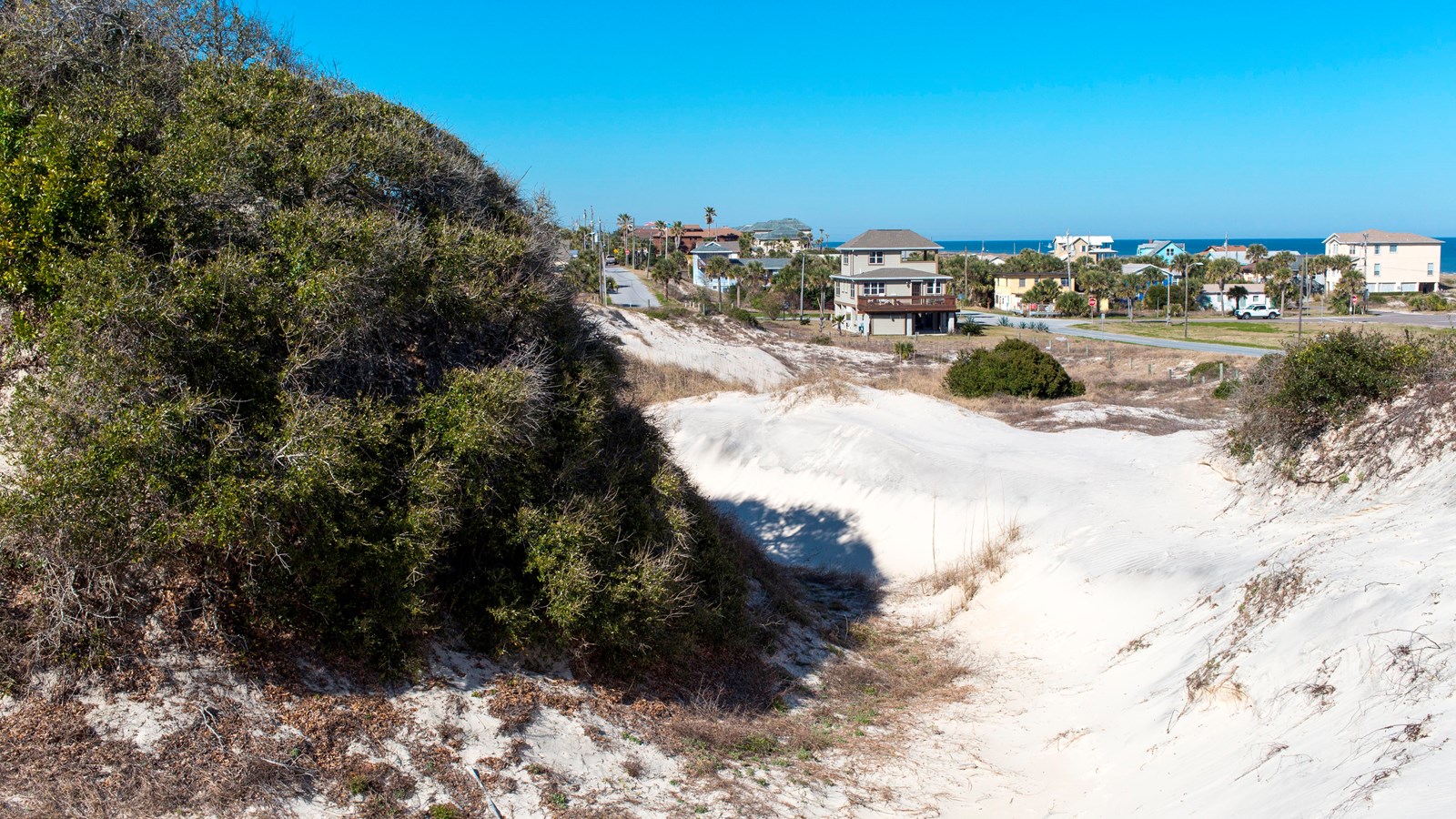 Location:
Off Lewis Street
Significance:
Beach for African Americans during Segregation
Beach/Water Access, Historical/Interpretive Information/Exhibits
Today the quiet little community of American Beach on Florida's Amelia Island is in transition. Modest vacation homes dating from the 1930s share space with vacant lots, abandoned buildings, and newer, more elegant structures. High-rise condos and beachfront mansions have risen to the north and south in adjacent resorts. Though small in area, American Beach has played a significant role in recent African American history. After the Civil War, and extending well into the 20th century, laws barring African Americans from public facilities were common throughout the American south. Not until passage of the Civil Rights Act of 1964 did these so-called Jim Crow laws begin to disappear. Until they did, blacks simply could not claim the same rights and privileges that white Americans enjoyed. All along Florida's spectacular shoreline, for example, African Americans were denied entry to most public beaches. American Beach was created to address that situation. Commercial establishments – motels, guest houses, restaurants, nightclubs – sprang up along with new summer homes, and American Beach became a magnet for vacationing African Americans from across the country. Visitors could find rooms at the A. L. Lewis Motel, Williams's Guest Lodge, and Cowart's Motel and Restaurant. Homeowners took in additional vacationers or rented out their homes for part of the summer. For day visitors, excursion buses ran between nearby minority communities and the beach. Out on the beach, there were surf fishing and shell gathering, beauty contests and automobile races, and the warmth of friendly faces. A number of small shops sold snacks and ice cream. The Rendezvous and Ocean-Vu-Inn offered dining and dancing. After dark, there was live entertainment.
American Beach is located on the south end of Amelia Island, along A1A between Jacksonville and Fernandina Beach.
The National Park Services owns the 8.5 acre sand dune. The "Evans Rendevous" building (not available for touring) was acquired by the Trust for Public Land. A project through the African American Civil Rights Grant Program, which works to document, interpret, and preserve the sites and stories related to the African American struggle to gain equal rights, is funding ongoing rehabilitation work at Evans' Rendezvous. The majority of other land at American Beach is held by private landholders - please respect their privacy.
Restrooms can be found at Burney Beachfront Park. There are no other visitor services or facilities for the public at American Beach.
Last updated: February 2, 2021