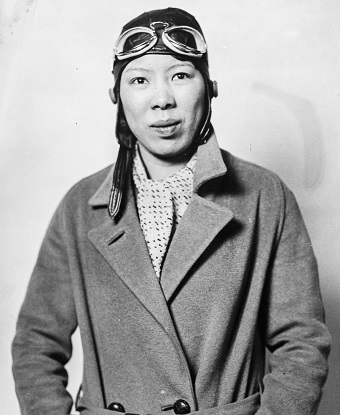 Significance:
First U.S.-born Chinese American woman to earn a pilot's license
Place of Birth:
Portland, Oregon
Date of Birth:
September 25, 1907
Place of Death:
Portland, Oregon
Date of Death:
July 21, 2001
Place of Burial:
Portland, Oregon
Cemetery Name:
River View Cemetery
By Fort Vancouver National Historic Site Volunteer-in-Parks Dr. Robert Staab

Early Life
Leah Hing was born in 1907 in Portland, Oregon. Her parents were Lee Hing, an herbalist and farmer who owned a medicine and tea store, and Ah Sin Hing. While her father, Lee, had also been born in Oregon to Chinese parents, Hing's mother had immigrated to the United States from Canton, China, around 1901. In 1912, the family moved to a house in the Ladd's Addition neighborhood of Portland. Hing lived there her entire life. Ladd's Addition was one of the few parts of the city where Chinese and other Asians, along with Italians, were able to buy homes prior to World War II. Even there, however, Chinese would-be homebuyers faced discrimination, and often had to use a white person as a front to purchase the house, then later transfer title to the Chinese buyer.
In 1927, as a student at Washington High School, Hing started a band called the Portland Chinese Girls' Orchestra. Hing played the saxophone. After graduation, the band joined "Honorable Wu's" vaudeville troupe and toured the United States and Canada. Their signature song on this Depression-era tour was "Happy Days are Here Again."
While playing in Chicago, Hing took her first airplane ride at a school for Chinese-American aviators. Soon after, she returned to Portland to work as a cashier in her father's restaurant, the Chinese Tea Garden, but was determined to become a pilot.

Becoming a Pilot
In 1932, Chinese immigrant Katherine Sui Fun Cheung began training as a pilot with the Chinese Aeronautical Association in Los Angeles. Later that year, she received her pilot's license and became the first female Chinese American pilot. Cheung became a well-known aerobatic pilot, performing spiral dives, inverted flying, and rolls. She told the audiences who came to watch her fly, "I don't see why a Chinese woman can't be as good a pilot as anyone else...We drive automobiles. Why not fly planes?"
Also in 1932, as Cheung was beginning her rise to fame in California, Tex Rankin, a national figure in the world of aviation, ate at the Chinese Tea Garden and met Leah Hing. John Gilbert "Tex" Rankin started a flying school in Portland in 1923, but moved his operations to Pearson Field for the years 1924 through 1926. Rankin's school taught many early Northwest pilots. Rankin suggested that Hing should "take up flying," and Hing agreed. In a 1980 interview, Hing stated that "there was no antagonism against women pilots, for Rankin taught many women." One of Rankin's most famous students, Dorothy Hester, was an aerobatic pilot known as "Princess Kick a Hole in the Sky."
Hing started her lessons at Rankin's tiny airfield in the Vanport section of Portland. She also passed a written test based on ground and navigation requirements. According to Rankin, Hing was a natural. He stated, "She did everything right. That's unusual for the first time for anyone."
Perhaps fueled by Cheung's accomplishments, the beginning of Hing's training was a source of interest for newspapers nationwide. New York's Post Star published a short article and photograph in its April 1, 1932, edition, calling Hing the "Chinese Miss Lindy," after aviator Charles Lindbergh. The article further stated that "Leah says her people must develop much further in the field of aviation, because 'a country sees only through the eyes of its fliers.'" A short article also appeared on April 10, 1932, in the Santa Cruz Sentinel, which reported that Hing wished to earn her pilot's license "so as to return to the Orient and become an aviation instructor for women." On March 6, 1932, The Oregonian quoted Hing as saying, "I believe that women can learn to fly as easily as men...eventually there will be just as many women flying as men."
Hing also trained with Pat Reynolds, a reserve officer with the 321st Observation Squadron at Pearson Field. In 1934, she received her pilot's license, #2741, making her the first U.S.-born Chinese-American woman to earn one.

Flying Career
Leah Hing had trained various biplanes. After obtaining her license, in 1936 she purchased a 1931 Fleet Model 2 (later modified to a Model 7) from the Chinese Aeronautic Association of America. She eventually sold that aircraft to the Olympia Flying Service and purchased a more capable Travel Air biplane from fellow aviator Dorothy Hester. Over the years leading up to World War II, she housed her planes in a hangar at Pearson Field. 
Hing flew passengers (one at a time, since her aircraft was a two-seater biplane) in the Portland-Vancouver area, and sometimes as far north as Seattle. She did not strive to become an aerobatic aviator, as Hester and Cheung had been, or racing, later stating that she did not feel that she was a "dare devil in the sky." However, she became an accomplished and capable flier, once flying to Eastern Oregon "for breakfast."
Like many pilots of that period, Hing did suffer some mishaps. In 1936, in Vancouver, Washington, another pilot accidentally taxied his plane into Hing's causing her plane to catch fire. The plane was unoccupied, but the damage amounted to $500. In 1937, she crashed while landing at Seattle's Boeing Field; her open cockpit plane was damaged, but she was not injured.
In 1939, she became a member of The Ninety-Nines, an organization for women aviators founded by Amelia Earhart. In 1941, Hing became the secretary-treasurer for the group's Northwest chapter.
During World War II, Hing was disappointed that her father would not allow her to return to China as a pilot fighting Imperial Japan. Instead, she worked with the West Coast Civil Air Patrol doing ground training and helping in the repair of navigational instrument equipment at the Portland Air Base.

Life After Flying and the Aero Club
After 1941, Hing ended her flying career. In 1947, her pilot's license expired. Unable to join Portland's Aero Club, a social club for private pilots and aviation enthusiasts, because she was Chinese, she instead worked as a "hat check girl," switchboard operator, photographer, and receptionist for the club. She continued to work there until she retired at age 70. She never became a member. Leah later said that she was not anxious to fly again, and "enjoyed flying as a passenger."
Leah Hing remained active in Portland's Chinese community, coaching girls' basketball, raising money for the elderly, and aiding in the citizenship process for immigrants. She died at home in 2001 at the age of 94, surrounded by friends and family. She thought of herself as "sort of a rebel" who liked doing challenging things. As her sister-in-law remarked, "She was going to do what she wanted to do."
Bibliography
Alley, Bill. Images of Aviation: Pearson Field, Pioneering Aviation in Vancouver and Portland. Charleston, SC: Arcadia Publishing, 2006.
"Chinese Girl Flying Pupil Quick to Acquire Knack." The Oregonian. March 6, 1932. p. 4.
"Chinese Girl Pilot not Injured but Her Plane Damaged, Seattle Crash." Statesman Journal. September 16, 1937. p. 1. Retrieved May 16, 2019.
"Chinese Miss Lindy." The Post-Star. April 1, 1932. p. 18. Retrieved May 16, 2019.
"Escaped Uninjured In Plane Collision." The Billings Gazette. July 3, 1936. Retrieved May 16, 2019.
Federal Census. Year: 1920; Census Place: Portland, Multnomah, Oregon; Roll: T625_1498; Page 1B; Enumeration District 6.
"Lea Hing." Santa Cruz Sentinel. April 10, 1932. Retrieved May 16, 2019.
Portland, Oregon, City Directory, 1931.
"Named Vice Chairman." Albany Democrat-Herald. January 15, 1941. p. 2. Retrieved May 16, 2019.
Leah Hing Oral History Interview, with Patricia Keith, June 2, 1980. At the Oregon Historical Society. OrHi/Cassette/629.13092/H663k/1980. SR 9130.
Roberts, Dmae. "My Turn." The Asian Reporter. March 21, 2016. Retrieved May 16, 2019.
Walker, Jon. A Century Airborne: Air Trails of Pearson Airpark. Rose Wind, 1994.
Wang, Amy. "6 Portlanders' family stories of exclusion for being Chinese." The Oregonian. February 21, 2016. Retrieved May 15, 2019.
Last updated: October 12, 2022