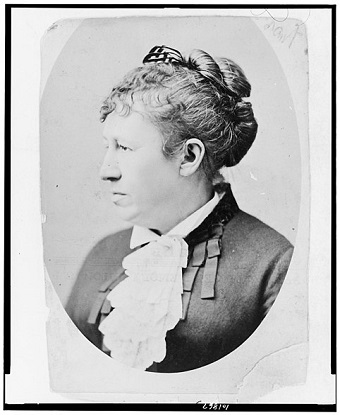 Significance:
Wife of General and President Ulysses S. Grant
Place of Birth:
Saint Louis, Missouri
Date of Birth:
January 26, 1826
Place of Death:
Washington, DC
Date of Death:
December 14, 1902
Place of Burial:
New York, New York
Cemetery Name:
General Grant National Memorial
Julia Dent Grant was born in St. Louis, Missouri on January 26, 1826. Although a typical woman of her era in some respects, she was extraordinary in many other ways. She had great strength of character, shared in the mixed fortunes of her husband Ulysses S. Grant, loved and cared for her family, and fulfilled her patriotic duty as First Lady. She captured many of her life experiences in writing The Personal Memoirs of Julia Dent Grant (Mrs. Ulysses S. Grant), the first memoir to be written by a First Lady. 
Childhood
Julia Boggs Dent was the daughter of English-American parents Colonel Frederick Dent and Ellen Wrenshall Dent. She was the fifth of seven children who lived to adulthood and the first girl. Her energetic nature was matched by a firmness of will. Growing up at White Haven, an 850-acre property in St. Louis County owned by her father, Julia was a very active child who fished, rode horses, and played in the woods. White Haven was also a slave plantation, and many of Julia's playmates as a young girl were enslaved children who lived also lived on the property. The girls Julia played with as a child became her enslaved servants as they all transitioned to adulthood.
Courtship and Marriage
As a schoolgirl, Julia declared that she would marry "a soldier, a gallant, brave, dashing soldier." After returning home from boarding school, she met that soldier in Ulysses S. Grant. initiatlly invited to White Haven by Frederick T. Dent, Julia's brother and his former West Point roommate, Ulysses soon became a frequent visitor. He and Julia enjoyed walks and horseback rides. Grant proposed on the front porch of White Haven in the spring of 1844, but their marriage was delayed until August 22, 1848, due to his service in the war with Mexico. Their 37 years of marriage were marked by love, trust, and respect, and Julia fondly recalled her husband as "the nicest and handsomest man I ever saw."
 
Motherhood
The Grants had four healthy children: Frederick, Ulysses Jr. (called Buck), Ellen (called Nellie or Missy), and Jesse. Although Ulysses' army duty took them to the far corners of the nation, Julia returned home to White Haven for the birth of their first child and after the birth of Ulysses Jr. in Ohio. Their last two children were born at the White Haven estate after Grant's resignation from the army in 1854. Julia's love for her children was constant, and she always made sure to broaden their horizons through education, the boys' accompanying Ulysses at the front during the war, the children's attendance at White House social functions, and their inclusion on the Grants' around-the-world tour.
 
Farming and Life at White Haven
By 1855, the Grants farmed 80 acres of land given to Julia as a wedding gift by her father. Ulysses also managed the rest of the White Haven estate. Those days were financially trying for the Grants, but Julia remained supportive of her hard-working husband. She considered herself "a splendid farmer's wife," raising chickens and even churning butter. Except for making cake once a week, she left the cooking to the enslaved laborers. During the Civil War, she served as the financial manager and agent for White Haven in her husband's absence, leasing sections of the farm, collecting rent, and consolidating land titles. Even through the Presidency and her travels, she still called the farm "home."
Mrs. General Grant
As it did for most Americans, the Civil War dramatically altered the Grants' lives. In 1861 Ulysses immediately left to serve in the Union army, and his responsibilities kept him away from home for most of the war. Letters helped to ease the pain of separation, and Julia frequently traveled to her husband's encampments, both alone and with the children. It is ironic to note that Jule, an enslaved woman owned by Julia's father, assisted with the children's care on such trips through early 1864 before running away to freedom. The family's presence seemed to have a stabilizing influence upon Grant. With a strong desire to contribute to the war effort, Julia became a trusted confidant and often offered suggestions to her husband, such as inviting President and First Lady Lincoln to visit them at the front. She even asked her husband (unsuccessfully) to let her act as an emissary for proposed peace talks with the Confederates in 1864.
First Lady
During Grant's two terms of office (1869-1877), Julia was an active participant in presidential matters. She attended Senate hearings, read through the president's mail, and met with cabinet members, senators, justices, and diplomats. She reveled in her role as hostess to the nation, and all accounts reflect the warmth and home-like atmosphere she brought to the White House. Indicative of this were her afternoon teas and public receptions open to everyone, and the elaborate wedding held in the White House East Room for her daughter, Nellie, in 1874. Julia also became a grandmother for the first time while living there. She enjoyed her time so completely at the White House that she felt like a "waif" when they departed in 1877.
Retirement
Following the conclusion of Grant's presidency, Ulysses and Julia embarked on a two-and-a-half year world tour that began in May 1877. They met dignitaries and common people of many countries, visiting many exotic points of interest along the way. It was a welcomed break from the political turmoil of the presidency, and they were treated as American celebrities. Nearly one-third of Julia's memoirs are devoted to recollections of this trip, clearly a high point of her life. She noted that in foreign countries Ulysses finally got the recognition and respect he deserved. Unfortunately, the Grants fell victim to a Wall Street financial scam that left them nearly penniless several years after the world tour. Worse, Ulysses was diagnosed with inoperable throat cancer, and Julia's future welfare was cast into grave doubt.
Final Years
In a last effort to provide for his family, Ulysses S. Grant finished writing his memoirs in 1885, just before his death on July 23rd at Mt. McGregor, New York. The profits from Ulysses' memoirs left Julia a wealthy woman, and she chose to live in homes in New York City and Washington, D.C. for the last seventeen years of her life. Julia worked to promote and sustain the memory of her beloved husband. In 1897, she attended the dedication of Grant's Tomb in New York City with President William McKinley at her side. Her many friends and acquaintances included Jefferson Davis' wife Varina, Jane Stanford, and Theodore Roosevelt. Julia also planned to leave her memoirs for the world. Once completed, she had difficulty finding an editor with whom she could agree, and it was not until 1975 that they were published. She died form heart and kidney complications at the age of 76, and is buried next to her husband in Grant's Tomb. All four of her children outlived her, as did 12 of 13 grandchildren.
Further Reading
Simon, John Y., ed. The Personal Memoirs of Julia Dent Grant (Mrs. Ulysses S. Grant). Carbondale: Southern Illinois University Press, 1975.
Ross, Ishbel. The General's Wife: The Life of Mrs. Ulysses S. Grant. New York: Dodd, Mead & Company, 1959.
Casey, Emma Dent. "When Grant Went A-Courtin'." Unpublished manuscript, Ulysses S. Grant NHS collection.
Last updated: June 11, 2022