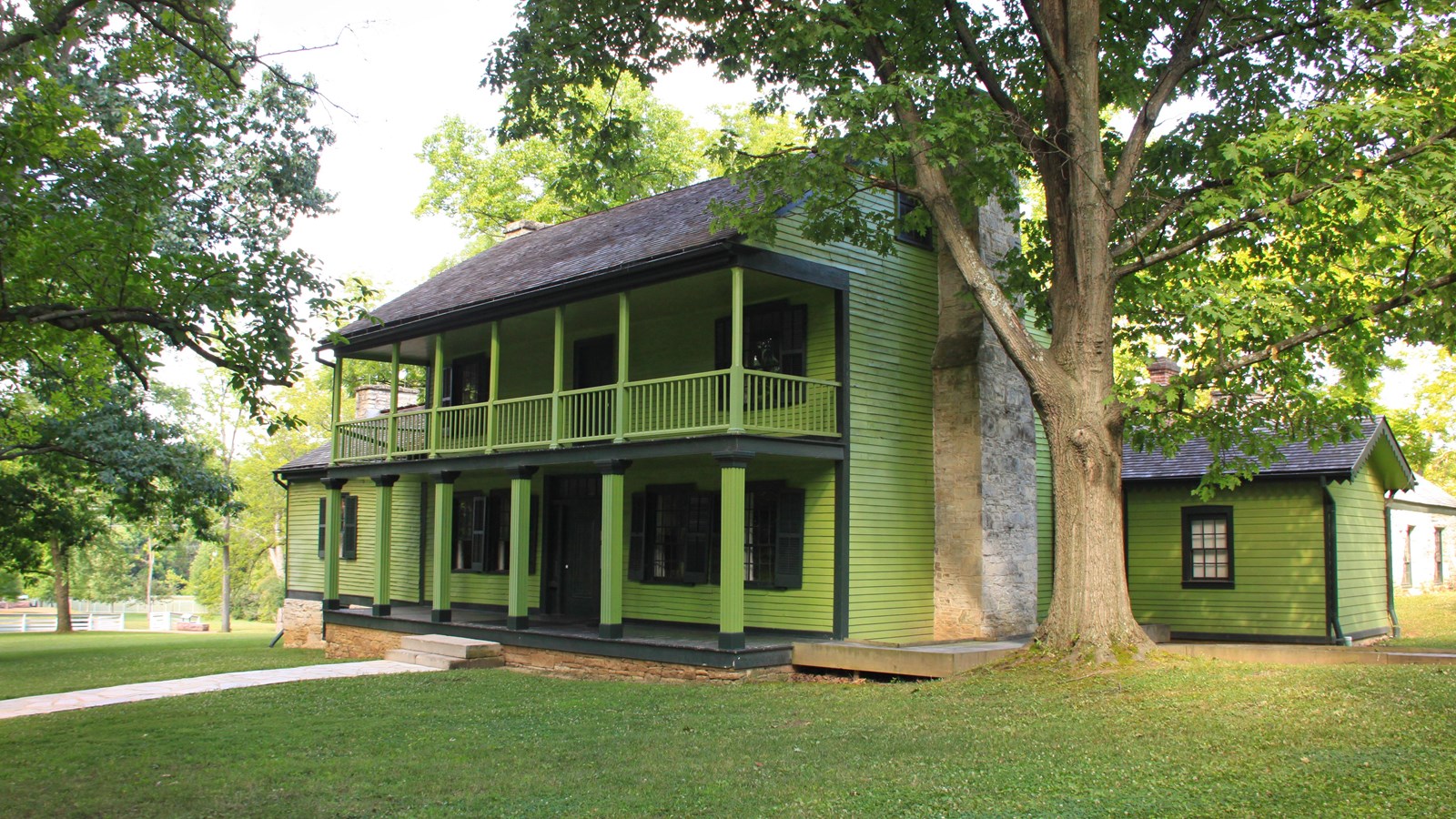 Location:
Grantwood Village, MO
Significance:
The home of Ulysses Grant's wife, Julia Dent, and location of the couple's first home together
Designation:
National Park, National Historic Landmark, HABS/HAER/HALS
Accessible Rooms, Accessible Sites, Automated External Defibrillator (AED), Captioned Media, Cellular Signal, Fire Extinguisher, First Aid Kit Available, Historical/Interpretive Information/Exhibits, Open Captioning, Restroom, Restroom - Accessible, Restroom - Family, Toilet - Flush, Trash/Litter Receptacles, Wheelchair Accessible
"My first recollections . . . were on the south end of the front piazza at our old home, White Haven. Dear papa, coming out with seeming great pleasure, caught me up and held me high in the air, telling me to look, the very trees were welcoming me . . .  I watched too the white clouds flying across the blue sky. All this I distinctly remember." - Julia Dent Grant

The White Haven estate was built between 1812 and 1816 and was the childhood home of Julia Dent Grant. Julia recalled fond memories of family bonding at White Haven. She later boasted that "our home was then really the showplace of the county, having very fine orchards of peaches, apples, apricots, nectarines, plums, cherries, grapes, and all of the then rare small fruits." Meanwhile, upon graduating from the U.S. Military academy at West Point in 1843, a young officer named Ulysses S. Grant was stationed with the U.S. Army at Jefferson Barracks, a military post five miles south of White Haven. Ulysses met Julia at White Haven and they fell in love, later marrying in 1848. After serving for eleven years in the U.S. Army, Grant resigned his commission and decided to try his hand at farming at White Haven. From 1854 to 1859, the Grant and Dent families, along with enslaved African American laborers, lived and worked at White Haven. 

As Ulysses S. Grant rose to prominence as the victorious general of the American Civil War and the country's 18th president, his connections to White Haven continued. Grant purchased the property after the Civil War and hired a caretaker to live at the main house and manage the farm. During his presidency, Grant invested money to make the farm a horse breeding operation. He also helped design a large stable for his horses that was completed in 1871. The Grants considered retiring to White Haven at some point in time, and President Grant recalled in a speech that St. Louis was one of the only places he had ever felt a connection to. Plans changed, however, and the Grants eventually retired to New York City after the completion of their world tour in 1879. Ulysses and Julia nevertheless continued to visit White Haven on a periodic basis after the Civil War. Their last visit to the home together was in 1883, and they owned the property until a few months before Ulysses died in July 1885. 
Last updated: December 19, 2020