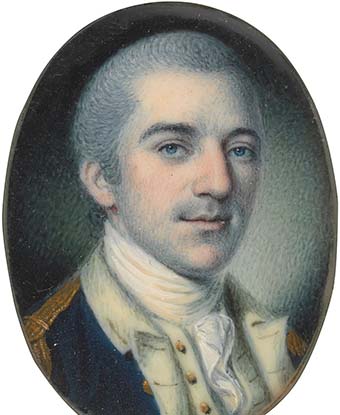 Significance:
Continental Army officer. Aide-de-camp to General George Washington.
Place of Birth:
Charleston, South Carolina
Date of Birth:
October 28, 1754
Place of Death:
along the Combahee River, South Carolina
Date of Death:
August 27, 1782
Place of Burial:
Moncks Corner, South Carolina
Cemetery Name:
Mepkin Abbey, Laurens Family Cemetery
John Laurens was born in Charleston to one of South Carolina's wealthiest planter families. His father, Henry Laurens, was one of the principal men involved in the Atlantic slave trade. After studying under tutors in Charleston, Laurens traveled to Europe in 1771 and received an Enlightment education in London and later Geneva, Switzerland. Laurens lived in Geneva, a city known for its republican values, until 1774 when he returned to London to study law in the Middle Temple at the Inns of Court. 
In December 1776, Laurens sailed home to Charleston to fight for American independence in the Revolution. He left behind in London a pregnant wife, Martha Manning, whom he had secretly married. The following summer he traveled to Philadelphia with his father, who had been elected to the Continental Congress. Laurens joined General George Washington's military family as an aide-de-camp. In the forefront at the battles of Brandywine, Germantown, and Monmouth, Laurens earned a reputation for reckless bravery. The Marquis de Lafayette, writing of Laurens' conduct at the Battle of Brandywine, noted that "It was not his fault that he was not killed or wounded[,] he did everything that was necessary to procure one or t'other."
During the winter encampment of the Continental Army at Valley Forge in 1777-1778, Laurens forged a close friendship with fellow aide Alexander Hamilton. Hamilton and Laurens both lived and worked in the Isaac Potts house, which served as Washington's headquarters during the Valley Forge encampment. 
After the British shifted their attention to the South, Laurens proposed that South Carolina arm enslaved people and grant them freedom in return for their military service. He shared these views with his father in numerous letters.
"I had barely hinted to you, my dearest Father, my desire to augment the Continental Forces from an untried Source … [The raising of black battalions would] … advance those who are unjustly deprived of the Rights of Mankind [and] … reinforce the Defenders of Liberty with a number of gallant soldiers."
In March 1779, Congress approved his idea and commisioned him lieutenant colonel. Elected to the South Carolina legislature, Laurens introduced his black-regiment plan, to be composed of confiscated slaves from Loyalist owners, to the body and was soundly defeated. Despite the need for additional soldiers, the politicians could not accept such a threat to the institution of slavery. Laurens' belief that blacks shared a similar nature with whites and could aspire to freedom in a republican society would set Laurens apart from other South Carolinians for generations to come. 
At the same time, Laurens continued his military service. When the British threatened Charleston in May 1779, he opposed Governor John Rutledge's offer to surrender the city on condition that the state be allowed to remain neutral for the duration of the war. That fall Laurens commanded an infantry column in the failed Franco-American assault on Savannah. After being captured when Charleston surrendered in May 1780, he was exchanged in November. 
In December 1780, Congress appointed Laurens special minister to France. He arrived in France in March 1781. In a whirlwind two-month mission, he obtained a loan from the Netherlands, military supplies, and assurances from the French that their navy would operate in American waters that year. Laurens finished his diplomatic duties in time to join Washington at Yorktown, where the timely arrival of the French fleet under Comte de Grasse secured a decisive American victory. Laurens participated in the light infantry attack commanded by Lt. Col. Alexander Hamilton on Redoubt #10. Laurens represented the Continental Army in negotiations for the British surrender. 
Laurens returned to South Carolina after the victory at Yorktown and made a final attempt to secure approval of his plan for a black regiment. At Jacksonborough, the legislature again decisively rejected his proposal. Laurens served under Maj. Gen. Nathanael Greene and took over command of "Light Horse" Harry Lee's Legion, once Lee left for Viriginia. Laurens, still showing disregard for his men's lives and seeking battlefield glory, was unpopular with the officers and men of the Legion. On August 27, 1782, he was killed in a skirmish on the Combahee River, attacking a superior British force engaged in foraging. 
Washington wrote of Laurens: "in a word, he had not a fault that I ever could discover, unless intrepidity bordering upon rashness could come under that denomination; and to this he was excited by the purest motives." 
Henry Laurens was devastated by the news of his son's death, learning of it while in France negotiating the peace treaty. He returned to South Carolina and made arrangements to have his son's body buried at his Mepkin plantation on the Cooper River. John Laurens' tombstone is inscribed with a fitting tribute: Dulce Et Decorum Est Pro Patria Mori (Sweet and fitting it is to die for one's Country).
Last updated: December 20, 2021