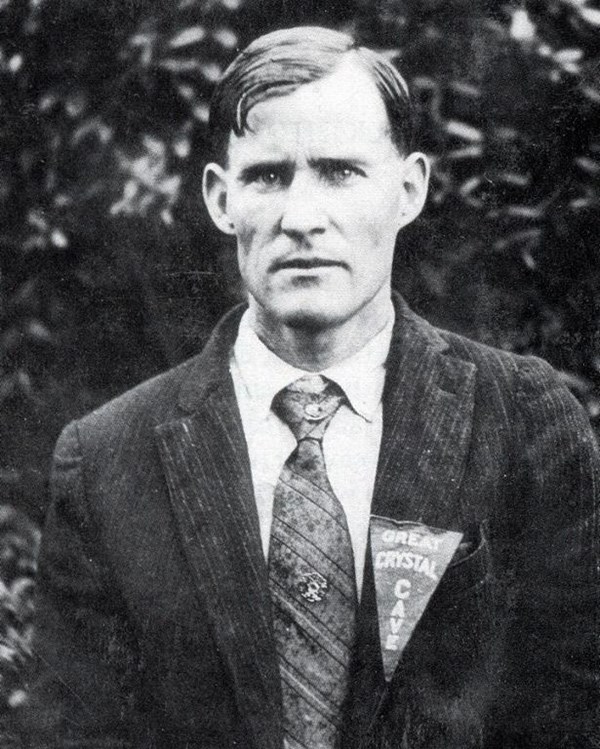 Significance:
Renowned cave explorer whose death brought national attention to the Mammoth Cave Area
Place of Birth:
Logan County, Kentucky
Date of Birth:
June 20, 1887
Place of Death:
Sand Cave, Mammoth Cave, KY
Date of Death:
c. February 13, 1925
Place of Burial:
Mammoth Cave, KY
Cemetery Name:
Mammoth Cave Baptist Church Cemetery
William Floyd Collins, better known as Floyd Collins, was born June 20, 1887 in Logan County, Kentucky to Lee Collins and Martha Jane Burnett. From an early age, Collins showed great interest in caves and cave exploration. During the Kentucky Cave Wars, his family owed a show cave on their family farm called the Great Crystal Cave. Unfortunately for Collins, the cave's location off of the main roadway meant that visitation was low and business was not what he had hoped.
In an effort to find a show cave that was closer to the main road, Collins began exploring a neighbor's cave known as Sand Cave. Sadly, though, on January 30, 1925, Collins became trapped within Sand Cave upon his first expedition. Despite over two weeks of rescue operations he tragically died inside the cave in an event that became a national news story. Today, Collins is buried at the Mammoth Cave Baptist Church Cemetery where visitors can pay their respects to one of our most famous cave explorers.   
Last updated: April 5, 2021