Person
Frederica de Laguna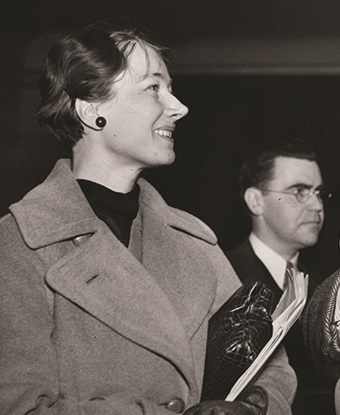 Significance:
An anthropologist and archeologist known for seminal work in the Cook Inlet region, Prince William Sound, and other regions of Alaska
Place of Birth:
Ann Arbor, Michigan
Date of Birth:
October 3, 1906
Date of Death:
October 6, 2004
Dr. Frederica "Freddy" de Laguna was an influential archeologist and anthropologist who worked extensively throughout Alaska. Her trailblazing career spanned more than three decades. Dr. de Laguna's research not only helped lay the groundwork for modern archeology in Alaska, it helped to open the male dominated field of archeology to women in the early 20th century.  

Getting to Alaska  
Frederica de Laguna earned her PhD in anthropology at Columbia University in 1933, with field work focused on Europe and Greenland. Her experience in Greenland studying arctic cultures led to a position as a research assistant on an expedition in Prince William Sound. Before the expedition could start, the leader fell ill, throwing the trip into question.  As a female research assistant in the 1930s Dr. de Laguna wasn't able to use the funds secured by her male expedition leader to carry on with the project. However she secured her own funding for the expedition through the University of Pennsylvania Museum which hired her to catalog items in their collection in return for funding two excavations in Cook Inlet. 
Over the course of two and a half decades, Dr. de Laguna would go on to lead five expeditions to Cook Inlet and Prince William Sound. 
During Dr. de Laguna's first expedition to Cook Inlet in 1930, she chartered a boat called the Dime. Initially, she employed two boat captains, Jack Fields and his partner Harry Lewis. According to Dr. de Laguna "I thought I was getting two men for my money, but the partner took one look at me while I was sitting in the taxi office and faded out of the picture. He was either apparently very shy, or distrustful of women and refused to meet me." Eventually, Dr. de Laguna set sail with Mr. Fields for the south end of Cook Inlet and conducted surveys in Kachemak Bay.  
Later studies in 1933 brought her to the remote west side of Cook Inlet where, even today landing a boat is difficult because of the drastic differences between high and low tide. Dr. de Laguna was able to survey three places on the west coast: Chinitna Bay, Tuxedni Bay, and the village of Tyonek. While expedition funding from the Museum covered part of the costs, Dr. de Laguna self-financed some of her work with royalties from a series of mystery novels she authored.  

Cook Inlet Findings  
Dr. de Laguna's survey's of Tuxedni and Chinitna Bays, in what is now Lake Clark National Park, during the 1930s and 1940s were some of the first archeological studies of the Cook Inlet. In Tuxedni Bay in 1933 Dr. de Laguna discovered one of the only two pictograph sites in Lake Clark. It wasn't until 1975 that she was able to interpret the iconography of the pictograph and made suggestions toward the date it was created. Her findings from the pictograph site and others along Cook Inlet suggested a chronological timeline of cultures that lived on the coast. 
Often, findings from early archeological studies are disputed by subsequent research using more modern techniques. However, Dr. de Laguna's hypotheses remain foundational to archeologists today and have only been reinforced by further study. In 2006, using modern technology, another interpretation of the pictographs in Tuxedni Bay was conducted and confirmed de Laguna's original interpretation.  

A Contemporary View of Early Archeological Methods 
While Dr. de Laguna is a celebrated groundbreaking archeologist, her methods were a product of her time. Dr. de Laguna conducted research prior to the passing of the Native American Graves Protection and Repatriation Act in 1990 (NAGPRA). Before NAGPRA was passed, many scientists, including Dr. de Laguna, collected remains from Native American graves. Since the passing of NAGPRA, artifacts collected from Dr. de Laguna's study sites have been returned to the cultures to which the artifacts belong.   
 
Today, professional and academic archeologists, including those from the National Park Service, adhere to strict professional standards of conduct. In addition, the National Park Service conducts extensive consultation and cooperates with local tribes and Native Corporations when researching or excavating on Federal Lands.  

A Storied Career 
Frederica de Laguna was born in a time when women were not typically scientists, and those who were worked especially hard to be recognized. Against that backdrop Dr. de Laguna's career was particularly remarkable.  
In 1938 Dr. de Laguna taught the first archeology course at Bryn Mawr College where she earned her undergraduate degree. In 1942 de Laguna took a leave of absence from Bryn Mawr to serve in the naval reserve as a lieutenant commander of Women Accepted for Voluntary Service. She taught naval history and codes and ciphers to women midshipmen until the end of WWII in 1945. After the war, she returned to her archeological work and served as the Vice President of the Society of American Archeology from 1949-1950. Frederica de Laguna's extensive work as a pioneering archeologist, scholar, educator, and writer led her to be one of the first women elected to the National Academy of the Sciences in 1986. 
Last updated: July 31, 2020