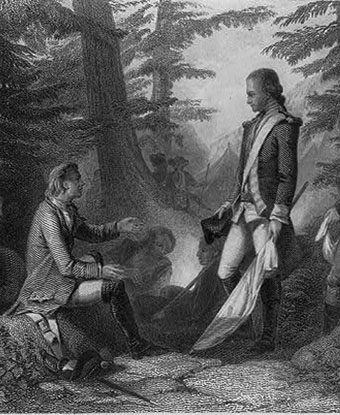 Significance:
Revolutionary War general
Place of Birth:
Berkeley County, SC
Place of Death:
Pond Bluff Plantation, Orangeburg County, SC
Date of Death:
February 27, 1795
Place of Burial:
Pineville, SC
Cemetery Name:
Belle Isle Plantation Cemetery
Francis Marion, the "Swamp Fox," was born at his family's plantation in Berkeley County, South Carolina in 1732. A planter, Marion built his home, Pond Bluff, in 1773 in the area of Eutaw Springs, a site now beneath the waters of Lake Marion. His first military service, like Thomas Sumter's, came in the Cherokee War (1759-1761), part of the larger French and Indian War. His experience in frontier warfare against the Cherokees likely influenced his partisan warfare tactics against the British and loyalists from 1780-82 in South Carolina.
In 1775, Marion was a member of the South Carolina Provincial Congress. On June 21, he was commissioned a captain in the 2nd South Carolina Regiment under Colonel William Moultrie. He was present at the famous Battle of Sullivan's Island on June 28, 1776 when approximately 400 South Carolinians successfully repulsed a Royal Navy fleet attacking Charleston Harbor.
After the victory, he was commissioned a lieutenant colonel in the Continental Army. Marion commanded the Second South Carolina Regiment at the disastrous Franco-American siege of Savannah in autumn 1779. Fortunately for the patriot cause, Marion was recovering at his estate from an injury, incurred from jumping out of a second-story window to leave a party in which the series of toasts had led to distasteful drunkenness, when Charleston fell to the British in May 1780. Escaping to North Carolina, he and a small party joined General Horatio Gates's army but was not present with the force at the defeat at Camden in August.
Marion challenged British rule in the South Carolina lowcountry after these two military disasters and targeted British lines of communication and supply. His tactics frustrated British efforts to mobilize loyalists in the Georgetown District. Between August and December 1780, Marion gained national recognition for his actions at Great Savannah, Black Mingo, Tearcoat Swamp, and Georgetown. British Lieutenant Colonel Banastre Tarleton, sent to find and neutralize Marion and his men, despaired given the difficulty of the mission, stating "as for this old Fox, the Devil himself could not catch him!"
Marion, unlike Thomas Sumter, coordinated effectively in the field with the Continental Army, led by Maj. Gen. Nathanael Greene. Together with "Light Horse" Harry Lee's Legion, Marion captured Fort Watson on the Santee River in April 1781 and then Fort Motte in May, forcing the British to evacuate Camden. Marion commanded South Carolina militia in advance lines along with Brig. Gen. Andrew Pickens at the Battle of Eutaw Springs in September 1781, the last major battle in the Carolinas, in which the British suffered so many casualties they ceased further inland campaigning.
Following victory over the British, Marion returned to his plantation and pursued a career in politics. He served several terms in the South Carolina State Senate and also received the honorary position of commander of Fort Johnson in 1784, for which he received a stipend of $500 annually. He died on his estate in 1795 and was buried at Belle Isle Plantation Cemetery in Berkeley County, South Carolina.
Last updated: March 17, 2021