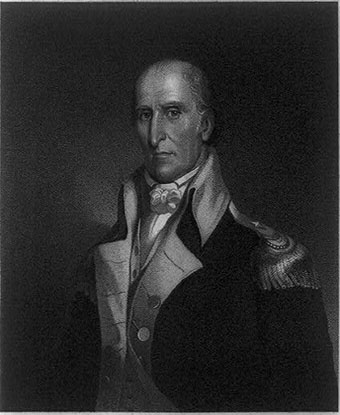 Significance:
Militia officer during the American Revolution. Legislator and congressman.
Place of Birth:
Paxtang Township, Pennsylvania
Date of Birth:
September 19, 1739
Place of Death:
Tamassee, South Carolina
Date of Death:
August 11, 1817
Place of Burial:
Clemson, South Carolina
Cemetery Name:
Old Stone Presbyterian Church Cemetery
Andrew Pickens, a famous patriot militia officer of the American Revolution, was born in Pennsylvania on September 19, 1739, the son of Andrew Pickens and Ann Davis. Of Scots-Irish descent, his family eventually settled on Waxhaw Creek, South Carolina, by 1752. The young Pickens commenced his military career as an officer in the Cherokee War of 1759 - 1761. After the hostilities, he moved to the Long Canes area of western South Carolina and married Rebecca Calhoun on March 19, 1765. The couple had twelve children. This union also forged ties with several prominent backcountry families. 
During the American Revolution, Pickens became one of the most significant leaders of patriot forces in the South Carolina backcountry. He initially served as a militia company commander for Ninety Six District and campaigned against loyalists in late 1775. By 1778, he had attained the rank of colonel of the Upper Ninety Six Regiment and had participated in expeditions against the British-allied Cherokees and in the unsuccessful American invasion of British East Florida. Pickens and his militia, together with Georgians under Col. Elijah Clarke, dealt loyalists in the backcountry a severe defeat on February 14, 1779 at Kettle Creek, Georgia. The victory demonstrated the fragile hold the British had on the backcountry. After the surrender of Charleston in May 1780, Pickens took British protection and was paroled to his home. He renounced protection, however, when the British failed to prevent a loyalist band from plundering his plantation. 
At the Battle of Cowpens on January 17, 1781, Pickens commanded South Carolina militia during the decisive victory over Lt. Col. Banastre Tarleton's British and loyalist forces. Afterward, Pickens was named a brigadier general by Governor John Rutledge and cooperated with General Nathanael Greene's Continental Army as they targeted and captured isolated British posts in the South Carolina interior. Wounded at the Battle of Eutaw Springs in September 1781, Pickens recovered to wage two punitive campaigns against the Cherokees in mid-1782. 
After the war, Pickens served as both a legislator and a negotiator with Native American tribes. He represented Ninety Six District in the state House of Representatives from 1776 to 1788 and Pendleton District in the state Senate from 1790 to 1793. He resigned his Senate seat upon his election to the US House of Representatives, where he served from 1793 to 1795. As a legislator, Pickens worked to establish schools, churches, and a legal system for the South Carolina backcountry. A recognized expert on Indian affairs, Pickens served as a federal commissioner to negotiate peace independently with the Cherokees, Chickasaws, Choctaws, and Creeks in the late 1780s and eventually negotiated a firm peace with the Treaty of Coleraine in 1796. The following year, he and Benjamin Hawkins surveyed most of the southern boundary line between the United States and the Indian nations. 
Pickens served two more terms in the General Assembly from 1796 to 1799, representing Pendleton District. He retired to his plantation, Tamassee, in 1805, coming out only briefly in 1812 when elected to a final term in the General Assembly to prepare South Carolina for war. He died at his plantation on August 11, 1817. His grandson, Francis Wilkinson Pickens, was governor of South Carolina from 1860 to 1862, leading the state through secession and the early years of the Civil War.
Last updated: January 16, 2020