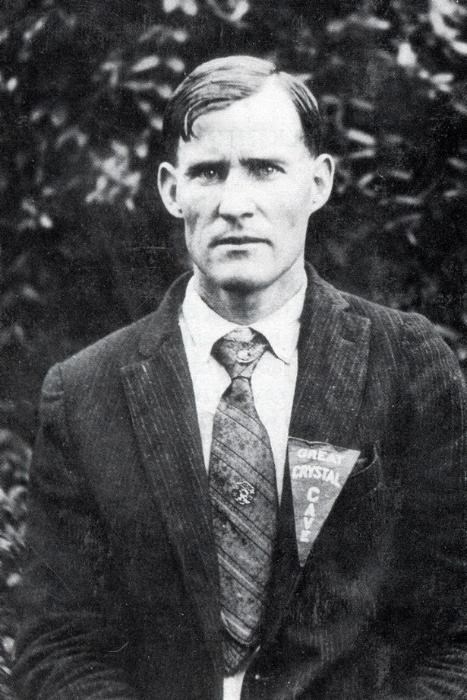 Floyd Collin's Crystal Cave
William Floyd Collins, better known as Floyd Collins, was born June 20, 1887 in Logan County, Kentucky to Lee Collins and Martha Jane Burnett. From an early age, Floyd developed a hobby of exploring caves. This pastime led to the discovery of Crystal Cave in 1917 beneath his father's farmland. Floyd developed the cave into a tourist attraction that boasted unique helictite and gypsum cave formations.

During Floyd's time, cave tourism was a lucrative and very competitive business. Due to aggressive and highly suspicious practices between rival cave owners, this era became known as the "Cave Wars."

Great Crystal Cave made little to no profit due to its remote location along the Flint Ridge Road. Visitors had to pass by many other show caves offering similar enticing views, and they rarely made the extra effort to journey to Crystal Cave.
Sand Cave
Floyd knew of another potential cave located on property owned by Beesly Doyel. This cave, known as Sand Cave, had prime real estate situated right beside Cave City Road. Travelers would easily pass by Sand Cave before continuing to the other show caves such as Mammoth Cave. Floyd entered into an agreement with Beesly Doyel to explore Sand Cave and share the profits if the cave proved worthy to show

Floyd first entered Sand Cave on January 30, 1925 with only a single kerosene lantern and shortly found it offered many challenges. He found himself squeezing through tight passageways – at one point so tight that he had to inch through on his stomach, with one arm stretched out ahead of him, pushing his lantern, and the other arm at his side. Beyond this crawl, the cave began to open up, but his lantern suddenly began to flicker.

Floyd knew the peril of losing light in a cave, so he reluctantly began his return journey. As he returned through the tight crawl, his foot dislodged a 27-pound rock which wedged his ankle in place. Try as he might in his awkward position he could not remove his foot. He was trapped in a stone straight-jacket. Thus begun Floyd's harrowing tale in Sand Cave.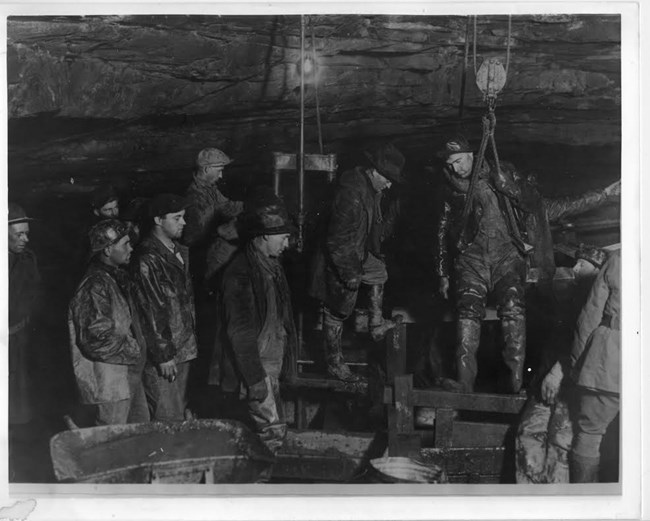 The Rescue Efforts
Once it was discovered that Floyd was trapped in the cave, rescue efforts slowly ramped up. Engineers, geologists, and cavers were called in from all over the local area and state. When more conventional means failed, miners began digging a shaft to reach him. Rescuers worked long hours day and night in hopes of finding a solution to getting Floyd unstuck from Sand Cave. The workers encountered periods of rain and cold weather, cave collapses and disagreements among leaders on how to proceed. The rescue efforts spanned over 17 days with many tactics to rescue Floyd attempted, but all of them ultimately failing.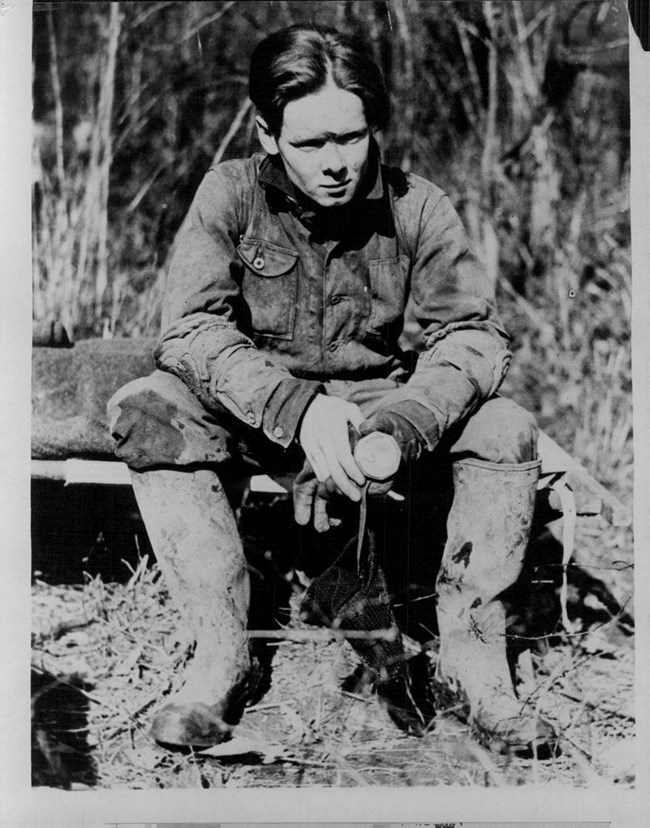 All Eyes on Sand Cave
Throughout the rescue efforts, the story became too big for Cave City. People began to arrive from all parts of the country and a "carnival atmosphere" took hold at the mouth of Sand Cave. Vendors appeared, selling food, drink and souvenirs. Thousands of sightseers descended on Cave City, and the state was forced to dispatch troops to keep order.

Reporters came from all over as the news of Floyd Collins entrapment became a national story. The most notable of these reporters was Willam Burke Miller, called "Skeets" because he was "not much bigger than a mosquito." Skeets Miller made several daring trips into Sand Cave to interview Floyd, interviews which would later earn him the Pulitzer Prize.
A Tragic End
On the eighteenth day after his entrapment, rescuer's finally reached Floyd via a 55 ft. vertical shaft, but it was too late. Floyd Collins was pronounced dead of exposure, and Sand Cave was sealed with Floyd's body inside. Only months later would his body be removed for a formal burial closer to his family's home near Crystal Cave. He now rests in the Mammoth Cave Baptist Church Cemetery.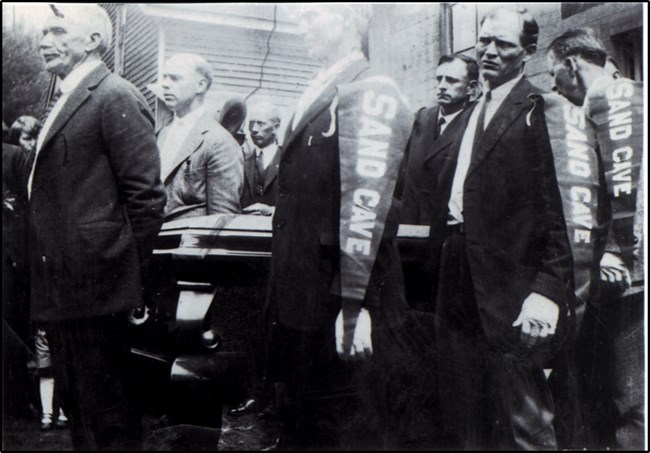 The Story Lived On
The life of Floyd Collins and the tragic events surrounding his death captivated the attention of the country and brought many changes upon the rural community in southcentral Kentucky that is home to Mammoth Cave. His story would later go on to inspire books such as Trapped! written by Robert K. Murray & Roger W. Brucker, and The Life and Death of Floyd Collins written by Floyd's brother Homer Collins & John L. Lehrberger. It was the inspiration for a world toured musical, Floyd Collins, and the 1951 Hollywood film Ace in the Hole. More importantly, the life and death of Floyd Collins drew the nation's attention to Kentucky's cave country and the desire to protect it, eventually leading to the establishment of Mammoth Cave National Park in 1941.
Timeline of Floyd Collin's Entrapment