Person
Elizabeth Lindsay Davis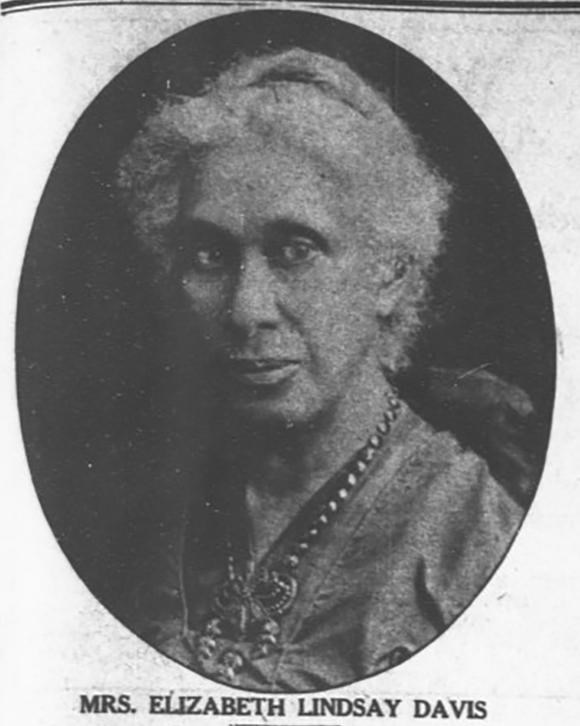 Significance:
National organizer for the National Association of Colored Women; co-founder of the Phyllis Wheatley Woman's Club and founder of the Phyllis Wheatley Home for Girls
Place of Birth:
Peoria, Illinois
Place of Death:
Chicago, Illinois
How do you make a difference in your community?
---
The content for this article was researched and written by Jade Ryerson, an intern with the Cultural Resources Office of Interpretation and Education.
Elizabeth Lindsay Davis was a writer, teacher, and leader in the African American women's club and settlement house movements. Through these channels, she advocated for the civil rights, education, self-determination, and equitable employment of African American women and girls in Chicago, throughout Illinois, and across the United States. Davis served as a national organizer for the National Association of Colored Women (NACW) for twelve years. Founded in 1896, the NACW encouraged self-determination for African American women and their ability to uplift others around them. The group's motto "Lifting as We Climb" underpinned much of Davis's work.
Davis was born in Peoria, Illinois in 1855. She was the oldest of six children born to Thomas and Sophia Lindsay. They participated in local civic clubs and organizations to advocate for African American civil rights. They also promoted better housing, living conditions, education, and access to social services.
As a girl, Davis attended a small, one-room school for African American children. Her parents later sent her to an integrated school 55 miles north in Princeton, Illinois because the schools in Princeton offered Black students a better education than the schools in Peoria. In 1873, Davis graduated from Princeton Township High School with high honors. She also delivered her class's commencement address, "The Past and Future of the Negro."
After graduation, Davis became a teacher. She moved around the Midwest to work at different schools. In 1885, she married podiatrist Dr. William H. Davis. They moved to Chicago in 1893. Davis also wrote an advice column in the Gate City Press and contributed to the Chicago Defender and National Notes, the official organ of the NACW.
After relocating to Chicago, Davis became involved in local, state, and national activism through her work in Black women's clubs. Predominantly middle-class African American women participated in these organizations. They hoped to serve as role models for less wealthy women by protesting discrimination and promoting respectable homes, childcare, and behavior.
Davis served as the first secretary of the Ida B. Wells Club. Anti-lynching activist and journalist Ida B. Wells founded the group in 1893 to aid local African American residents. Some of the Club's successes include the establishment of the first African American orchestra in Chicago and the first kindergarten for African Americans in the Bronzeville neighborhood. The Ida B. Wells Club also opposed racial segregation in Chicago as part of the League of Cook County Clubs. 
In March 1896, Davis co-founded the Phyllis Wheatley Woman's Club. The organization sought to improve the local neighborhood. Some of its initiatives included the closure of a rowdy saloon and the establishment of a sewing school and day nursery. During the late 1800s, many African Americans migrated from the south to northern cities. Because of the influx of African American women to Chicago, the Club also helped recent migrants find safe housing and stable employment. Davis served as club president for twenty-eight years. 
In 1897, Davis and Connie Curl, president of the Women's Civic League, represented Illinois at the first biennial meeting of the NACW. This meeting was held in Howard Chapel on the Fisk University campus in Nashville, Tennessee. One of Davis' and Curl's goals was to secure Chicago as the meeting place for the next biennial. When they succeeded, a group of Black women's clubs from across Illinois, informally known as the 'Magic Seven' decided to organize and coordinate hosting duties. By 1899, this 'Women's Conference' had become the Illinois Federation of Colored Women's Clubs. That year, the NACW hosted its second biennial at Quinn Chapel of the A.M.E. Church, the oldest African American church in Chicago.[1] 
In 1918, Davis served as the official historian of the Illinois Federation of Colored Women's Clubs and wrote its history, The Story of the Illinois Federation of Colored Women's Clubs, 1900-1922. She hoped that the stories of triumph and hardship would inspire younger generations to continue to advocate for Black women's rights. In 1933, Davis finished a second book, just in time for the Century of Progress International Exposition in Chicago. This work, entitled Lifting as We Climb, details the history of the NACW. Davis also wrote about women's suffrage in The Crisis, the official magazine of the National Association for Colored People (NAACP). She and other NACW clubwomen contributed to debates about what a Black woman's role in society should be.
In addition to these larger groups, Davis was committed to meeting the needs of Black women on the South Side of Chicago. She founded a settlement house, the Phyllis Wheatley Home for Girls, in 1908. The home provided housing, health and educational services, and camaraderie for local African American women and girls. Founded in 1926, the last Phyllis Wheatley Home is still standing on South Michigan Avenue near 51st Street.[2] After dedicating her life to Black women and girls' success, Davis died in Chicago in 1944.
Notes:
[1] Quinn Chapel as listed in the National Register of Historic Places in 1979. 
[2] The former Phyllis Wheatley Home for Girls is listed in the Illinois Preservation Services Division's Historic and Architectural Resources Geographic Information Systems database of historic sites and structures.

Selected Sources:
Barlas-Howell, Feride. "Biographical Sketch of Elizabeth Lindsay Davis, 1855-1944." Biographical Database of Black Women Suffragists. Chicago: Harry S. Truman City College of Chicago, 2018. Accessed October 9, 2020.
Bishop, Molly Crusen. "The Lindsay Family Legacy." Peoria Magazine, August 2020. Accessed October 9, 2020.
Cooper, Sarah. "Making History: Elizabeth Lindsay Davis, 1855-1944." BCR News. Published February 24, 2014. Accessed October 9, 2020.
Davis, Elizabeth Lindsay. The Story of the Illinois Federation of Colored Women's Clubs, 1900-1922 ([Chicago]: s. n., 1922). Internet Archive. 
Kennedy, Brigid. "Lifting as We Climb." Chicago History Museum (blog). Accessed October 9, 2020.
Last updated: December 30, 2020