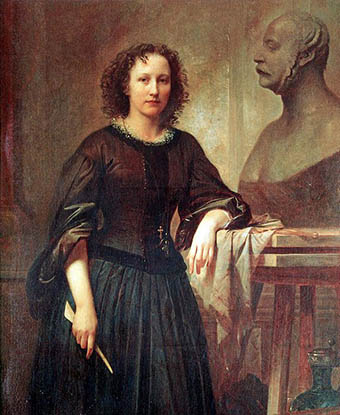 Place of Birth:
Munster, Westphalia, Prussia (now Germany)
Date of Birth:
January 26, 1833
Place of Death:
Austin, Texas
Date of Death:
June 29, 1907
Place of Burial:
Liendo Plantation, Waller County, Texas
Elisabet Ney is a renowned sculptor who had an impressive career in Europe and in Texas, where she emigrated in the 1870s.
Elisabet Ney was born Franzisca Bernadine Wilhelmina Elisabet Ney in Munster, Westphalia, Prussia (now Germany). Her father was a stone carver and sculptor. Her mother kept house. The family were devout Catholics, and Elisabet and her siblings attended parochial schools. As well as her father's career working with stone, several other of her family members were also sculptors. Elisabet grew up hearing from her mother the story of Sabina von Steinbach who had worked on the Notre-Dame de Strasbourg cathedral in the 1400s. It should not have been a surprise, then, when 19 year old Elisabet announced her intention to study sculpture in Berlin. Her parents were against it. They felt it was indecent for a good Catholic girl to travel alone to Berlin; and besides, women were not accepted into the Berlin art schools. Elisabet countered her parents' refusal by going on a hunger strike. Her parents called in the Bishop of Munster who mediated the conflict. Instead of moving directly to Berlin, Elisabet moved to Munich in 1852. The city was largely Catholic, and Elisabet began her studies there while staying with friends of her parents.
Rejected from the Royal Bavarian Academy of Fine Arts in Munich, Elisabet studied with a private teacher. She then reapplied to the Academy. Afraid that having a woman in classes would district the young men of the Academy, the school finally admitted Elisabet on a trial basis. Four months later, she became the first woman to become a regular student in the Academy's School of Sculpture. She graduated in 1854 with highest honors. In 1855, with a scholarship in hand, Elisabet moved to Berlin to attend the Berlin Academy of Art. She studied with noted teacher, Christian Daniel Rauch.As his student, she met several "great persons of the world," a goal of hers from a young age.
In 1863, she married Edmund Duncan Montgomery. He was a Scottish scientist and physician whom she had met while a student in Munich. An early feminist, she insisted on keeping her own name. Edmund referred to her their entire life as "Miss Ney." They lived for a time in the Madeira Islands and then in Rome, where Elisabet worked on several commissions of political leaders and allegorical pieces. In 1867, the couple returned to Munich where Elisabet took a job as court sculptor to King Ludwig II of Bavaria (also known as Mad King Ludwig).
In July of 1870, the Franco-Prussian War began. In December of the same year, Elisabet found out she was pregnant. On January 14, 1871 Ney and her husband left Germany and moved to the cotton-resort town of Thomasville, Georgia. They were inspired to move there -- and to move quickly -- after receiving two letters. One was a letter from a friend and former patient of Montgomery, who described the place as "Earth's paradise." The second was from the Prussian Embassy demanding Elisabet report at a specific time. Her associations with "great persons of the world" had brought her to the attention of those in power during the war.
Arthur was born in Thomasville in early summer, and Elisabet quit her artistic pursuits for the "more important art of molding flesh and blood." Edmund''s heath was faltering in the Georgia climate -- a result of tuberculosis he had contracted while a student. They went searching for a milder climate. Their second child was born in Red Wing, Minnesota while they were searching. In 1873, Elisabet set out on her own to find a home in Texas. She traveled from Georgia to New Orleans by train, and then took a steamer to Galveston, Texas. When she arrived in Galveston, she reached out to the German Consul for help in finding a place to live. The first place she was shown was the 1,100 acres of Liendo Plantation.[1] Falling immediately in love with the property, Elisabet is said to have stepped out onto the second floor balcony of the dilapidated plantation house and exclaimed, "Here will I live. And here will I die!" Her family joined her a few weeks later and Edmund purchased the plantation.
Their first son died shortly after their arrival in Texas. Elisabet worked to eke a profit from the plantation to allow Edmund to continue his research and writing. Her neighbors, however, were scandalized by this woman who wore bloomers (and not skirts and dresses) in public and used her maiden name. While Edmund thrived at Liendo, in 1891 Elisabet described it as a "lovely cursed retreat."
In 1890, she was commissioned by the Board of Lady Managers of the Chicago World's Fair Association to create sculptures of Sam Houston and Stephen F. Austin. This was her first return to art in over twenty years. The Texas state legislature contributed $32,000 to fund her work, which were slated to be exhibited at the 1893 Chicago World's Fair. Elisabet missed the deadline, and her work was not shown. Her sculptures of Houston and Austin are currently on display at the Texas State Capitol in Austin and in the US Capitol in Washington, DC.[2]
In 1892, using the money from her commission, Elisabet moved to a 2.5 acre piece of land in the newly-established Hyde Park suburb of Austin [3]. On the property, she built a studio that echoed a Greek temple, living quarters for servants, and a horse barn. Elisabet purposefully left as much of the land as possible in its natural state: rolling prairie, post oak, and wildflowers. She called her studio "Formosa," the Portuguese word for "beautiful." As well as a working art studio, Formosa became a center for cultural gatherings and conversations. People from around the world traveled to Formosa, including Russian ballerina Anna Pavlova.
Elisabet lived and worked at her studio until her death there on June 29, 1907. She was buried on the grounds of Liendo Plantation When her husband Edmund died in 1911, he was buried next to her. After her death, Formosa was opened to the public as the Elisabet Ney Museum. It houses many of her works, archives, and personal effects. Her life as inspired several novels and plays.
Notes
[1] The land that was to become Liendo was granted to Jose justo Liendo in 1828, when the area was still part of Mexico. In 1841, Leonard Waller Grace bought the land and established it as a cotton plantation. The plantation was used as a Confederate training camp and military prison during the Civil War. Liendo Plantation was listed on the National Register of Historic Places on June 21, 1971
[2] The Texas state Capitol in Austin, Texas was added to the National Register of Historic Places on June 22, 1970 and designated a National Historic Landmark on June 23, 1986.
[3] Hyde Park was established in 1891 by the Missouri, Kansas and Texas Land and Town Company. Designed as a whites-only suburb of downtown Austin, it was initially marketed as an affluent neighborhood with access to the city via electric streetcar. It was later marketed as a place for working men and women to build homes and live. Residents purchased lots and built their own homes. The Hyde Park Historic District was added to the National Register of Historic Places on June 29, 1990.
Sources
Austin Parks & Recreation. "Elisabet Ney Biography." Austin Parks & Recreation website
Encyclopedia Britannica. "Elisabet Ney: American Sculptor." Encyclopedia Britannica website
Humanities Texas. "Texas Originals: Elisabet Ney" Humanities Texas website
Ritterseiser, Susan. "Finding Aid: Elisabet Ney Papers (AR.J.006)." Austin History Center, Austin Public Library, Texas.
Smithsonian American Art Museum. "Artists: Elisabet Ney" Smithsonian American Art Museum website
Last updated: September 27, 2019