Person
Dr. Margaret "Mom" Chung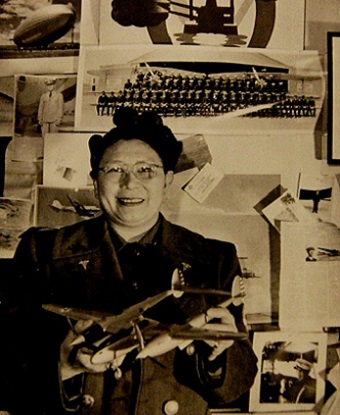 Significance:
First Chinese American female physician; adoptive "mom" to thousands of American servicemen during WWII.
Place of Birth:
Santa Barbara, CA
Date of Birth:
October 2, 1889
Place of Death:
San Francisco, CA
Date of Death:
January 5, 1959
Dr. Margaret "Mom" Chung was the first Chinese American woman to become a physician. She founded one of the first Western medical clinics in San Francisco's Chinatown in the 1920s. During World War II, she and her widespread network of "adopted sons," most of them American soldiers, sailors, and airmen who called her "Mom," became famous. Dr. Chung hosted her "sons" and their guests—including movie stars, politicians, and top military brass—at large weekly dinners in her San Francisco home. Dr. Chung used her influence to support the Allied war effort. She lobbied for the creation of the WAVES, the U.S. Naval Women's Reserve. Although she faced prejudice because of her race, gender, and sexuality, Dr. Chung forged a distinctive path for herself throughout her life.
Early Life and Career
Margaret Jessie Chung was born in Santa Barbara, California in 1889. Her parents had immigrated from China as young children. The family were devout Christians. Margaret was the oldest of eleven children and spent a lot of time raising her younger siblings. Intent on becoming a medical missionary to China, she worked her way through college and medical school at the University of Southern California. As a medical student, Chung wore masculine clothing and referred to herself as "Mike."
Dr. Chung applied to be a medical missionary after her graduation, but the Presbyterian missionary board rejected her because of her race. However, she did not give up on becoming a healer. She worked as a surgical nurse and then as an intern and medical resident in the Chicago area.[1] In 1919, she returned to her family and home state of California. She treated victims of industrial accidents as a surgeon at the Santa Fe Railroad Hospital in Los Angeles.[2] She also started a private practice ministering to the actors and musicians of the growing Hollywood entertainment industry. Soon Dr. Chung became well-known as a physician to the stars.
San Francisco
In 1922, Dr. Chung moved to San Francisco and opened a clinic in Chinatown. She especially wanted to help Chinese women patients. But many of the neighborhood's residents were skeptical of Western medicine. They were even more suspicious of a young, single woman doctor who dressed in masculine clothes. Many Chinatown residents treated Dr. Chung as an outsider. Rumors circulated that she was a lesbian.
Dr. Chung was more successful in attracting non-Chinese patients. Her "outsider" status actually made this easier. Along with other Chinese Americans during this period, Dr. Chung cultivated an "Oriental" image to appeal to white visitors who were looking for "exotic" Chinese medical treatments.
Other patients, such as the lesbian poet and journalist Elsa Gidlow, chose her because they suspected Dr. Chung "might be a sister lesbian."[3] While Chung never claimed that label, she did have several romantic and intimate relationships with women, including Gidlow and the entertainer Sophie Tucker. Intent on protecting herself from damaging rumors about her sexuality, she traveled outside Chinatown to frequent the bars, speakeasies, and cafes that formed a growing queer subculture in San Francisco's North Beach neighborhood.
"Mom" Chung and her Adopted Sons
In the 1930s, Dr. Chung's life changed again. The Japanese invasion of China and the Sino-Japanese War (1937-1945) sparked new American sympathy for Chinese people. In this environment, a U.S. Navy Reserves ensign named Steven G. Bancroft reached out to Dr. Chung to ask if she could help him get a commission in the Chinese military. She had no such influence, but she invited Bancroft and some of his pilot friends to her home in San Francisco for dinner.  
Dr. Chung and Bancroft's group hit it off. They ate dinner together almost every night and went on camping and hunting trips. They started to joke about how to describe their unusual bond. As Chung recalled in her autobiography, one night one of the pilots "spoke up and said, 'Gee, you are as understanding as a mother, and we are going to adopt you; but, hell, you are an old maid, and you haven't got a father for us.' Feeling facetious that night, I cracked back at them, 'Well, that makes you a lot of fair-haired bastards, doesn't it?'" The name stuck.
Dr. Chung volunteered to serve as a front-line surgeon during the Sino-Japanese War. Instead, she was asked to secretly recruit pilots for a unit that would become famous as the "Flying Tigers." These squadrons of American pilots from the Marines, Air Corps, and Navy flew under Chinese colors. 
By the end of WWII, Chung's surrogate family had swelled to more than 1500. Aviators were part of the "Fair-Haired Bastards" group, while submarine men were called "Golden Dolphins." All others were known as "Kiwis." Many of Chung's "children" were American servicemen, but Hollywood stars like John Wayne and Ronald Reagan were also included.[4] So were politicians and top military officials like Fleet Admirals Chester W. Nimitz and William "Bull" Halsey Jr. The pilot and adventurer Amelia Earhart was one of her few "bastard daughters."[5]
World War II
During World War II, Dr. Chung used her influence and patriotism to work for the Allied war effort. She supported her "sons" at the front by sending them letters and Christmas gifts and connecting them to each other. She hosted weekly Saturday dinners at her home for family members and their guests. Her fame grew and her adopted family received significant media coverage as an example of American patriotism.
Dr. Chung also pressed for greater inclusion of women in the United States military. She pushed for legislation to create the WAVES (Women Accepted for Volunteer Emergency Service), a reserve corps for women in the Navy. She drew on her connections to government officials and her network of adopted children to lobby behind the scenes. Although she succeeded in getting the WAVES established in 1942, she did not get the proper credit for her role in its creation. Her repeated applications to join the corps were rejected because of her race and rumors about her sexuality.
Dr. Margaret Chung died from cancer on January 5, 1959, at the age of 69.
 
Notes
[1] While in Chicago, Dr. Chung served as the resident assistant in psychiatry at the first Juvenile Psychopathic Institute of the State of Illinois at Cook County Hospital. Cook County Hospital was listed on the National Register of Historic Places on November 8, 2006.
[2] Santa Fe Railroad Hospital, now Linda Vista Community Hospital, was added to the National Register of Historic Places in 2006.
[3] Elsa Gidlow wrote On a Grey Thread. Published in 1923, it was the first book of openly lesbian love poetry published in North America.
[4] Ronald Reagan's boyhood home in Dixon, Illinois was listed on the National Register of Historic Places on March 26, 1982.
[5] Amelia Earhart's birthplace in Kansas was listed on the National Register of Historic Places on April 16, 1971.
 
Bibliography
"Guide to the Margaret Chung Papers, 1880-1958." Ethnic Studies Library, University of California, Berkeley, 2002. https://oac.cdlib.org/findaid/ark:/13030/kt3f59n6hk/entire_text/.
Salvo, Victor. "Dr. Margaret Chung – Inductee." The Legacy Project. Chicago, IL. https://legacyprojectchicago.org/person/dr-margaret-chung
Wu, Judy Tzu-Chun. Doctor Mom Chung of the Fair-Haired Bastards: The Life of a Wartime Celebrity. Berkeley: University of California Press, 2005.

Article by Ella Wagner, Cultural Resources Office of Interpretation and Education.
Last updated: May 7, 2022