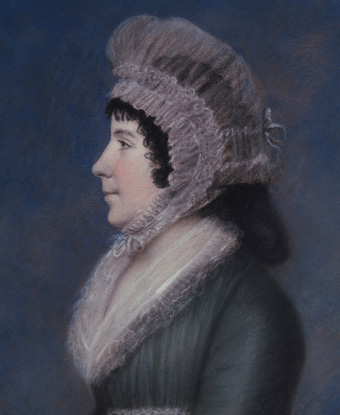 Place of Birth:
Greensboro, North Carolina
Date of Birth:
May 20, 1768
Place of Death:
Washington, D.C.
Date of Death:
July 12, 1849
Place of Burial:
Montpelier
Dolley Madison is fondly remembered as a gracious hostess and the brave savior of priceless White House artifacts before its burning in 1814. But more importantly, she helped define the political and social role of a first lady.
Dolley Payne was born in a Quaker community in North Carolina, but soon moved to a family plantation in Virginia, and eventually to Philadelphia. She married Quaker lawyer John Todd and had two sons, but lost the younger and her husband to a yellow fever outbreak in 1793. 
As the nation's temporary Capital, Philadelphia was the center of society in this period. As a pretty, young widow, Dolley attracted much attention. She met Congressman James Madison through their mutual acquaintance, senator Aaron Burr, and married after only a brief courtship. Dolley converted to James' Episcopal religion, and quickly abandoned the Quaker fashions of her youth in favor of the latest city styles.
After a brief reprisal to Montpelier, James' family plantation in Virginia, Dolley and James Madison moved to Washington, D.C. for James' new position as Secretary of State in President Thomas Jefferson's cabinet. Dolley's long career as a hostess and icon of Washington society was about to begin.
Many letters record Dolley as intelligent, charming, and a gracious hostess. As a widower, President Jefferson relied on Dolley and her high reputation to serve as an unofficial first lady: selecting furnishings for the newly constructed White House, organizing parties, and entertaining ladies who came to visit. When Madison succeeded the presidency and Dolley formally became first lady, she was already well practiced, well-known, and very popular. Serving in the position essentially for 16 years, Dolley helped to define the role of first lady as a domestic diplomat.
Although James Madison was well-respected as a brilliant man and the father of the Constitution, his terse and bookish qualities did not endear him to Americans. However, Dolley's effusive and warm demeanor contrasted against, effectively increasing Madison's popularity. The nation's high esteem for Dolly became enshrined in legend in 1814. On August 24, when word reached the White House that British were on the way invade Washington, Dolley gave orders to save valuables in the house. In the final minutes before fleeing the city, she had the frame of Gilbert Stuart's portrait of George Washington broken so the painting could be successfully removed from the wall and taken to safety out of the city. This cool action saved these priceless artifacts from destruction and demonstrated the trademark thoughtfulness that has become part of Dolley Madison's legacy.
Following James Madison's retirement from politics, the couple returned to Montpelier, where they remained until James' death in 1836. Yet again a widow, Dolley returned to Washington to live out the rest of her life a living legend and the nation's most beloved matriarch.
Last updated: June 11, 2022