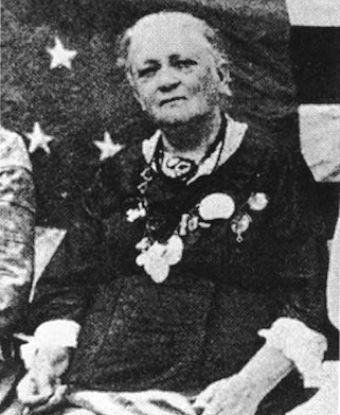 Significance:
Union nurse
Place of Birth:
Hancock's Bridge, NJ
Date of Birth:
February 8, 1839
Place of Death:
Atlantic City, NJ
Date of Death:
December 31, 1927
Place of Burial:
Harmersville, NJ
Cemetery Name:
Cedar Hills Friends Cemetery
Upon Cornelia Hancock's arrival in Philadelphia on July 5, 1863 - along with a group of women seeking to become volunteer nurses - she was the only one Dorothea Dix turned away.
The 23-year-old Hancock, a Quaker from New Jersey, did not let Dix's rejection of her as too young and attractive for nursing get in her way, though. Instead, she boarded the train to Gettysburg and went on to become one of the most respected nurses of her day.
Despite the lack of any official support or resources, her attention to the soldiers and her positive attitude soon made her a welcome presence to the Union Army. A dance tune, The Hancock Gallop, was even named after her.
In 1864, she cared for the wounded from Wilderness, Fredericksburg, Port Royal, White House Landing, City Point, and Petersburg and was one of the first Union nurses to arrive in Richmond after its capture.
Hancock's good deeds did not end with the war. She went on to continue a lifetime of service to others, starting with emancipated African Americans for whom she opened the Laing Normal and Industrial School in South Carolina. Single all of her life, she spent ten years teaching at the school before moving to Philadelphia where she helped found the Children's Aid Society of Pennsylvania and the Society for Organizing Charity.
In addition to being a nurse and teacher, she also became a posthumous bestselling author when her letters about life on the battlefield - written from 1863 to 1865 - were published in 1937 under the title "South After Gettysburg."
Last updated: August 3, 2020