Person
Carl B. Stokes: Ground-breaking Cleveland Mayor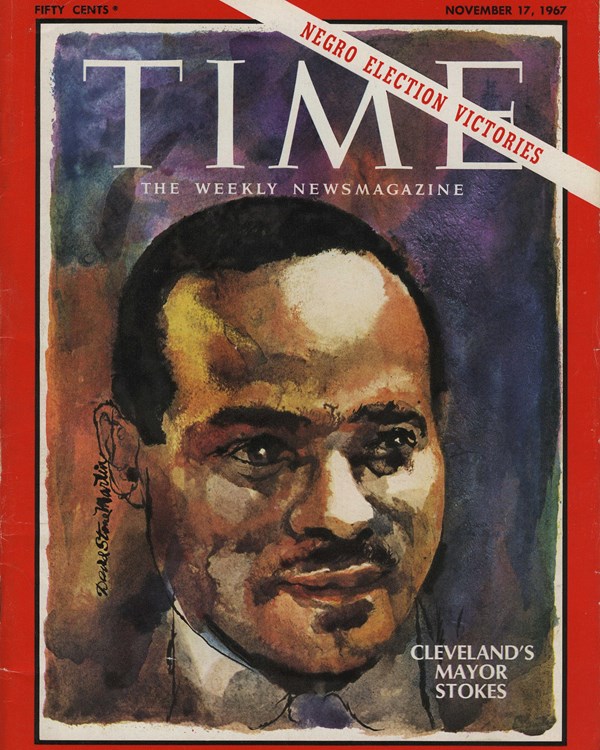 Significance:
Carl B. Stokes was the first African American elected mayor of a major US city, serving in Cleveland from 1968 to 1971. He advocated for clean water and environmental justice, bringing international attention to the infamous 1969 Cuyahoga River fire. Later he was a newscaster, judge, and US ambassador.
Place of Birth:
Cleveland, Ohio
Date of Birth:
June 21, 1927
Place of Death:
Cleveland, Ohio
Date of Death:
April 3, 1996
Place of Burial:
Cleveland, Ohio
Cemetery Name:
Lake View Cemetery
"My style will be management by being on the street, management by walking around. Third persons won't have to tell me what's going on in our city. I'll hear it, I'll see it, I'll touch it myself."
Carl B. Stokes gained national attention when he was elected mayor of Cleveland, Ohio in 1968, becoming the first African American to lead a major US city. He skillfully used his fame to advocate for urban revitalization that would benefit the poor as well as the rich. When the Cuyahoga River caught fire in 1969, his Pollution Tour the following day brought international attention to the plight of industrial cities. This occurred just downstream of what is now Cuyahoga Valley National Park. Long appreciated as a civil rights leader, Carl Stokes has only recently been recognized for his pioneering role in the environmental movement.
A Child of Cleveland's East Side
Carl B. Stokes was born in 1927 to Charles and Louise Stokes. The family lived in local housing projects on the East Side of Cleveland, Ohio. Carl was raised alongside his brother Louis Stokes who also grew up to be a famous politician, serving 30 years in the US House of Representatives. Cordell Stokes, one of Carl's sons, said their family has traced their history back to being sold as enslaved peoples in Virginia. For generations, the Stokes lived in Georgia. There Charles Stokes was a sharecropper and part-time preacher, while Louise was a cook on a plantation. The couple moved north during the first Great Migration. Although African Americans faced racism in Cleveland too, their opportunities in the early 1900s were better than in the "Jim Crow" South.
Charles passed away when Carl was two years old. As a widowed mother, Louise raised Carl and Louis on her modest income from doing menial work. She often changed jobs to support the family. They lived in the Outhwaite Homes Estates, Cleveland's first public housing projects. Nationally, the development was among the first to receive federal funding from the new Public Works Administration during the Great Depression.
During Carl's childhood, the Cuyahoga River divided the city along racial lines. The majority of Cleveland's African American population lived on the East Side. East Clevelanders felt marginalized because of the poor sewage treatment and lack of medical resources.
Teenage Years and Military Service
During his teenage years in the 1940s, Carl often found himself in trouble. He eventually dropped out of high school in 1944 to work for Cleveland's Otis Steel Foundry and later Thompson Aircraft Company. Stokes experienced racial discrimination in the workplace. He recalled, "I had felt inadequate in my life before, but not inferior. I had always known how to work at being the equal of anyone else, even if I did not succeed. But I did not know how to cope with race prejudice. I felt baffled, without direction, and had no ambition beyond the work I was doing and the life I had developed on the streets."
Two months before the end of World War II, Stokes joined the US Army and got the chance to travel. He was a private and trained at Fort McClellan in Alabama. After being called racial slurs in a restaurant, he chose to stay on base. "I was the only man there who did not go to town. I wanted the fun and the release as much as any man there, but I wasn't going to go looking for it at the cost of humiliation or bodily harm." After his training, he was stationed in New Jersey, France, and Germany.
Early Career and Family Life
After returning home in 1947, Stokes earned his high school diploma. He enrolled in West Virginia State College, and first pursued a double major in psychology and sociology. Stokes was particularly influenced by Herman Canady, chair of the psychology department. Professor Canady instilled in him a passion for social activism and served as a mentor.
Stokes was a busy student who was active in sports and clubs. Juggling work and education, he transferred colleges a few times, graduating from the University of Minnesota in 1954. Next was a law degree from the Cleveland-Marshall Law School in 1957. A year later, Stokes married Shirley Edwards. They had two sons, Carl, Jr. and Cordell, and a daughter, Cordi. Stokes began his law career as an assistant prosecutor. After four years, the emerging Democratic leader looked to politics.
From 1963 to 1968 he served in the Ohio House of Representatives. There he successfully pioneered bills mandating that police officers take inventory in the event of a search warrant and the right for criminals to see an attorney within 72 hours of arrest.
Stokes left the Ohio Congress and had a failed run for Cleveland mayor in 1965.
Mayor of Cleveland
Stokes ran for mayor again in 1967. Fearful newspaper rhetoric often presented Stokes as someone who would incite chaos in the midst of growing demands for Civil Rights. One headline read "Dictatorship in Cleveland: Preview of Stokes and MLK As Mayor. Do you Want MLK and His Disciples Running Your City?" The growth of Cleveland's Black voting bloc to 39% bolstered his prospects.
After a tough campaign, Stokes emerged victorious. He won support from a diverse pool of voters, including both Black and White business owners. Upon election, Carl B. Stokes became the first Black mayor elected in a major American city. It was only a few years after the Civil Rights Act of 1964. Stokes knew there were legislative battles ahead to improve equity. He focused on urban revitalization issues. "So many people who had spent their lives feeling disenfranchised by the system now felt that I was their mayor." He established Cleveland's first Equal Employment Opportunity department and assembled an interracial cabinet.
Three Defining Moments
The first event that defined Stokes' time as mayor was his response to the assassination of Dr. Martin Luther King, Jr. on April 4, 1968. Protest erupted throughout the United States. A voice of hope had been lost. Many thought that the progress recently achieved by civil rights leaders would slowly be undone.
When Stokes was informed of the assassination, he acted quickly to keep the peace in Cleveland. He coordinated with the city's police department to have an all-Black force on the East Side. His decision to remove White officers from patrol was regarded as a success by the press and a controversy within the department. Stokes was praised as a national leader amid an emotionally taxing situation. Throughout the remainder of his time as mayor, Stokes aimed to reform the Cleveland Police Department.
The second event was Cleveland: Now!, an urban revitalization program that Stokes launched a month after King's death. The goal was to raise $1.5 billion over 10 years for youth employment, community centers, health clinics, housing, and economic recovery. Initially popular with business leaders, Now! lost momentum when it was indirectly linked to Black nationalists involved in the Glenville Shootout on July 23, 1968.
The third moment was the 1969 Cuyahoga River fire. Mayor Stokes held a pollution tour for local press the following day. After the story was picked up by Time magazine, Stokes became internationally famous as a pioneering advocate for environmental justice, particularly clean water.
Post Mayoral Career
Stokes served two terms as Cleveland's mayor, 1968-1972. Afterwards, he put his public speaking talents to use at New York City's WNBC, becoming the city's first Black anchorman. Carl and Shirley divorced in 1973, and he got custody of their children.
In 1980, he returned to his hometown of Cleveland and worked as a general legal counsel for the United Auto Workers Union. That year he married Raija Kostadinov with whom he had a stepson, Sasha, and daughter, Cynthia. From 1983 to 1994 he worked as a municipal court judge.
From 1994 to 1995, Stokes served as US ambassador to the Republic of Seychelles under President Bill Clinton. During this time, he was diagnosed with cancer. He passed away back home in Cleveland, the place he cared for the most.
Learn More
Today, brothers Carl B. Stokes and Congressman Louis Stokes are both honored at the International Civil Rights Walk of Fame in Atlanta, a partnership with the Martin Luther King, Jr. National Historic Site. The street where they grew up and prominent buildings in Cleveland are named for them. You can visit the brothers' graves in Lake View Cemetery.
If you want to learn more, we recommend Carl B. Stokes and the Rise of Black Political Power by Leonard N. Moore and Promise of Power: A Political Autobiography by Carl B. Stokes.
Last updated: February 2, 2022