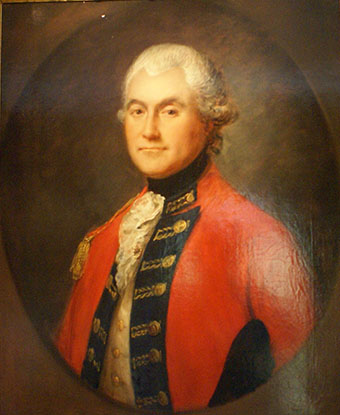 Significance:
British army officer
Place of Death:
Edinburgh, Scotland
Date of Death:
December 27, 1794
Place of Burial:
Jedburgh, Scottish Borders, Scotland
Cemetery Name:
Jedburgh Abbey
Alexander Leslie served as an officer in the British Army during the American Revolution. He commanded the southern theater after Charles Lord Cornwallis' surrender at Yorktown and directed the British evacuations of Savannah, Georiga and Charleston, South Carolina in 1782 under orders from Sir Guy Carleton. 
Leslie was the second son of Alexander, fifth Earl of Leven and a Scottish peer. He was also the namesake of a seventeenth century general. Born in 1731, Leslie pursued a military career, joining the army in his early twenties, and received steady promotions. In 1760, he married Rebecca Tullidelph, the daughter of an Antiguan planter. Together they had one child, Mary Ann Leslie, before Rebecca's death a year after childbirth. In the years before the American Revolution, Leslie served in Boston, Massachusetts and Halifax, Nova Scotia as a regimental commander and lieutenant colonel.
In February 1775, General Thomas Gage, the military governor of the Massachusetts Bay colony, ordered Lt. Col. Leslie and 250 men of the 64th Regiment of Foot to travel by ship to Marblehead and then march on Salem where they would seize cannon and powder from rebel militia. Leslie's mission failed when he encountered a large, abusive crowd of residents and militia, who had raised the drawbridge over the North River. The tense standoff ended when the milita agreed to lower the drawbridge and allow Leslie's men to cross it. Having crossed it, Leslie marched his men back to Marblehead. The event, remembered as Leslie's Retreat, occurred just two months before the opening shots of the American Revolution at Lexington and Concord. 
In 1776, Leslie rose to the rank of brigadier general and participated in the New York campaign, fighting in the Battle of Long Island, the landing at Kip's Bay, the Battle of Harlem Heights, and the Battle of White Plains. In 1777, Leslie failed to detect General George Washington's small Contintental Army en route to attack the garrison at Princeton, New Jersey. At the Batte of Princeton, Leslie's nephew, Captain William Leslie of the 17th Foot, was mortally wounded and later buried with military honors by the Continental Army in Pluckemin, New Jersey because of William Leslie's friendship with Benjamin Rush, a signer of the Declaration of Independece and physician. For the next two years, Leslie commanded British troops on Staten Island. His service was again rewarded with a promotion to major general in 1779.
For the remainder of the American Revolution, Leslie served in the southern theater with time spent in New York between assignments. He participated in the successful siege of Charleston, South Carolina in 1780. Later in 1780, he led over two thousand British soldiers on raids in Virginia, targeting the economy and supply lines supporting the Continental Army. In January 1781, Leslie returned to the Carolinas with reinforcements, arriving too late to assist British troops in their defeat at the Battle of Cowpens. At the Battle of Guilford Courthouse, Leslie commanded the British right wing in their costly victory over Maj. Gen. Nathanael Greene's well positioned army of militia and Continentals. Leslie's health worsened, and he returned to New York to recuperate until he received orders in late 1781 from General Sir Henry Clinton, the British commander in chief, to hold Charleston, South Carolina at all costs. Leslie, however, begged Clinton for permission to return home, citing his long service in the war, his failing health, and his wish to return to his family. He pleaded also with Clinton's successor as commander in chief, Sir Guy Carleton, that his "country has got her full share out of me." 
In May 1782, secret orders arrived from Carleton, directing Leslie to oversee the evacuation of British forces from the southern colonies. The task of arranging transport for the British forces and also thousands of loyalist refugees proved burdensome. He had been responsible for feeding over 15,000 people in the garrison of Charleston for months, which required foraging in the countryside and armed clashes with Continentals and rebel militia. Leslie's negotiations with Greene for a peaceful British evacuation and American occupation of the city of Charleston succeeded. On December 14, the final British forces loaded onto ships at Gadsden's Wharf, leaving Charleston to the Continental Army and native South Carolinians. Loyalist refugees, whose safety concerned Carleton and Leslie during the evacuations, were free to settle anywhere in the empire. Many settled in British North America, increasing the population of Nova Scotia and New Brunswick and leading to the creation of Upper Canada. 
Leslie returned to Scotland in 1783, becoming second in command of the British army there. He celebrated the wedding of his daughter, Mary Anne, in 1787 to John Rutherfurd. In the final days of Leslie's life, he had leaders of a mutiny arrested. Shortly after the quelled mutiny, Leslie died of an unknown illness in Edinburgh. 
Last updated: July 10, 2020