---
MENU
---
---

Breeches, Blouses, and Skirts
---
---
National Park Service Uniforms
Breeches, Blouses, and Skirts 1918-1991
Number 4

---

---


Breeches, Blouses, and Skirts (continued)

---
Buttons to be of matching color or its equal. Zipper placket 7" long on left side of skirt. Skirt to be at least 1-1/2" to 2" below the knee. Pocket-slash type, self piped, opening 3-3/4" wide with diamond tack of matching silk thread at either end of opening." Pocket was on the right side of skirt with opening on a slant, 1-3/4" from waistband in front to 4" from waistband at rear.
Skirt had five belt loops, three vertical (1 rear, 2 front) and two "keystone" shaped ones at the sides. (one behind the zipper placket on left side and other one at matching location on right side).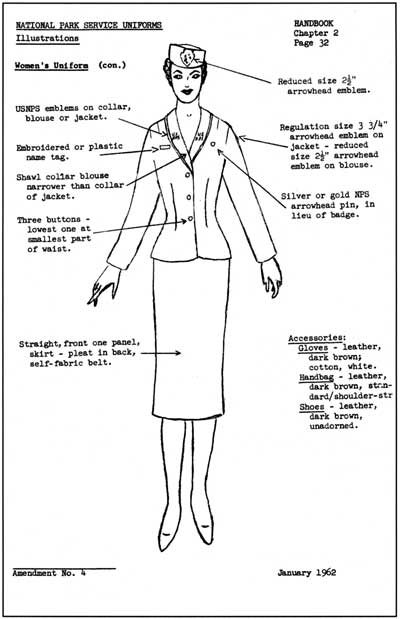 Illustration from the 1962 National Park Service Uniform Handbook showing the second "Airline Stewardess" uniform.
Chapter 2, page 32
National Park Service Archives/HFC RG Y55

---
---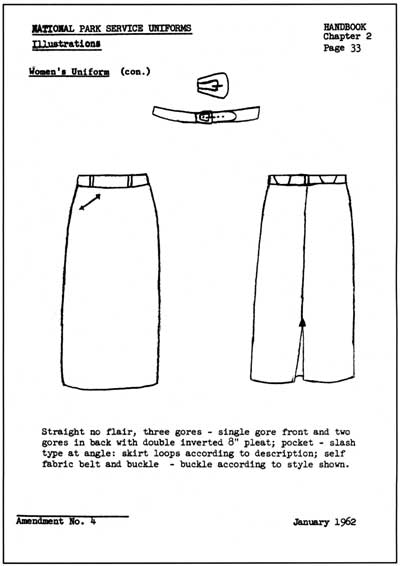 Illustration from the 1962 National Park Service Uniform Handbook showing skirt used with the 1962 Women's uniform.
Chapter 2, page 33.
National Park Service Archives/HFC RG Y55

---
---
Belt and buckle were to be covered in the same fabric as uniform. Although not specified in the regulations, existing examples in the National Park Service History Collection show that they were to be 1-inch wide.
The new uniforms were to be made from the same materials as before with the addition, as in the case of the men's, of a new "Medium weight" uniform of 13 or 14-oz. all wool gabardine, which could be optionally authorized, subject to regional director's approval upon request of superintendents.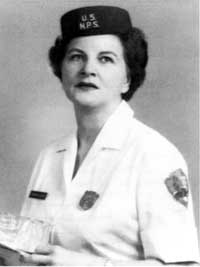 Louise Linen, Great Smoky Mountains National Park.
This image shows clearly the ornamentation to be worn on the blouse. Her badge appears to be lying flat on her blouse. Maybe she is also utilizing Mary Bradford's method of securing it.
NPSHPC - HFC#96-1329

---
---
The blouse was to be made out of any suitable plain white material without any decoration. Blouse could have either long or short sleeves. Collar was to be the same size as on the jacket and could be worn either under or over jacket collar. However, uniformity and consistency were to be maintained as to position of collar and sleeve length by the uniformed women at any locale. The reduced size (2-1/2") embroidered arrowhead patch and the nametag were to be worn on the blouse like the jacket.
Accessories came in for their share of change, as well. Plain gloves of either dark brown leather or white cotton could be worn. Handbag could be either dark brown leather or reptile. Shoes could still be dark brown or reptile skin, but now they were to be pumps with a 1-1/2" to 2" heel. A low heel dark brown leather walking shoe was to be worn on trails and nature walks. Glove, handbag and shoes were to match.
A variety of foul-weather gear was authorized. A new Balmacaan-style [14] topcoat of tan weatherproof poplin was authorized for women. It was to have raglan sleeves and a fly front with hidden buttons, and a zip-in removable lining. The large arrow head patch was optionally authorized to be worn on the left sleeve. The men's stormcoat, with alterations, could also be used by women as a topcoat. A plain white scarf of any fabric could be worn under the top coat at the throat.
In addition to the men' s raincoat, a loose filling, clear or opaque plastic raincoat with a detachable hood was authorized for women. A scarf of matching material could also be worn over the hat. Galoshes or calf-length pull-up boots could be worn as overshoes. Stadium boots (heavy boots with sheep's wool lining worn without other shoes) were also specified. All of the above footwear were to be either plain black or dark brown. Clear plastic "Raindear" (sic) boots were also acceptable.
Because of the lack of prescribed fatigue, work, or casual clothing for use by the women, it was necessary for them to select "proper and conservative" attire for duty other than that requiring wearing of the uniform.