UP THE SLOT: Marines in the Central Solomons
by Major Charles D. Melson, U.S. Marine Corps (Ret)
---
A Joint Pattern for Victory
The last Japanese air attacks on New Georgia came the nights of 16 and 17 January 1944, but by then the campaign was finished and the final score taken. Army historian John Miller quoted a senior officer as concluding that the heavily outnumbered Japanese stood off nearly four Allied divisions in the course of the action, and successfully with drew to fight again. One Japanese noted at the time that the:
. . . Japanese Army is still depending on the hand-to-hand fighting of the Meiji Era while the enemy is using highly developed scientific weapons. Thinking it over, however, this poorly armed force of ours has not been overcome and we are still guarding this island
In his postwar memoirs, Admiral Halsey commented on how the smell of burnt reputations in the New Georgia campaign still filled his nostrils. The smoking reputations Halsey referred to came as the result of outright reliefs and transfers of senior officers and they were not limited to any one service, Numerous changes were made in the command structure until he got the commanders needed to produce results. The payoff to the New Georgia operation resulted in the Vella Lavella landings that bypassed Kolombangara and successful Bougainville and New Britain campaigns that demonstrated the pattern for successful joint operations there and throughout the Pacific War.
The Army had 1,094 men killed and 3,873 wounded in the fighting for New Georgia, while the Marines suffered 650 casualties in all. The Marines came through in better condition than might have been otherwise expected. Morale during the periods of greatest danger had been high. In the last two months of the campaign with enemy activity virtually nonexistent, the effects of the rough conditions showed to a certain extent, but at no time, was there any slackening in the performance of duty. For most of the campaign, shelter and sanitation were absent and the food, though usually of sufficient quantity, was seldom appetizing.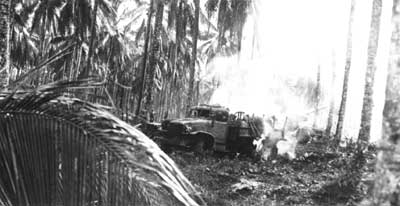 Even though the 9th Defense Battalion Artillery Group positions at Munda Airfield were bombed, they continued to fire at assigned targets. Here elements of Battery A smolders after an air raid. Department of Defense Photo (USMC) 56830
It was felt after the Solomons campaign that "struggle for control of the Solomon Islands was a critical turning point in the war against Japan. These campaigns can best be appreciated as a sequence of interacting naval, land, and air operations." The contribution to the ability to conduct joint operations was measured in the differences between the fighting on New Georgia in the summer 1943 and the success realized at Bougainville and Cape Gloucester later in the year. Here was a pattern for joint operations, and, as coastwatcher D.C. Horton phrased it, it was a "pattern for victory."
---