UP THE SLOT: Marines in the Central Solomons
by Major Charles D. Melson, U.S. Marine Corps (Ret)
---
The Munda Drive and the Fighting Ninth
Battalion S-4 Major Albert F. Lucas was faced with the extremely difficult task of supplying the widely dispersed elements of the battalion. Captain Lynn D. Ervin, Battery G commander, remembered that after he landed, working parties from headquarters brought around water and rations to the dispersed firing batteries until they had established their own field kitchens. The preparation and delivery of food required a major effort throughout the campaign because the battalion elements were widely spread out in the target area and the battalion had to feed all other units which did not have their own messing facilities. Hot meals were provided once a day and the artillery group's pastry cook raised morale by providing doughnuts and other baked goods during some of the more difficult periods.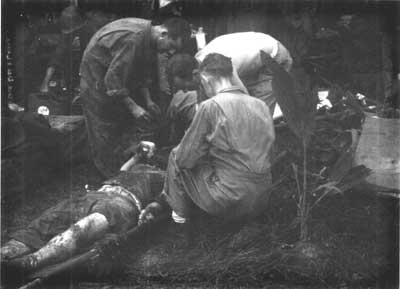 Casualties were treated at the 9th Defense Battalion and 43d Infantry Division medical clearing stations. More than 200 Americans were killed or injured during the 2 July raid. Department of Defense Photo (USMC) 56829
The 'Long Tom' 155mm M1A1 Gun
The first defense battalions were equipped with naval ordnance designed for shipboard mounting and modified for use ashore, often requiring extensive engineering and manhandling to emplace in static positions. The war soon required the ordnance to be mobile, which was accomplished by adapting Army ordnance material. Obtained first were the standard M1918 GPF 155mm guns. These were followed by the M1A1 155mm gun employed by defense and corps artillery battalions throughout the war. This piece weighed 30,600 pounds, had a split trail and eight pneumatic tires, was moved by a tractor, and was served by a combined crew of 15 men. It could be pedestal mounted on the so-called "Panama Mount" for its coast-defense mission. It remained in the Marine Corps inventory long after World War II.
At this same time, XIV Corps began its Munda drive by moving from Rendova to New Georgia, supported by the Army 136th Field Artillery Battalion and the 9th Defense Battalion. Zanana Beach had been selected for the 43d Infantry Division's landing. The division order stated that the 43d, less the 103d Regimental Combat Team, would "land on New Georgia Island, capture or destroy all enemy encountered, and secure the Munda Airfield." On 3 July, the 172d Infantry moved by landing craft to New Georgia, followed the next day by the 169th Infantry. The Munda drive had begun.
The 9th's communications and radar personnel carried on vital installation work and respliced telephone lines as soon as they were damaged in the air raids. The air control and reporting system of the defense battalion and Commander Aircraft New Georgia was installed on 4 July when Condition Red was sounded again. At 1430, the Japanese attempted a repetition of the 2 July raid as 16 Betty bombers and their fighter escort broke through the Allied combat air patrol over head and penetrated the area on the same course followed before. Zeke fighters roared in at tree-top level strafing defenses. As the enemy planes came in, several light antiair craft guns opened fire and a few seconds later Captain Tracy's E Battery on Kokorana Island began firing. Tracy recalled "bursts were right on target, requiring no correction . . . the flight entered a large cloud. Pieces of planes were noted falling out of the cloud." This fire caught the enemy by surprise and of the 16 bombers only four got their bombs away. Battery E had expended 88 rounds of ammunition and a world's record was established. Twelve bombers and a fighter were destroyed by the 9th's fire, the bombers and the Zeke chalked up to Battery E and Special Weapons Group respectively. That day cheers were heard all over Rendova "like a Babe Ruth homer in Yankee Stadium." Credit was given the operators of the range section, though Frank LaMountain said if he had not kept the generator going this would not have been the case. The battalion had one officer killed and three enlisted Marines wounded; a heavy machine gun and the remote control system of one 40mm gun were destroyed.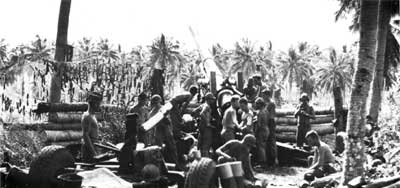 While Marine antiaircraft artillery dealt with air raids, 155mm Long Toms were fired at targets some eight miles or more away round-the-clock, in all weather, taking a toll of the defenders. Department of Defense Photo (USMC) 60616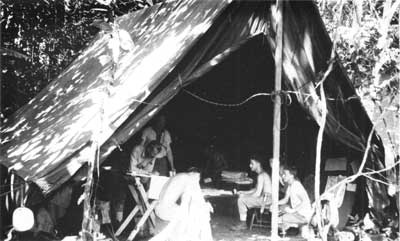 A fire direction center processed target information from observation posts and air spotters, which group commander LtCol Archie E. O'Neil and executive officer Maj Robert C. Hiatt translated into firing data on Rendova. Department of Defense Photo (USMC) 60596
On 5 July, a detachment of 52 men with four 40mm guns and four .50-caliber machine guns under the command of First Lieutenant John R. Wismer moved to Zanana Beach on New Georgia to provide antiaircraft and beach defense protection for the 43d Infantry Division which had landed in that area.
Major naval surface actions occurred on 12 July as the U.S. Navy intercepted Japanese destroyers and cruisers attempting to resupply forces on Vila and Munda. The ships' gunfire, sounding like massive thunder and looking like a lightning storm, permitting little sound sleep, was observed from Rendova. The next day, a 90mm battery, three searchlights, and a light antiaircraft detachment arrived from the 11th Defense Battalion. The 90mm battery was staged on Kokorana until the 9th Defense Battalion displaced to New Georgia, then it went into firing positions. Light antiaircraft guns were positioned on both Kokorana and Rendova. Marines from the 11th Defense Battalion assisted the 9th in manning the radars and the 11th's sound locator supported Battery E.
At 0800, 13 July, U.S. Army infantry units landed at Laiana Beach, about 2-1/2 miles east of Munda airfield, and continued the drive towards Munda Point. A detachment of 22 men with one 40mm gun, one twin 20mm gun, and two .50-caliber machine guns from the 9th Defense Battalion under First Lieutenant Colin J. Reeves, went to Laiana Beach on New Georgia to defend the landing site.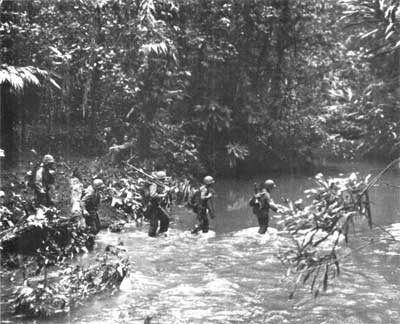 The Northern Landing Group, built around the 1st Marine Raider Regiment, landed at Rice Anchorage on 5 July and proceeded cross-country to take Enogai on Dragons Peninsula. The Marine third from the left hefts a Boys rifle used by the raiders as an antitank weapon. Marine Corps Historical Collection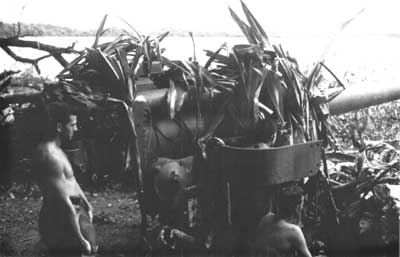 Camouflaged Japanese 140mm naval guns with their ammunition intact were found and put out of action at Enogai by the raiders' landward attack. Department of Defense Photo (USMC) 127G59009A
Field Medicine
Medical care of Marine units in the Central Solomons was provided by U.S. Navy medical officers and corpsman assigned to these units. Combat casualties were not the only medical concern because of the primitive conditions that existed during the campaign. The 9th Defense Battalion lost an average of 2.42 men a day, or 65.17 a month, to causes other than combat injuries. The 1st Marine Raider Regiment found itself on 11 August 1943, with 436 men of its 956 Marines fit for duty. Other than those wounded in action, it became necessary to evacuate malaria cases also. Getting casualties to the beach or airfield through the jungle or over the muddy roads and trails was extremely difficult. After the landings on New Georgia, only the most serious malarial cases were evacuated. Much of the recurring malaria was undoubtedly brought on by the combination of hard work under combat conditions, lack of sleep, and inadequate diet. Besides malaria, there was a considerable amount of dysentery, diarrhea, minor fevers, fungus infections, and boils. There were even a few cases of psychoneurosis or "combat fatigue."
Note: The Kerr Eby charcoal drawings in this pamphlet are from the U.S. Navy Combat Art Collection. Kerr Eby studied at the Art Students League in New York and the Pratt Institute. He served as a sergeant in the U.S. Army in World War I and was accredited as an artist-correspondent for Abbot Laboratories in World War II. In 1943 through 1944, he went to the Solomons and the Gilberts and produced these and many other drawings, since reproduced widely in this country and abroad.
Captain Robert W. Blake's platoon of light tanks now played an important part in the assault and capture of Munda Airfield. The airfield was defended by various aviation personnel, antiaircraft units, and the 229th Infantry Regiment. During the next five days, 9th Defense Battalion tanks spear headed the advance, knocking out enemy log bunkers, pillboxes, and other strong points. On a number of occasions during the assault on the enemy's final defense positions north of Ilanana, the tank platoon operated in the densely wooded and irregular terrain, under conditions believed highly unsuitable for tank employment. For the first time, the Japanese attacked the tanks with magnetic mines and Molotov cocktails, bottles of gasoline with lit wicks. On the morning of 15 July, the tanks broke through the enemy's strong positions after Army infantry had repeatedly been thrown back. The XIV Corps attack on Munda was stalled by both the dogged resistance of the defenders and the rugged terrain.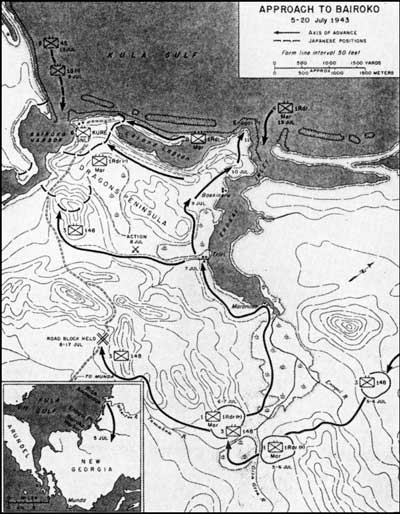 (click on image for an enlargement in a new window)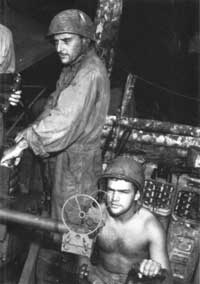 With Wismer's detachment were Cpl Maier J. Rothschild, at left, and Pvt John Wantuck, at right. Both earned the Navy Cross during the fighting at Zanana in defense of the beachhead. Wantuck died there. Marine Corps Historical Collection
The "Murderers Row" of 155mm guns continued shelling the Munda Airfield, Baanga Island, and other outlying islands throughout this phase. The primary targets were antiaircraft and field artillery positions, and ammunition dumps. Directed by both ground and air observers, this firing proved very effective. "The artillery shelling's accuracy has become a real thing. We can never tell when we are to die," wrote a Munda defender. On 15 July, landing craft carried Battery A to Tambusolo Island where it was assigned the mission of covering the western approach to Blanche Channel with 155s against the incursion of still dangerous Japanese ships. On the night of 17 July at Zanana, 9th Defense Battalion Marines were involved in some memorable fighting. A few days earlier, Lieutenant Wismer led a patrol which killed four members of an enemy patrol and captured a fifth, from whom they learned that a Japanese force of 150 men was in the vicinity. A rear command post of the 43d Infantry Division with approximately 125 troops, nearly all specialists commanded by a legal officer, was in the beachhead area. The Marines under Wismer deployed for ground defense and Private John Wantuck and Corporal Maier J. Rothschild manned two salvaged Army .30-caliber light machine guns covering trails leading to the perimeter of the Zanana area. Colonel Satoshi Tomonari's 13th Infantry Regiment attacked with several groups during the night, forcing Lieutenant Wismer's defenders back to their gun pits, while Wantuck and Rothschild remained forward of the lines engaging the Japanese with machine-gun fire on each assault. The Marines were attacked by a regiment that had "the determination of a suicide squad and under the command of the Regimental Commander they are determined to fight to the last man."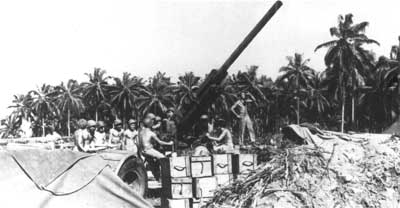 Other defense battalion Marines skillfully employed their 90mm gun batteries and their radar-operated fire control systems to keep enemy aircraft high and away from their ground targets. Gun positions were built above the water table as seen here. Department of Defense Photo (USMC) 60625
The following morning, Wantuck was found dead from gunshot and sword wounds. Rothschild was wounded in a hand-to-hand en counter with an enemy officer, whom he killed. Wantuck and Rothschild killed 18, wounded 12 to 15 others, and put a 90mm mortar crew out of action. The senior Army officer present, Major Charles C. Cox, credited these two Marines and timely artillery fire with saving the division rear and beachhead area. Rothschild and Wantuck each received a Navy Cross for their action. In all, Wismer's detachment had repulsed four different columns, killing 18, wounding others, and capturing a prisoner. Over 100 Japanese bodies were found later on the field by Army units.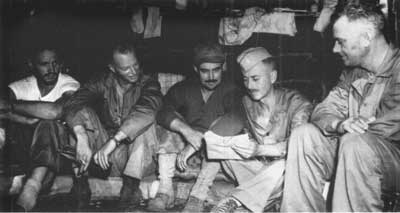 To keep the pressure on Munda and to prevent Japanese reinforcement from Bairoko, plans were made for the Northern Landing Group to attack on 20 July 1943. The commanders involved review the plan: left to right, Maj Charles L. Banks, LtCol Samuel B. Griffith II, LtCol Michael S. Currin, LtCol George G. Freer, and LtCol Delbert E. Shultz, the last two both U.S. Army. U.S. Army Marine Corps Historical Collection
Pharmacist's Mate First Class Francis G. Peters was with the Zanana detachment. While with the unit, he performed as a one-man clearing station for evacuating the wounded, mainly Army personnel, who were taken from the beach by boat. He remembered the attack of 17 July because the Japanese "penetrated as close as 25 yards and I could see them shooting at our men on the AA guns." After the attack, his work really began, tending to the wounded, including a couple of Japanese soldiers.
While the fighting for New Georgia was ongoing, there were several changes in the command structure of the campaign. Major General Oscar W. Griswold relieved General Hester as commander of XIV Corps, and Rear Admiral Theodore S. Wilkinson relieved Admiral Turner as commander of Task Force 31. The buildup of forces on New Georgia continued with the arrival of elements of Major General J. Lawton Collins' 25th Infantry Division on 21 July and the arrival the next day of the remainder of the 37th Infantry Division. What one division failed to accomplish would now be attempted by two, the 43d and the 37th.
After their initial daytime air losses, the Japanese relied on air attacks at night with only infrequent daylight bombings. One was mounted against the Rendova area on 20 July by 6 planes, one on l August by another 6 planes, and another on 7 August by a formation of 15 aircraft. Nightly harassing raids were made over the area by different planes and pilots all dubbed "Washing Machine Charlie." Several larger flights were turned back by 90mm fire. Marines of Battery F, the searchlight battery, remained at their posts despite Japanese strafing, and radar men at their exposed, above ground posts remained at their stations throughout the raids, also. At dawn, after one all-night raid, a Battery C Marine was at the fuze pot stark naked, "he hadn't had time to dress." A total of 26 enemy planes were downed by battalion antiaircraft fire over Rendova.

The 9th Defense Battalion's 90mm Group had four gun batteries, system continued in use through the war and into the 1950s. Note each with its own range-finder, computer, and radar. This weapons the "kill" flags stencilled on the barrel. Marine Corps Historical Collection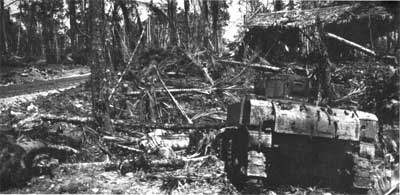 The 9th Defense Battalion's tank platoon lead by Capt Robert W Blake supported the infantry attack. This vehicle is shown knocked out on top of a position at the Laiana water point. The Japanese bunker is all but indistinguishable from the debris that covered it. Marine Corps Historical Collection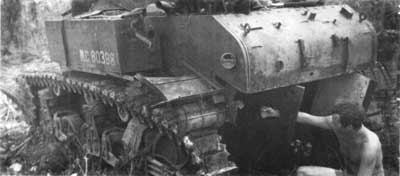 A tank crewman examines the damage to his vehicle which put it out of commission. The Japanese employed a mix of antitank weapons and individual close-in tactics to counter the light tanks. Because of the loss of 9th Battalion tanks in the drive on Munda, tanks of the 10th and 11th Defense Battalions' armored platoons were fed in as replacements. Marine Corps Historical Collection
On 26 July 1943, the 9th's tanks, reinforced by six others from the 10th Defense Battalion, led the assault on enemy positions near Lambetti Plantation. Tank operations were conducted over difficult terrain consisting of steep slopes, heavy underbrush, and closely spaced trees. The Japanese were in a strongly fortified defensive position, which consisted of a number of heavy bunkers and pillboxes in a clearing. In this action, which lasted approximately five hours, one of the tanks was disabled by a magnetic mine, and two men were killed and four wounded. A second assault on this position on 28 July by a battalion of infantry and four Marine tanks, was successful. Approximately 40 heavily fortified bunkers and pillboxes were destroyed and a large number of Japanese killed or wounded by tank fire.
---