OUTPOST IN THE NORTH ATLANTIC: Marines in the Defense of Iceland
by Colonel James A. Donovan, U.S. Marine Corps (Ret)
---
On 22 September 1941, President Roosevelt ordered the Marine brigade to report for duty under Major General Charles H. Bonesteel, U.S. Army, the newly designated Commanding General, Iceland Base Command. Historic prejudices and differences of methods and discipline, and Major General Commandant Thomas Holcomb's memory of service in France where the Fourth Marine Brigade served under the Army, prompted him to protest this new arrangement to the Chief of Naval Operations. But command relations where changing world-wide and the Iceland Marines were directed to carry out their orders.
The law provided that Marines could be ordered by the President to detached duty with the U.S. Army. When this occurred, the detached Marine organizations became an operational part of the Army. They were then subject to the Articles of War and were no longer governed by the Articles for the Government of the Navy. The Marines had to convert to the Army courts-martial and legal systems which tended to conflict with traditional Marine Corps disciplinary procedures. The brigade did not relish the new arrangement.
Army Chief of Staff General George C. Marshall directed the Marines to adapt to he Army's administrative system as well. General Bonesteel made a point of expressing the Army's gratitude for the Marines' "splendid assistance in the preparation of the various campsites and numerous other ways prior to and during our arrival in Iceland. The amount of hard and extended labor involved is fully recognized and deeply appreciated."
Nissen Huts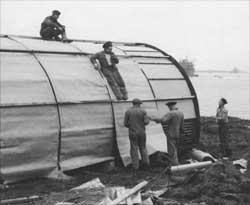 The Nissen hut was fairly simple to assemble. The ends of each hut were made in three wooden sections constructed so that they could be assembled in a few minutes. The deck consisted of wooden panels resting upon a frame of two-by-fours, while the roof and sides were made of corrugated metal. Two layers of metal were used on the lower sides and a single layer about on the roof, and the whole supported by curved I-beam steel ribs. The interior was lined with sheets of insulation board. Each hut was issued with a complete kit of tools and hardware. The only on-site fabrication was production of the concrete or lava block foundation piles. A crew of six or more men could erect a hut in a few hours, and teams specializing in various parts were even faster. The Quonset hut of the Pacific War was the more deluxe and larger American offspring of the Nissen hut.
Living in the Nissen huts was basic and simple for all ranks. The tin-roofed buildings had a few small windows and doors with wind-baffle vestibules at the end or on one side. Insulation board lined the interiors. The huts had bare wooden decks and the outside foundation was banked with dirt and sod. Interior lighting was furnished by kerosene lanterns until eventually all camps had gasoline generators which provided electricity to light the few bulbs in each hut. Heat was provided by small British coke-and-coal stoves until later when the U.S. Army brought some larger potbellied stoves to Iceland. At no time was it ever warm enough to dispense with the stoves. They provided heat for wash water and to help dry clothing strung on lines. Each camp had its supply pile of large, coal-filled bags. Wooden kindling for firing stoves was at a premium because there was no natural source of wood in Iceland. All boxes and shipping crates were carefully saved and hoarded for fire-making.
There were about 24 men assigned to a hut. They had wood and canvas folding cots, a thin cotton mattress pad, mattress cover, and two woolen blankets. The primary furniture was wooden boxes collected by all ranks for toilet gear and bunkside storage. There was nothing to sit on except the cots and a few folding canvas chairs which accompanied company and battalion field desks.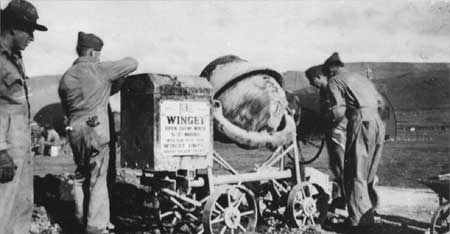 Marines constructing Nissen huts mix cement in an old mixer for their foundations. LtCol Harold K. Throneson Collection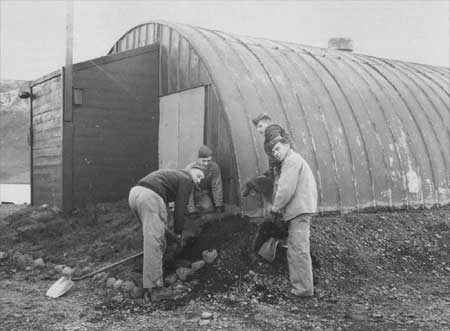 To weatherproof the Nissen huts, Marines banded sod up to heights of four feet around the foundations and tied down the tin roofs with barbed wire. Despite these precautions, huts shuddered and shook when the winter's gale winds blew. Department of Defense Photo (USMC) 185076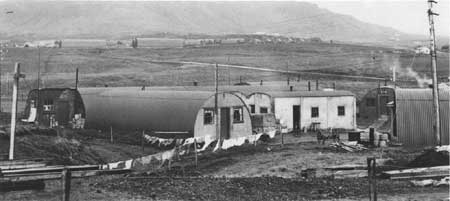 Iceland's long, warm summer days allowed Marine to hang their laundry on lines outside the huts to dry, except during Iceland's frequent rain showers. In the winter, with short days and bad weather, drying clothes outdoors was impossible. Marine Corps Historical Collections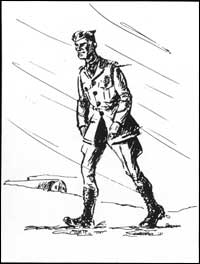 The wind blows very cold in Iceland. Contemporary sketch by the author
By late September, Marine leaders saw problems arising from a combination of short, dark days, bad weather, and troops bored and confined to quarters. One lieutenant wrote to his mother suggesting that the ladies in her church might be interested in sending the troops some playing cards, board games, dice, checkers, and similar items. Within weeks the lieutenant was overwhelmed with the requested games and supplies, plus large parcels of cookies and candies.
In October, as the days grew shorter, it rained, temperatures dropped, and the wind blew incessantly. The ability to accomplish any meaningful field, tactical, or weapons' training lessened as the weather deteriorated. Many units were still busy improving their camp facilities and preparing for a wet, muddy winter. Officers spent hours censoring their men's mail and the men spent hours writing letters. Most junior officers had time-consuming extra duties and the troops were assigned to seemingly unending working parties. Tactical plans, trenches, emplacements, wire obstacles, and defense range cards for sectors of responsibility, had all been prepared during the early and balmy weeks of fall.
When the weather permitted, the Marines played baseball and otherwise tried to keep in good physical condition by long-distance hikes and some cross-country runs on the grassy fields with their strange hummocks, rocks, and pools of mud. Marines who fell in the muck amused their comrades who needed all the laughs they could get. The brigade held no field maneuvers or large staff exercises until Major General Bonesteel arrived. He attempted to conduct some field exercises with the brigade units located near Reykjavik and the air base. The 3d Battalion was too far away at Brauterholt peninsula to participate and was just about completely immobile by the lack of any wheeled transport.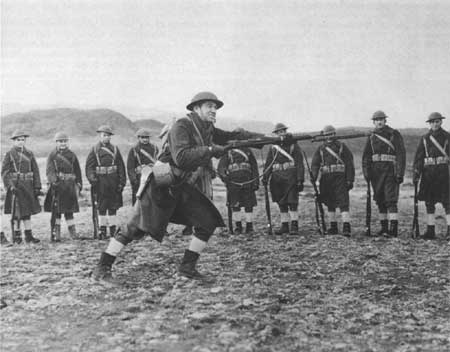 A 6th Marines staff noncommissioned officer conducts bayonet training in Iceland's mud. Note the galoshes and heavy wool socks worn by all hands. With the approach of bad weather Marines were unable to conduct meaningful training. LtCol Robert J. Vroegindewey Collection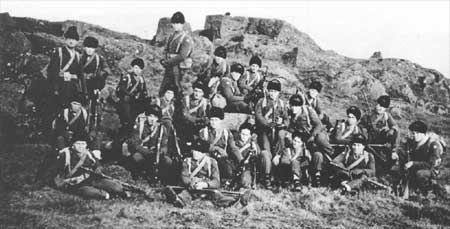 Marines on expeditionary duty in Iceland in 1941 pause during their field training in the months before the winter weather made heavier clothing a necessity. These Marines wear the polar bear shoulder patch on their forest green uniforms. Department of Defense Photo (USMC) 185021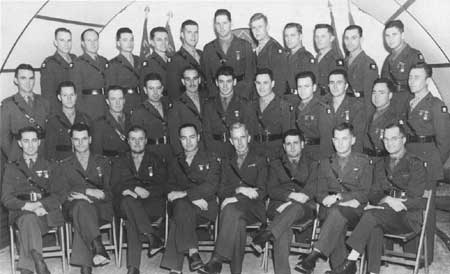 Officers of the 1st Battalion, 6th Marines, in Iceland, commanded by LtCol Oliver P. Smith (front row, fifth from left). He was to become assistant division commander of the 1st Marine Division on Cape Gloucester, division commander in the Korean War, and a four-star general at retirement. Two other officers of the battalion would become generals: Lt William K. Jones (second row, extreme right) and Lt Michael P. Ryan (last row, third from right). Three battalion officers were killed in the Pacific in World War II. These were the "Old Breed" with whom the Corps went to war. LtCol Harold K. Thronesen Collection
---