OUTPOST IN THE NORTH ATLANTIC: Marines in the Defense of Iceland
by Colonel James A. Donovan, U.S. Marine Corps (Ret)
---
During its time in Iceland, the defense battalion performed routine gun watches and training. With conditions of bitter cold high winds, and extreme dampness the maintenance of gun position and standing at continuous gun watches became demanding tasks.

An aerial view of Camp Baldurshagi, campsite of 2d Battalion, 6th marines, shows it set in the midst of nowhere and surrounded by barren terrain. nonetheless, it was an attractive camp in a valley with a stream stocked with salmon. National Archives Photo 127-G-524195
The British army camps taken over by 5th Marines had been purposely laid out in haphazard arrangements of the huts so that enemy air reconnaissance could not identify company or platoon areas. This complicated billeting arrangements for the Marine units, for Marines had been accustomed to uniform, neat, and military camp designs, but in combat zones, they would learn to live in huts and tents dispersed in tactical groupings.
British units moving out left a few officers and other ranks in each camp to assist the Marines in getting settled. The British troops enjoyed American rations so much that it was difficult to persuade them after a few days that their assistance was no longer needed.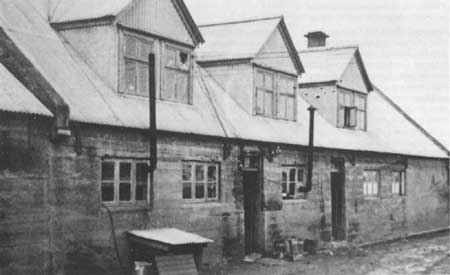 This cow barn at Camp Brauterholt was used as an officers' mess first by the British and then later by the 3d Battalion, 6th Marines. With a very large mess table and an adequate galley, it became the center of officer life in the camp. Col Clifton M. Craig Collection
The British veterans were properly concerned about the German capability of mounting air and parachute attacks. Iceland was well within range of German forces occupying Norway, and during the late summer months of long daylight the Germans sent lone reconnaissance planes high over the island on photo missions, usually before reveille on Sundays.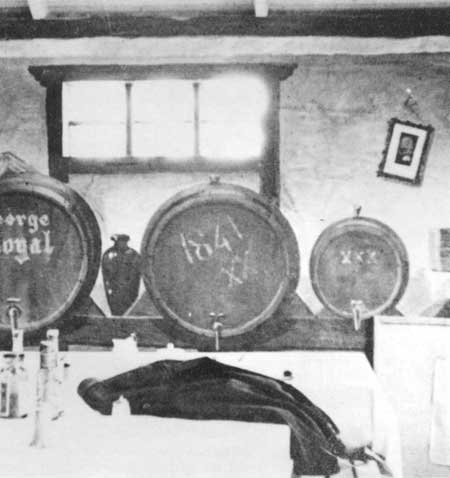 The interior of the barn was decorated by a British officer, a talented and successful theater designer in civilian life, to resemble scenes of an English village pub. Col Clifton M. Craig Collection
When the Germans flew over, warning sirens, bells, gongs, and whistles went off. Foggy marines milled around, half dressed, as they donned helmets, gas masks, and their clothes and took up their arms. British antiaircraft artillery fired a few rounds, but usually the Nazi planes were long gone. Because the U.S. was not yet at war, the American flag was not flown over any marine camps purportedly to keep the Germans from identifying them as such. However, some Marines manned .30-caliber antiaircraft machine gun positions and acted as though an invasion was impending.
Building their own camps and preparing for winter became priority missions. In addition, the Marines had to ready housing and facilities for the U.S. Army troops who were expected to arrive any day.
The Marines' defense mission and the extended area of tactical responsibility in the battalions moving into the key strong points and field fortifications already started or developed by the British. Most of these trenches and weapons positions along with extensive barbed wire obstacles were within short marching distance of the Marines' camps, and so could be occupied fairly quickly. The rifle platoons and weapons squads worked on the positions to strengthen and improve them. Barbed wire was extended, tactical phone lines were installed, and range cards prepared for crew-served weapons. But none of these chores took very long as the defense plans were relatively simple. The brigade devoted most of its time to housekeeping once it had fulfilled its tactical responsibilities.
Most Marines enjoyed their new friends in the British Army because of their colorful language, good humor, and seemingly natural affinity for soldiering in the field. These troops were polite, disciplined, and exuded regimental pride and esprit. Their military mannerisms rubbed off on many Marines who found themselves bashing their heels together and swinging their arms in proper British style. Probably most infectious was the British practice of singing ribald pub ditties.
The Marines and the British also found some amusement in the one sport they seemed to have had in common — boxing matches. The finals of the Anglo-American boxing tournament were held in the town hall of Reykjavik, kindly loaned by Reykjavik civic leaders. General Curtis and his senior officers sat on one side of the ring while General Marston and his Marine officers sat on the opposite side. The British adjutant announced the Marine band would play the "Star Spangled Banner." All hands stood at attention as the band played. Then the adjutant announced that the band would play "God Save the King." Nothing happened as the Marine musicians searched frantically for their sheet music. Finally a mortified band leader whispered, "Play 'My Country 'tis of Thee' — slowly."
In August, the first elements of U.S. Army units arrived in Iceland and brigade Marines were assigned to unload their ships. The arrival of the American soldiers was welcomed because the British forces were planning to return to England for deployment to the fighting in Africa. The Marines also expected to be replaced by the Army units.
The first small Army contingents to arrive, on 6 August, was a Curtiss Warhawk P-40 air defense fighter squadron and an engineer battalion. Upon their arrival, the P-40s were assigned to fly air patrols, which generally kept the Germans away. These two units initially reported to General Marston, until a senior Army command group arrived later in September. To meet the date of the Army's arrival and build facilities for the incoming units, the marines had to make a maximum effort. Before deploying to Iceland, the Army's new 5th Infantry Division and supporting units slated for duty overseas had to reorganize by transferring out draftees and transferring in individual regular Army personnel from units all over the States. Army units arriving in Iceland were well supplied with the latest clothing and equipment, and the Marines saw and soon acquired some of this gear.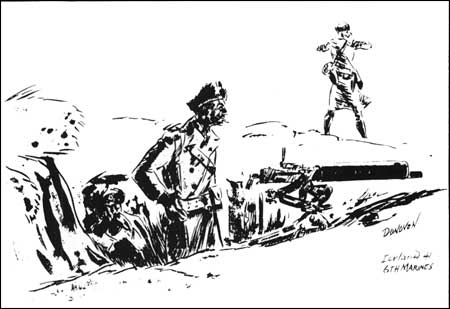 An aerial view of British Camp Halgoland showing the unaligned arrangement of the buildings, different from the usual precise and uniform Marine camp layouts. Department of Defense Photo (USMC) 185269
On Saturday, 16 August, the Iceland Base Command was visited by Prime Minister Churchill on his way home from a meeting with President Roosevelt at Argentia Bay in Newfoundland, where they had forged the Atlantic Charter. The British and U.S. Marine forces put on a grand review and parade which consisted of several miles of troops with platoons in line stretched along a major road under a bright sky. Mr. Churchill, with his cane and cigar, walked the entire line, and everyone claimed Churchill looked him in the eye.
When Churchill passed along the ranks of the 6th Marines, he stopped to speak to some of the older men wearing campaign ribbons. One senior Marine staff sergeant of German descent had groused earlier about parading for the British Prime Minister, but when Churchill stopped and asked him, "You're an old soldier aren't' you?" The Marine retorted, "I'm an old Marine." Churchill then said, "Well an old sea soldier, is that a good term?" The sergeant replied, "Yes, sir. We like to regard ourselves as sea soldiers." Churchill asked him if he would shake hand with another old soldier. Mr. Churchill won over that Marine and all others he spoke to that day.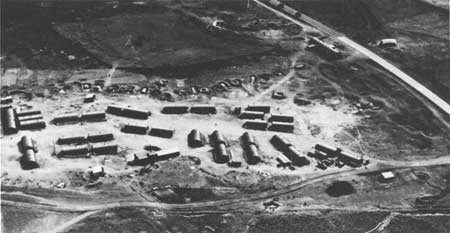 Before winter begins, a Marine heavy machine gun position is dug in outside one of the camps as part of the 1st Brigade's extended areas of tactical responsibility. Sketch by author in the Marine Corps Historical Art Collection
Then Mr. Churchill mounted a small reviewing stand with the official party, including the senior Marines, General Marston and Colonel Hermle, and the march-past stepped off led by the brigade Marine band and the 6th Marines. The parade was relatively long and the smartly turned out troops were impressive. For many Marines a stirring highlight was the skirling of the bagpipes and the beat of the drums of the Tyneside Scottish pipe band. The "Marines' Hymn" was played loud and clear by the Marine brigade band as the Leathernecks gave Churchill their best. Churchill was later quoted as saying the "Marines' Hymn" so impressed and moved him that it stayed in his mind long afterwards.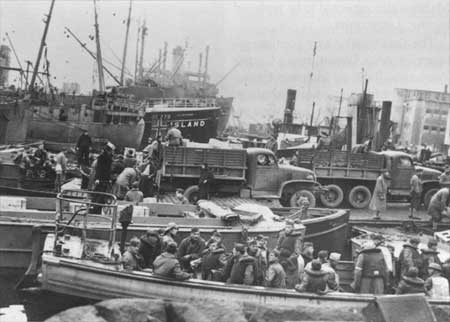 Brigade Marines assist Army units in unloading after arrival at the Reykjavik docks. Marine Corps Historical Collection
Shortly after they arrived, the Marines commenced the activities that were to take up most of their time in Iceland. They repaired and expanded their camps. The reasons given for the Marines having to devote their efforts to building camps for other than their own use were: First, somebody had to construct camps to accommodate the expected arrival and buildup of U.S. Army forces and neither Icelandic labor nor British troops were available to do so. Second, it became apparent that the Marines were not going to leave soon, so they had to work on imporving their own camps in preparation for the coming winter. They constructed new camps, setting up dozens of the British Nissen huts. They built and maintained roads, constructed defense installations, and functioned repeatedly as stevedores at the Reykjavik docks—but putting up Nissen huts seemed to be their never-ending task. Some officers in the regiment described themselves as a "labor regiment."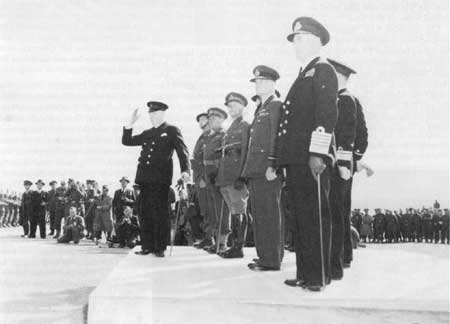 Prime Minister Winston S. Churchill takes the salute of the Iceland garrison troops of the British and U.S. Army and Marine Corps units as they pass in review. Mr. Churchill was en route home following his meeting with President Roosevelt. LtCol Harold K. Throneson Collection
Battalion given the mission of constructing additional Nissen hut camps sent platoon-sized working parties to selected sites and with the technical supervision of a few Royal Engineer NCOs turned to and demonstrated American speed and industry. Sixteen-hour work days were not unusual and numerous additional camps were constructed in a matter of weeks. The Marines quickly learned how to assemble the prefabricated huts after a few halting starts.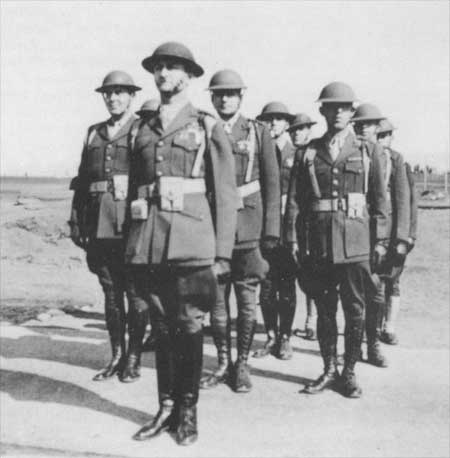 LtCol Maurice Holmes, 3d Battalion, 6th Marines, and his staff, await review by Prime Minister Churchill, who walked the entire line of British and American units. Author's Collection
As the Nissen huts were being constructed, the Marines were told to bank sod three- to four-feet high around the foundations and to tie down the tin roofs with strands of barbed wire. This seemed to be foolish and excessive precautions until months later when the winter gale winds commenced to blow. Huts shuddered and shook and a few had their ends blown out. Eventually the Marines even built camps for the Army engineers, which was considered an ironic and amusing twist of duties by the Marines.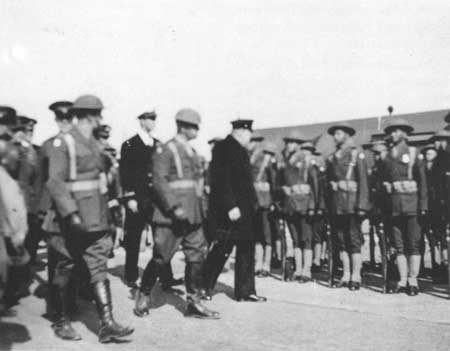 As he reviewed the 1st Brigade, Mr. Churchill is said to have looked into every Marine's eyes. He then mounted the reviewing stand for the march past by the garrison. Author's Collection
Construction crews became quite proud of their skill and speed in assembling the huts. The 1st Battalion desired to show General Marston how fast they could put the huts together. He showed up at dawn one day with his camera to take pictures showing daily progress. He planned a few pictures each day. He should have taken them hour by hour. By 9:00 p.m., the crews were completing roofs, doors, and windows, and installing stoves. The crews completed 16 huts in a day—a not-unusual performance.
Marines did their own laundering with soap, brushes, and buckets which were issued to them. The long summer days were warm enough to dry laundry hung outside—except during Iceland's frequent rain showers. In the winter, with the short days and bad weather, and freezing winds, drying clothes outdoors became impossible. As a solution to the problem, many camps provided Nissen "drying huts" with laundry lines and continuous heat from burning stoves. most officers did their own laundry and hung the wash in their sleeping quarters.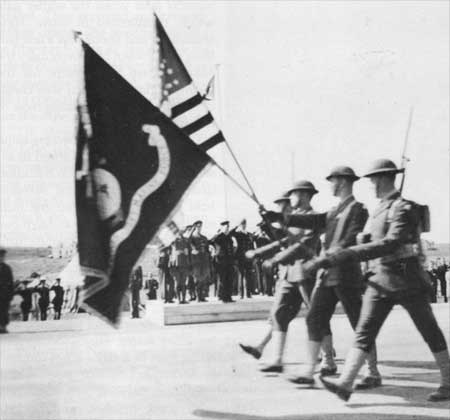 The 6th Marines' colors are dipped as the color guard passes the reviewing stand. Author's Collection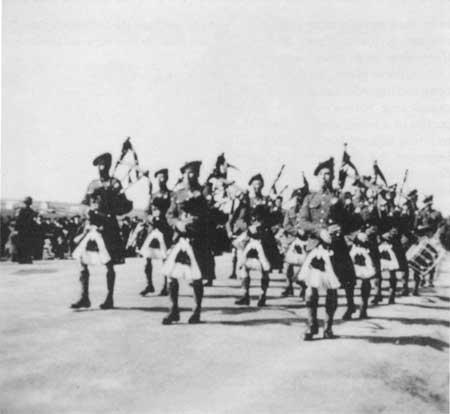 The pipes and drums of the Tyneside Scottish parade for Prime Minister Churchill. Author's Collection
---