---
Biographical Sketches


WILLIAM HOWARD TAFT
Twenty-Seventh President • 1909-13

Howard Taft

Although he lacked the charisma of Theodore Roosevelt, who had handpicked him for the office, President Taft scored many solid domestic gains. But, always more a jurist than a politician, in time he alienated his mentor and the "progressive" element in the Republican Party. This cost him reelection. Achieving a lifelong dream, he was later appointed as Chief Justice of the United States, the only Chief Executive ever to sit on the Supreme Court. Before becoming President, he had served as Governor-General of the Philippines and as Secretary of War.
Taft was born in 1857 at Mount Auburn (now part of Cincinnati), Ohio. His father, Alphonso, was a well-to-do lawyer-judge who was to serve under President Grant as Secretary of War and Attorney General; and under Arthur as Minister to Austria-Hungary and Russia. Young Taft was the third son in a family of six.
William Howard was educated in the public schools, and graduated second in his class from Woodward High School (1870-74). He won similar distinction at Yale (1874-78), where he was class salutatorian. The summer of his graduation, he read law with his father's firm, and in the fall enrolled at Cincinnati Law School. He soon also took a job as court reporter for the Cincinnati Commercial. In 1880 he took his degree and was admitted to the bar.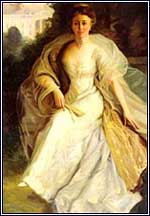 Helen Taft
About this time, Taft began to take part in Republican activities. As a reward, he was appointed as assistant prosecutor of Hamilton County (1881-82). President Arthur then designated him as district collector of internal revenue (1882-83). During the summer and fall of 1883, he visited his diplomat parents in Vienna and traveled about Europe.
From late 1883 until 1887, Taft practiced law, after 1885 serving as assistant county solicitor; and participated in politics. In 1886 he married Helen Herron, daughter of a leading State Republican. The couple were to have two sons and one daughter. The year after his marriage, Taft was named to a vacancy on the Ohio superior court. The following year, retaining his seat, he won the only election he ever took part in except for the Presidency. He held the judgeship until 1890.
Taft next served as U.S. Solicitor General (1890-92) and briefly as Acting Attorney General under President Benjamin Harrison. At this time, he became acquainted with Civil Service Commissioner Theodore Roosevelt. During the period 1892-1900, Taft was Federal judge for the Sixth Circuit (Ohio, Kentucky, Michigan, and Tennessee). Although he often ruled in favor of labor and against industry, he gained an antilabor reputation because of antistrike injunctions he issued. While on the bench, he also taught part time at and was dean of the Cincinnati Law School (1896-1900).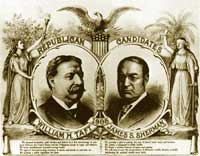 Campaign poster, election of 1908. (Copyrighted, 1908, by Kurz & Allison, Library of Congress.)
After President McKinley promised him a seat on the Supreme Court when a vacancy occurred, in 1900 Taft headed a civilian governmental commission in the Philippines, which the United States had acquired at the end of the Spanish-American War (1898). Although originally averse to annexation, he believed the Filipinos required training before independence and that this could not be accomplished until all insurrection ceased. As the islands' Governor-General (1901-4), he encouraged limited self-government; reformed the court system; built roads, harbors, and schools; improved the economy; and fostered land reform. Feeling responsible for the inhabitants, he twice unselfishly refused President Roosevelt's offer of a Supreme Court appointment.
Early in 1904 Taft became Secretary of War, though he continued his patronage of the Philippines. A talented administrator and conciliator, he also handled many special assignments for Roosevelt. Taft superintended early construction of the Panama Canal; went on a diplomatic mission to Tokyo; and, as provisional governor of Cuba, helped that country end internal strife.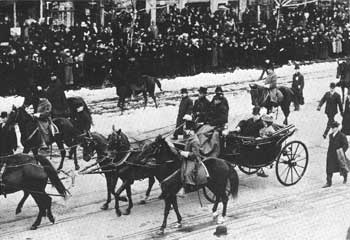 Flanked by Secret Service men, President and Mrs. Taft ride back from the Capitol to the White House on March 4, 1909. (Library of Congress.)
Although Taft undoubtedly preferred a Supreme Court judgeship, in 1908 his family and President Roosevelt persuaded him to accept the Republican Presidential nomination. Taft disliked campaigning and did not possess Roosevelt's magnetism, but his conservative judicial style appealed to many voters, and he defeated William Jennings Bryan by more than a million votes.
During his single term, Taft initiated more antitrust suits than Roosevelt, and was also active in conservation. Taft obtained legislation removing millions of acres of Federal land from public sale; rescinded his predecessor's order to reserve certain lands as possible public dam sites, but ordered a study to determine what acreage should be protected; formed a Bureau of Mines in the Department of the Interior to safeguard mineral deposits; and supported a bond issue to undertake irrigation projects.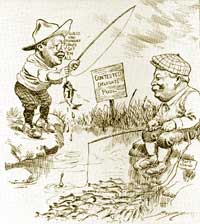 In 1912, contrary to the amicable spirit indicated by this cartoon, the estranged Roosevelt and Taft contested bitterly for delegates prior to the party convention. Taft was victorious. (Cartoon by Clifford K. Berryman, in the Washington Star, 1912, Library of Congress.)
Furthermore, Taft backed extension of Interstate Commerce Commission power over the communications industry and in establishment of railroad rates; supported a modest tax on corporate earnings; advocated economy in Government; formed a commission to study Federal finances; signed campaign reform legislation; extended the Civil Service merit system; created the parcel post and postal savings systems; and oversaw creation of a Children's Bureau in the Department of Commerce and Labor. He also urged and saw passage of the 16th amendment to the Constitution, which authorized a Federal tax on personal income. Arizona and New Mexico, the last of the 48 contiguous States, were admitted to the Union during his administration.
Despite these accomplishments, Taft's legalistic concept of his office and his increasing reliance on Republican congressional leadership soon alienated reformers. He hoped for compromise to reduce tariffs, but defended the Payne-Aldrich Tariff (1909). This outraged progressives who sought rate reductions as a further challenge to the trusts. Taft was accused of being anticonservationist because he dismissed Forest Service chief Gifford Pinchot, a Roosevelt ally, after Pinchot had quarreled publicly on policy matters with him and Secretary of the Interior Richard A. Ballinger.
Taft's conduct of foreign affairs was also criticized. Included were his "dollar diplomacy" in the Far East and Latin America, U.S. inaction in the face of Japanese and Russian penetration in Manchuria, and American intervention to insure political and financial order in Nicaragua. Then, too, Taft suffered some stunning diplomatic setbacks. He pushed a tariff reciprocity treaty with Canada through Congress, but Canadians rejected the measure, at least partly because they feared annexation. With France and Great Britain, he negotiated agreements to arbitrate international disputes, but the Senate amended the treaties to such a degree that the embarrassed Taft rescinded them.
Accusing Taft of abandoning meaningful reform, Theodore Roosevelt sought to regain the Republican nomination in 1912, but lost to Taft, Roosevelt left the party and became the Progressive ("Bull Moose") candidate. This schism assured the election of Woodrow Wilson.
Taft returned to his legal career. From 1913 until 1921, he held a chair in constitutional law at Yale University. When the World War broke out in Europe in 1914, he at first favored neutrality. In 1916 he backed Republican candidate Charles Evans Hughes. Later, Taft aided the U.S. war effort as cochairman of the National War Labor Board (1918-19). With certain reservations, he supported President Wilson on the League of Nations.
Taft also served as an official of various philanthropic and educational institutions, including the American Red Cross, Yale University, and Hampton Institute. His writings and lectures were published in books, magazines, and newspapers.
In 1921 President Harding fulfilled Taft's long-cherished ambition by designating him as Chief Justice of the Supreme Court (1921-30), in which position he served industriously and expedited the flow of Court business. In 1930, a month after he retired, he died in Washington, D.C.
---
http://www.cr.nps.gov/history/online_books/presidents/bio27.htm
Last Updated: 22-Jan-2004