---
Biographical Sketches


THEODORE ROOSEVELT
Twenty-Sixth President • 1901-9

Theodore Roosevelt

Venturesome in spirit as well as intellect, flamboyant in personality, and physically energetic, Roosevelt won the warm affection of the American people and immeasurably expanded Presidential powers. When he took office at the age of 42 upon the assassination of McKinley, he became the youngest Chief Executive in history, and he later decisively gained election to a term of his own. Wielding a "big stick," he exerted U.S. influence in global affairs. His domestic reform program emphasized regulation of business and trusts, protection of the rights of consumers and labor, and advancement of conservation.
The first son and second child of four, Roosevelt was born in 1858 in lower Manhattan. His father was a well-to-do glass importer, merchant, and banker; his mother was of aristocratic Georgian stock. Asthmatic in childhood and always nearsighted, the frail boy was carefully supervised and received private tutoring. Nevertheless, he traveled extensively with his parents, who summered at fashionable Atlantic coast resorts and frequently visited Europe.
Roosevelt early demonstrated interest in reading and natural science. On the other hand, building his body through sports, exercise, and eventually rugged outdoor activity, he became a lifelong champion of physical fitness and devotee of the "strenuous life."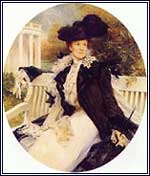 Edith Roosevelt
Roosevelt graduated from Harvard University (1876-80), where he was a dedicated student, won membership in Phi Beta Kappa, and participated in boxing. During his senior year, he started The Naval War of 1812 (1882)—the first of some 40 books and many articles he was to write in the fields of history, politics, and adventure.
The year he graduated, Roosevelt married Alice Hathaway Lee of Boston. They established their home in New York City, though they spent the next summer and fall honeymooning in Europe, during which time he climbed Switzerland's Matterhorn. Meantime, after leaving Harvard, he had attended Columbia Law School for a short while.
Deciding on a political career and gaining the support of various local Republican leaders, Roosevelt next won a seat in the State legislature (1882-84). His independence and zeal for industrial and governmental reform annoyed old-guard politicians, but attracted the attention of newsmen. While heading the New York delegation to the Republican national convention in 1884, he further demonstrated his dislike of machine politics by backing the abortive candidacy of reformer George F. Edmunds. Roosevelt, however, unlike a group of disgruntled "Mugwumps," refused to bolt the party when James G. Blaine was victorious.
Earlier in the year and only hours after his mother's death, Roosevelt's wife had died shortly after the birth of their only child, a daughter. To conquer his sorrow, within a few months he headed back to the Badlands of Dakota Territory, which he had first visited the previous year and where he had invested in a cattle ranch. From then until 1898, he was to reside periodically in the area and expand his landholdings. Living the life of a cowboy, he gained inspiration for several books, such as his multivolume The Winning of the West (1889-96).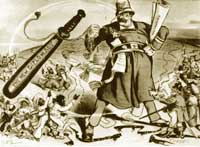 This cartoon satirizes the aggressive role played in world affairs by President Theodore Roosevelt, who had earlier headed the New York City Board of Police Commissioners. (Cartoon, ca. 1905, by Louis Dalrymple, in Judge magazine, Jan. 7, 1905, Harvard Colledge Library, Theodore Roosevelt Collection.)
In 1886 Roosevelt ran third in the New York City mayoralty election—a race he recognized he had almost no chance of winning. Later that year, he traveled to London to marry Edith Kermit Carow, a childhood friend. They established their permanent residence at Sagamore Hill, which he had recently constructed near Oyster Bay, L.I. Edith was to give birth to four sons and one daughter.
Following a 3-year period of writing, part-time residence in Dakota, and political activity, during the years 1889-95, under Presidents Benjamin Harrison and Grover Cleveland, Roosevelt sat on the U.S. Civil Service Commission. Ever a reformer, he figured prominently in expanding the merit system through such means as competitive examinations. He also angered spoils politicians by attacking campaign assessments of public employees. As president of the New York City Board of Police Commissioners (1895-97), he cracked down on police corruption, inaugurated a merit system, and backed social-welfare measures.
Aided by his friend U.S. Senator Henry Cabot Lodge's influence with President McKinley, Roosevelt next served as Assistant Secretary of the Navy (1897-98), in which office he espoused a strong Navy and manifested an imperialistic attitude. At the outbreak of the Spanish-American War (1898), he resigned to accept a lieutenant-colonelcy in a national volunteer cavalry regiment, the "Rough Riders," which he had helped organize. In Cuba, his bravery vaulted him into the national limelight. Promoted to colonel, he came home a hero.
In the fall of 1898, New York Republican leaders chose Roosevelt as their candidate for the governorship, which he won by a slim margin. But, resenting his reform and social-welfare programs, the State hierarchy maneuvered him into accepting the Vice-Presidential nomination in 1900. He contributed significantly to the heavy Republican victory, and later took over the Presidency upon McKinley's assassination in 1901. Three years hence, he was triumphantly elected over conservative Democrat Alton B. Parker.
Believing the President should be limited only by specific constitutional prohibitions, Roosevelt inaugurated an extensive reform program that promised a "Square Deal" for labor, capital, and the general public. He initiated many suits against trusts, though he distinguished between "good" and "bad" ones and encouraged legislation to speed up prosecution.
Reacting to "muck-raking" denunciations of business abuses, Roosevelt was instrumental in enactment of the Pure Food and Drug Act (1906); signed legislation for the inspection of stockyards and packinghouses; and backed the Hepburn Act (1906), which expanded Interstate Commerce Commission control over railroads express companies, and terminal facilities.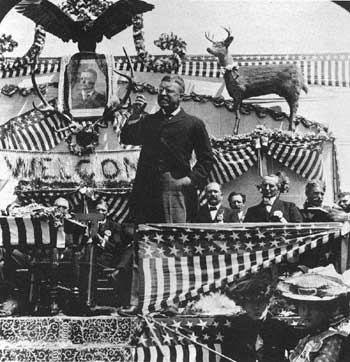 Roosevelt delivering a speech in New Castle, Wyoming, probably in 1903. (Library of Congress, ca. 1903.)
During a coal strike in 1902, Roosevelt made unprecedented use of Presidential influence to pressure mineowners into arbitration with labor. He also forced the railroads to comply with published rate schedules. In 1903 he convinced Congress to establish the Department of Commerce and Labor. When he entertained Booker T. Washington at a White House dinner, the first black man to be accorded this privilege, Roosevelt was roundly criticized in the South. Nevertheless, at Washington's behest, he appointed a few black officeholders.
Despite opposition from business interests and many westerners, Roosevelt also pushed the cause of conservation. His National Conservation Conference (1908) focused the public's attention on problems in this field and resulted in several beneficial programs. He also added about 150 million acres to the national forests, set aside extensive coal reserves and land for potential public dam sites, supported irrigation projects, founded many wildlife preserves, and expanded the number of national parks and monuments.
In international affairs, Roosevelt followed the principle "Speak softly and carry a big stick." He viewed the Navy as a key to imperial power, and in 1907-9 sent a fleet on a world cruise to impress Congress and foreign nations. To quicken naval movements, he obtained Senate approval of the second Hay-Pauncefote Treaty (1901). It removed earlier British-United States restrictions on unilateral construction of a Central American canal, but required that all nations enjoy equal access to it and pay equal tolls.
Two years later, Roosevelt aided a rebellion in Colombia that created the Republic of Panama and led to U.S. control of the Panama Canal Zone. He also began construction of the canal (1904-14) under the Army Corps of Engineers. While inspecting its early stages, he became the first President to leave U.S. soil while in office.
In response to the threat of armed intervention by various European nations on behalf of their creditors in Venezuela and the Dominican Republic, the President enunciated the Roosevelt Corollary (1904) to the Monroe Doctrine. It asserted the right of the United States to intervene in the affairs of other hemispheric countries.
Roosevelt also spurred settlement in 1903 of British, Canadian, and United States boundary claims in Alaska. For his role in negotiating the Treaty of Portsmouth (1905), which concluded the Russo-Japanese War, he became the first American recipient of the Nobel Peace Prize (1906). That year, he induced France to participate in a 13-nation conference that discussed the role of various European powers in Morocco; and appointed a provisional governor of Cuba, who helped that country resolve civil strife.
To ease strained relations with Japan, in 1907 Roosevelt convinced a San Francisco school board to abandon its newly inaugurated policy of segregating Oriental children. The next year, he won Japanese agreement to U.S. immigration restrictions and to an "Open Door" pact in China.
Pledged to leave office after his second term, Roosevelt backed William Howard Taft as his successor. In 1909-10 Roosevelt went on an African safari, toured Europe, lectured at the Sorbonne and Oxford University, represented the United States at the funeral of King Edward VII of Britain, and returned to a triumphal parade in New York City. At Sagamore Hill, Roosevelt continued writing.
Feeling that President Taft had abandoned his policies, Roosevelt sought the Presidential nomination in 1912. When Taft became the candidate, after a bitter pre-convention struggle, Roosevelt bolted the party and ran on the Progressive, or "Bull Moose," ticket. Surviving an assassination attempt in Milwaukee, he gained more votes than Taft, but the Republican split gave the election to Democrat Woodrow Wilson.
In 1912 Roosevelt was named as president of the American Historical Association. Illness forced him to return home from an exploration (1913-14) of a branch of the Amazon River in Brazil. He criticized Wilson's neutrality at the outbreak of World War I (1914-18). Convinced that the Progressive Party lacked a future, in 1916 Roosevelt refused its Presidential nomination. He supported Republican Charles Evans Hughes, but Wilson was reelected.
When the United States entered the war in 1917, Roosevelt volunteered to raise a regiment, but Wilson refused his offer. Although bitter, Roosevelt joined Liberty Loan drives. After the war, in which one of his sons died and two were badly wounded, he opposed the League of Nations. While some Republicans were discussing the possibility of his Presidential candidacy in 1920, he died in his 61st year in 1919.
---
http://www.cr.nps.gov/history/online_books/presidents/bio26.htm
Last Updated: 04-Feb-2004