---
Biographical Sketches


WILLIAM McKINLEY
Twenty-Fifth President • 1897-1901

William McKinley

A former lawyer, Governor of Ohio, and Congressman, McKinley was the last Civil War veteran to be elected as President. Responding to the clamor of the press and expansionists, he led the Nation through the Spanish-American War and the acquisition of vast overseas territories. Domestically, he espoused high protective tariffs and defended the gold standard. About 6 months into his second term, he became the third Chief Executive to be assassinated.
McKinley, the seventh of nine children, was born in 1843 at Niles, Ohio. Nine years later, his father, an ironmaker, moved to nearby Poland. The youth was educated at local schools and Poland Academy. In 1860 he enrolled at Allegheny College, in Meadville, Pa., but illness and family financial problems forced him to return home after only one term. He then taught at a rural school and clerked in the post office.
In 1861 McKinley enlisted as a private in an Ohio infantry regiment that was to be commanded by Col. and future-President Rutherford B. Hayes. McKinley participated in several battles and by war's end had achieved the rank of brevet major. Upon his return to Ohio, he read law with a Youngstown firm, and in the fall of 1866 entered Albany (N.Y.) Law School. Before graduating, however, the following spring he went back to Ohio. Admitted to the bar later that year, he established a practice in Canton.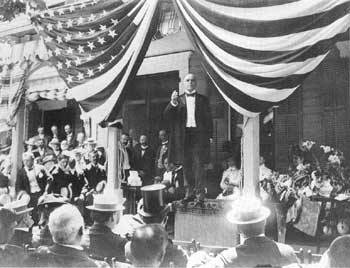 McKinley conducts "front-porch" campaign at Canton, Ohio, in 1896. (Smithsonian Institution, Ralph E. Becker Collection.)
McKinley, a Republican, campaigned for his Army friend Hayes in his successful gubernatorial race, and won election as prosecuting attorney of Stark County (1869-71). In the latter year, he married Ida Saxton, daughter of a local banker. Following the early deaths of two daughters, Ida, who suffered from epilepsy after 1873, was to become a semi-invalid and remain so for the rest of her life.
From 1871 to 1875 McKinley practiced law and aided the Republican cause. Service in the U.S. House of Representatives (1877-84 and 1885-91) ensued. During this long tour of duty, McKinley won prominence in State and National party affairs.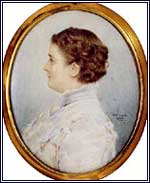 Ida McKinley
Although McKinley was a possible compromise Presidential candidate in the 1888 Republican convention, he resolutely backed Ohio Senator John Sherman, who lost to Benjamin Harrison. During the convention, McKinley caught the attention of Marcus A. Hanna, a wealthy Cleveland businessman who was to become his friend, political mentor, and manager. In 1889 McKinley failed to win the speakership of the U.S. House of Representatives. But he became chairman of the Ways and Means Committee, where he spearheaded the highly protective McKinley Tariff of 1890.
A Democratic gerrymander in Ohio in 1890 cost McKinley reelection, and nationally the Republicans suffered a landslide defeat in the House elections, largely because of their tariff position. But McKinley readily won two terms as Governor (1892-96). In 1892 he chaired the Republican national convention, at which he received a considerable number of votes though he lost the nomination to incumbent President Harrison.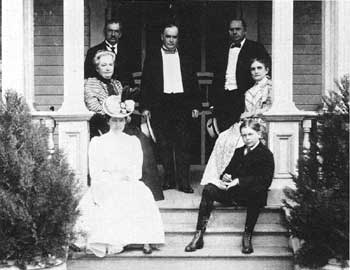 McKinley and his wife, Ida (right), visit his political mentor, Mark Hanna (right, standing), in Thomasville, Georgia. The other people are unidentified. (Library of Congress.)
In 1896 McKinley easily gained nomination. In a fierce contest on the heels of a depression, Democrat William Jennings Bryan, endorsed by the Populists and renegade Republicans, advocated inflationary silverite policies. Defending the gold standard in a "front porch" campaign, McKinley addressed select delegations at his home in Canton while Hanna directed the nationwide offensive.
Despite Bryan's strength in the West and the South, economic recovery reduced debtor enthusiasm for his inflationary programs, and antisilver Democrats, such as retiring President Cleveland, refused their endorsement. McKinley had the first popular vote majority since 1872, and the Republicans continued the congressional dominance they had gained in 1894 and were not to lose until the elections of 1910.
Republican campaign poster in 1900. (Smithsonian Institution, Ralph E. Becker Collection.)
Postponing monetary reform, McKinley called Congress into special session to enact the Dingley Tariff (1897), which established the highest duties to that date. Although McKinley warned of the danger to the public good from trusts, the number of new ones increased markedly during his administration.
Foreign affairs were McKinley's paramount concern. In 1895 Cuba renewed its sporadic revolt against Spain. Publicizing incidents of Spanish repression, the American "yellow press" and expansionist leaders fostered public sentiment for intervention. At first, backed by some leading businessmen and other anti-imperialists, McKinley sought a diplomatic solution. But early in 1898 negotiations suffered a setback when Spanish Minister Don Enrique Dupuy de Lôme resigned after the newspapers printed a copy of one of his private letters in which he characterized McKinley as weak and vacillating.
About the same time, the U.S. battleship Maine, on a courtesy call to Havana, mysteriously exploded and took the lives of 260 men. Blaming Spain, interventionists cried "Remember the Maine." Although Madrid made some concessions on Cuba, McKinley bowed to practically irresistible public and congressional pressure and demanded independence for the island. On April 25, 1898, Congress declared war.
U.S. sea and land invasions of Cuba, Puerto Rico, Guam, and the Philippines quickly brought Spain to her knees. The Treaty of Paris recognized Cuba's independence, and granted Puerto Rico, Guam, and the Philippines to the United States. Countering those people who contended these acquisitions were contrary to national principles and interests, McKinley justified them with economic military, and humanitarian arguments.
Under McKinley's leadership, in 1898 the United States also annexed Hawaii and occupied Wake Island, and the next year partitioned the Samoan Islands with Germany. Beginning in 1899, Filipino revolutionaries engaged U.S. forces in a bloody but futile guerrilla war for independence. In 1900 McKinley appointed William Howard Taft (later U.S. Chief Executive) as head of a commission that was to set up civil rule for the Philippines.
As the major powers intensified their scramble for influence in China, in 1899 Secretary of State John M. Hay achieved recognition of an "Open Door" policy in that nation. This granted equal trading rights to all countries. During China's Boxer Rebellion (1900), which sought to expel foreigners, McKinley assigned 5,000 U.S. troops to an international expeditionary force that lifted the siege on the Peking Legation Quarter.
In the Caribbean, McKinley established civil government in Puerto Rico under the provisions of the Foraker Act (1900). He encouraged Cuba's beginnings in self-rule while restricting her sovereignty by imposing U.S. rights of intervention.
At home, McKinley's approval of the fiscally conservative Gold Standard Act of 1900 briefly revived the monetary debate. In the Presidential campaign that year, Democrat Bryan spoke out again for free silver and railed against imperialism. But the majority of voters opted for McKinley's "full dinner pail" and a major role in world affairs. He defeated Bryan even more decisively than in 1896.
During his second term, McKinley seemed likely to continue strong overseas involvement. He encouraged Secretary of State Hay's negotiations with Great Britain to terminate restrictions on Central American canal construction set by the Clayton-Bulwer Treaty (1850). In domestic affairs, he hinted at changes in tariff and trust policy. But on September 6, 1901, at the Pan-American Exposition in Buffalo, N.Y., an anarchist shot him. He died 8 days later.
---
http://www.cr.nps.gov/history/online_books/presidents/bio25.htm
Last Updated: 22-Jan-2004