FROM SHANGHAI TO CORREGIDOR: Marines in the Defense of the Philippines
by J. Michael Miller
---
Arrival in the Philippines
Once at sea, orders came from Admiral Hart for the 4th Marines to land at Olongapo Navy Yard. The voyage to the Philippines proved to be uneventful, although both ships traveled under war conditions. The vessels were darkened at night with several of the regiment's machine guns lashed to the railings as antiaircraft defense. Two Navy submarines escorted the ships, and although several Japanese aircraft and ships were sighted, no incidents occurred.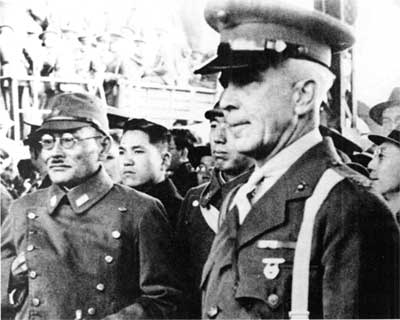 The commander of the Japanese guard in Shanghai bids farewell to Col Howard and the 4th Marines. National Archives
On 30 November the Madison arrived at Subic Bay, followed on 1 December by the Harrison. The regiment hurriedly disembarked with only two lighters of supplies and field equipment taken from each ship. Unloading the 1st Battalion became a mass of confusion as every non-commissioned officer tried to be the first to get his unit's gear on the lighter. Lieutenant Colonel Beecher, commanding 1st Battalion, observed the scene from the railing of the Madison and sent for one of his non-commissioned officers. Beecher told him, "Duncan, go down and straighten that mess out. Get this stuff off and move it." Word of Beecher's displeasure was quickly passed and the unloading progressed smoothly.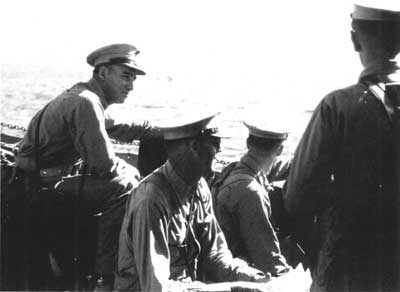 Marine officers waiting on board to disembark to Olongapo. Department of Defense Photo (USMC) 321-T
The rest of the equipment went to the Manila port facilities and was trucked back to Olongapo. Admiral Hart expressed specific orders for the regiment to get into the field as quickly as possible without all of its heavy equipment. "We all knew," Hart wrote later, "that they had been cooped up in Shanghai through all those years where conditions for any sort of field training were very poor — and we thought that not much time remained."
The Marines found temporary wooden barracks, converted from warehouses, that were nearing completion, but half the regiment was put under canvas on the rifle range and naval station. The regiment was quickly put into field training in the surrounding bush, with the two battalions alternating days and nights in the field.

The 1st Separate Marine Battalion
The 1st Separate Marine Battalion, commanded by Lieutenant Colonel John P. Adams, was based at the Cavite Navy Yard. These 700 Marines were organized both as a defense and an infantry battalion. On Sangley Point, Company A organized Battery D for antiaircraft defense. Company B operated out of the Cavite Yard, with its internal Battery A also located on Sangley Point. Company C had Batteries B and C which were located in Carridad and Binakayan, respectively. Company D had two batteries, E and F, in the Navy Yard. All of the batteries were armed with 3-inch dual purpose guns, 3-inch antiair craft guns, or .50-caliber machine guns.
---