FROM SHANGHAI TO CORREGIDOR: Marines in the Defense of the Philippines
by J. Michael Miller
---
Deployment
On 29-30 December the 4th Marines moved from its barracks into field positions. The 1st Battalion took the east sector, from Malinta Hill to Hooker Point on the tail of the island. The 2d Battalion moved into the west sector and the 1st Separate Marine Battalion was assigned the middle sector. On 1 January 1941, this battalion was officially redesignated 3d Battalion, 4th Marines. Forty four Marines of the battalion were detailed for antiaircraft defense for Batteries Wheeler and Cheney. In addition, 46 Marines in two platoons of the 3d Battalion under Second Lieutenant Frederick A. Hagen were deployed with .30- and .50-caliber machine guns to provide antiaircraft fire and beach defense of Fort Hughes. Another 14 Marines of the 3d Battalion were deployed to Fort Drum for the same purpose.
Work began rapidly on construction of beach defenses. Typical was the reaction of Lieutenant Colonel Beecher when he first inspected his defense area. He later wrote, "The task confronting us was appalling. With 350 men there were 3,500 to 4,000 yards of possible landing beach to defend." The Marines began to build barbed wire barriers, tank traps, bunkers, and trench systems. Working parties began at first light in the morning and halted only at noon for a rest period in place of lunch. The work progressed well, slowed only by Japanese shelling, bombing, and darkness.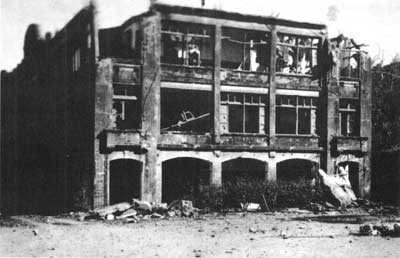 Middleside Barracks, March 1942. The barracks housed the reserve company of the 2d Battalion, 4th Marines during the siege. Austin C.Shofner Papers, Personal Papers Collection, MCHC
Tools were carefully guarded, as Lieutenant Jenkins remembered, "We took care of our tools like gems." The Marines ran short of sandbags, so discarded powder cans from the coastal artillery guns were filled with dirt and used in their place. Bottles were filled with gasoline to make "Molotov cocktails," to be dropped over cliffs on the Japanese. Empty gasoline drums were filled with dirt and rock and set up as tank traps on trails leading from the beach. Each position was carefully camouflaged for protection and dummy positions were also constructed to attract enemy fire.
Marines of Company B located Army aircraft bombs, and wooden chutes were constructed to drop the bombs on landing areas. A second line of defense and reserve positions were also built behind the front line beach defenses, with the hope of eventual reinforcement.
---