PU'UKOHOLA HEIAU NHS • KALOKO-HONOKOHAU NHP •
PU'UHONUA O HONAUNAU NHP

---

A Cultural History of Three Traditional Hawaiian Sites
on the West Coast of Hawai'i Island
Site Histories, Resource Descriptions, and Management Recommendations

CHAPTER VIII:
KALOKO-HONOKOHAU NATIONAL HISTORICAL PARK (continued)
---
G. Description of Resources (continued)
1. Fishponds (continued)
b) 'Aimakapa Fishpond
'Aimakapa, the larger of the fishponds, comprises about fifteen acres. It is a loko pu'uone type pond, a large natural water area trapped behind sand dunes. It was originally much larger, including another fifteen acres that are now marshland. A stone-lined channel cut through the beach once formed the sluice gate by which seawater entered the pond. 'Aimakapa also has secondary walls, forming at least six compartments for separating fish. [59] The pond is intact, though somewhat overgrown. It still contains awa (milkfish) and is an important wildlife refuge for native and migratory birds. Numerous sites along its shores indicate intensive human activity, particularly use by ali'i for recreational and ceremonial purposes. [60]
The nearby holua is one of eight surviving in Kona, others existing at Ka'upulehu, Keauhou, Honaunau (2), Keokea, Ki'ilae, and Okoe. It and the one at Keauhou allowed two contestants to compete simultaneously. The slide is a narrow built-up stone track covered with grass to create a slick sledding surface. The sled itself was a narrow piece of wood on which the contestant threw himself full length, attempting to remain on the track all the way to the bottom. It is said that only ali'i participated in this sport. The takeoff and runway to the brow of the a'a flow are well preserved, but the lower section of slide has been cannibalized for stones to construct two corrals on the flat below. At the head of the holua is a graveyard, while house sites and tombs are found at the base of the hill supporting the slide. Scattered petroglyphs may be seen throughout the area, as well as ancient heiau remains on the pahoehoe plain. [61]
A platform close to the Mamalahoa Trail might have been used as a gathering place for meetings and/or ceremonies. On a high point behind 'Aimakapa stands a large stone, called Kanaka Leo Nui, meaning "man with a loud voice." Tradition says that in ancient times the chief by that name stood on this stone while directing fishing activities off the coast. [62] This pond is thought to have been in existence prior to the fifteenth century A.D. [63] There also appear to be remains of an old unnamed fishpond seaward of the present coastline, makai of 'Aimakapa Fishpond, that are visible in the water. [64]
According to tradition, chiefs directed the activities of Kaloko-Honokohau inhabitants by issuing hand or flag (ka pa) signals to their subordinates from high places such as the bluff above 'Aimakapa Fishpond. [65]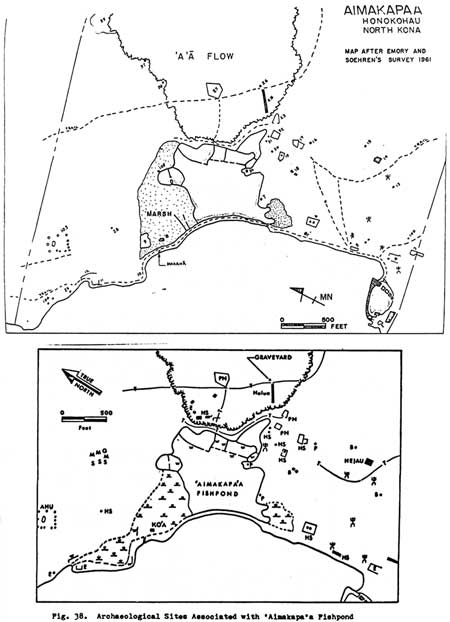 Illustration 107. Two sketches of archeological sites in the vicinity of 'Aimakapa Fishpond. Top: From Kikuchi and Belshe, "Examination and Evaluation of Fishponds," p. B17. Bottom: Figure 38 in Kikuchi, "Hawaiian Aquacultural System," p. 176.
(click on image for an enlargement in a new window)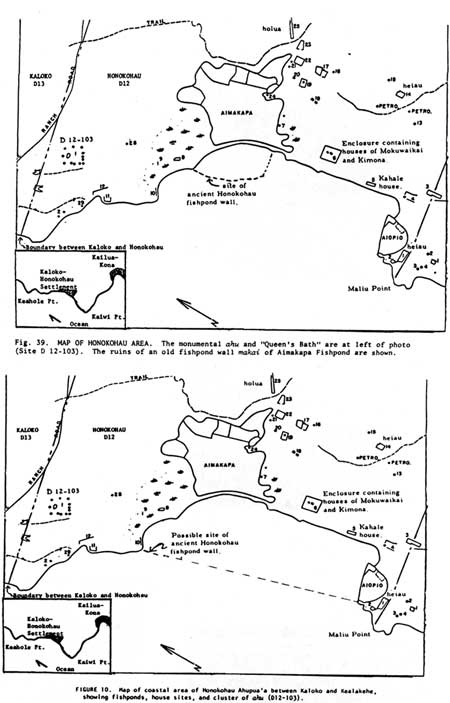 Illustration 108. Sketches showing possible locations of ancient fishpond wall southwest of 'Aimakapa Fishpond. Top: Figure 39 in Rosendahl, Archeological Salvage of Ke-ahole to Anehoomalu Section, p. 110. Bottom: Figure 10 in Kelly, Historical Survey of Kaloko, p. 20.
(click on image for an enlargement in a new window)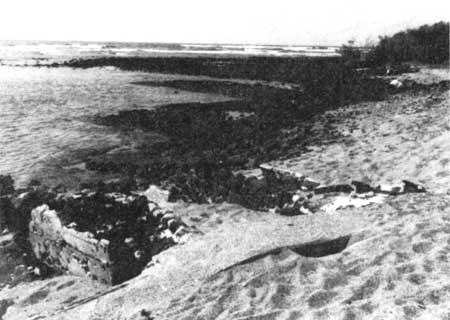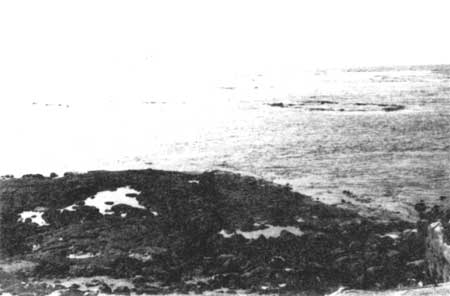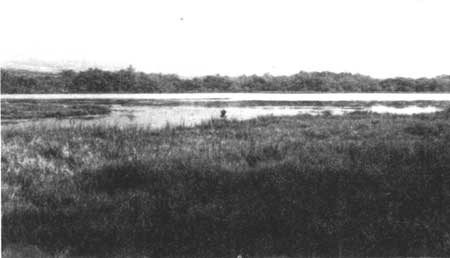 Illustrations 109-111. Top: remains of sluice gate for 'Aimakapa Fishpond. Middle: possible remains of another fishpond or some other type of structure in sea west of beach near 'Aimakapa Fishpond. Bottom: view to southeast of 'Aimakapa Fishpond. NPS photos, 1989.
---
---
greene/history8f.htm
Last Updated: 15-Nov-2001