PU'UKOHOLA HEIAU NHS • KALOKO-HONOKOHAU NHP •
PU'UHONUA O HONAUNAU NHP

---

A Cultural History of Three Traditional Hawaiian Sites
on the West Coast of Hawai'i Island
Site Histories, Resource Descriptions, and Management Recommendations

CHAPTER VIII:
KALOKO-HONOKOHAU NATIONAL HISTORICAL PARK (continued)
---
G. Description of Resources (continued)
1. Fishponds (continued)
c) 'Ai'opio Fishtrap
'Ai'opio Fishtrap is almost two acres in size and roughly circular in shape. Its seaward side is separated from the ocean by a manmade stone wall, while its other sides are bordered by rocky lava headlands and the sandy beach. Fish entered the pond at high tide through a narrow channel in the seawall; it has no sluice gate. Four rectangular walled enclosures within the pond along the shoreline were probably used either as holding pens for netted fish or as lanes in which the fish were netted. [66] Kickuchi and Belshe have suggested that, because of their proximity to each other, 'Ai'opio might have played a supporting role in the management of 'Aimakapa Fishpond, possibly providing its fish supply. [67] House sites can be seen around the pond area, while inland are large concrete salt pans and the remains of frame houses, indicating occupancy of this area into the twentieth century. [68]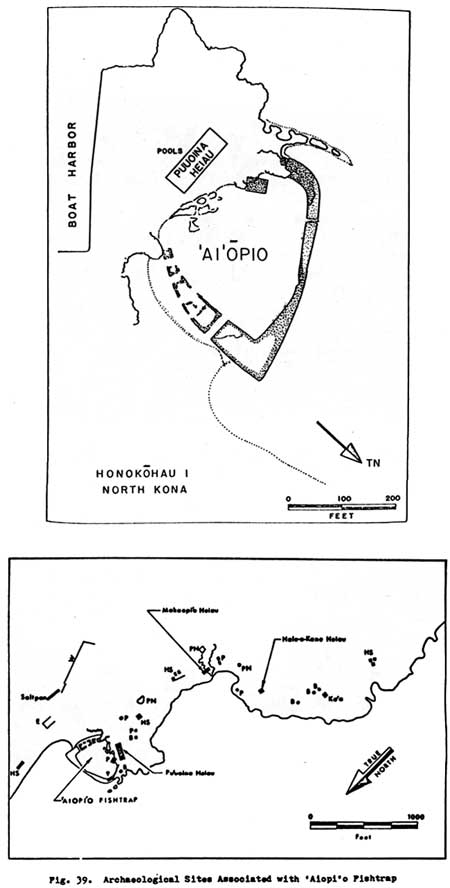 Illustration 112. 'Ai'opio Fishtrap and associated archeological sites. Top: From Kikuchi and Belshe, "Examination and Evaluation of Fishponds," p. B12. Bottom: Figure 39 in Kikuchi, "Hawaiian Aquacultural Systems," p. 177.
(click on image for an enlargement in a new window)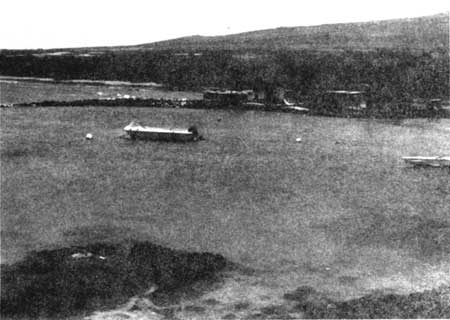 Illustration 113. 'Ai'opio Fishtrap, view to north showing encircling stone wall and fishermen's huts. NPS photo, 1989.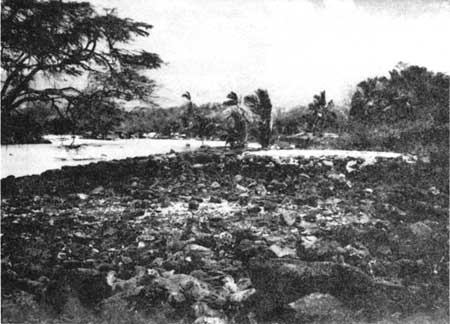 Illustration 114. View from Pu'u'onia Heiau toward 'Ai'opio Fishtrap. NPS photo, 1989.
---
---
greene/history8g.htm
Last Updated: 15-Nov-2001