---
MENU
---
---
Yellowstone National Park:
Its Exploration and Establishment

---

Biographical Appendix
Biographical Appendix: F-L
---
---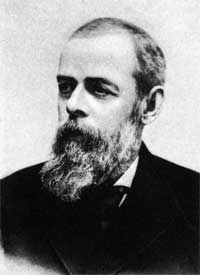 DAVID E. FOLSOM. Born in Epping, N.H., in May 1839; died in Palo Alto, Calif., May 18, 1918. A member of the 1869 Folsom party of Yellowstone explorers, coauthor of the first magazine article descriptive of the Yellowstone region, and proponent of a suggestion (the second such known to have been made) for reservation of the area and its wonders in the public interest.
Since his was a Quaker family, Dave Folsom was sent to the academy at Vassalboro, Maine, with his boyhood friend, Charles W. Cook, and they both went on to the Moses Brown Quaker School at Providence, R.I. It was there, while he was preparing for a career as a civil engineer, that Folsom's health broke down, so, following his physician's recommendation, he started for the West.
The gold mines of Idaho beckoned young men in 1862, and Folsom was proceeding in that direction when he heard that the Fisk party was organizing at Fort Abercrombie, on the Red River of the North, for the purpose of pioneering a northern route to the mines. Reaching the rendezvous with the same Minnesota contingent that included Nathaniel P. Langford, Folsom was accepted as a herder for the train of 52 wagons that departed with its escort of soldiers in midsummer.
The ineptness of the man detailed to supply wild meat for the 130 men, women, and children of the wagon train led Folsom to volunteer his services as hunter for the party. Earlier hunting in Maine had made him a good woodsman and an excellent shot, so he had no difficulty keeping the expedisioners well supplied as they journeyed across Minnesota and the Territory of Dakota to Fort Benton, and then along the Mullan Road toward Washington Territory (which then abutted on Dakota along the Continental Divide).
As the Fisk party was about to cross the Rocky Mountains, word was received that the diggings on Salmon River, which had been their objective, were "played out", so many of its members turned to a new strike on Grasshopper Creek, where a town called Bannock had already appeared. Folsom spent the winter of 1862-63 there, then moved on to Virginia City and a chancy altercation with outlaw George Ives. The latter's attempt to provoke Folsom into an unfair fight was met in a manner as unexpected as it was untypical of his Quaker background—he floored the bad man with a flung pool ball! It was a rash act, from which Folsom escaped with his life only because friends got him out of town until the work of the vigilantes was completed.
Soon becoming discouraged with placer mining, Folsom took employment on the ranch of Henry C. Harrison at Willow Creek, in Madison County, before settling on land in that vicinity. In addition to the ordinary vicissitudes of pioneer ranching, life there was an unending struggle against inroads of ferocious grizzly bears. Four years of that was enough to turn him briefly to surveying for a livelihood before he joined his old friend, Charley Cook, in the operation of the ditch company at Confederate Gulch in the winter of 1868-69. This employment led him into the Yellowstone wilderness with Cook and Peterson, in what was the first step in the definitive exploration of the area now included in Yellowstone National Park.
Following that adventurous trip, Folsom went to work in the office of the Surveyor General of Montana Territory, at Helena. As a result of this association, he was able to furnish Henry D. Washburn with much information about the Yellowstone region and its "wonders" (also advancing a suggestion that the area should be reserved for public use), and he collaborated with Walter W. deLacy in the revision of the latter's Map of the Territory of Montana, With Portions of the Adjoining Territories, so that the Yellowstone region was at last delineated with reasonable accuracy. A copy of this 1870 edition of deLacy's map was carried by the Washburn party of explorers.
Folsom formed a partnership with deLacy and they engaged in land surveying until 1873. Returning to New Hampshire in that year, Folsom remained there until his marriage to Miss Lucy Jones in 1880. The couple settled in Montana, developing a large sheep ranch on Smith River, near the Cook homestead.
Following his return to Montana, Folsom was also prominent in public life. He served as the treasurer of Meagher County from 1885 to 1890, and he was a State senator in the third and fourth sessions of the Legislative Assembly (actually president pro tem of the Senate during the fourth). He was an appointed member of the commission that supervised the construction of the State Capitol at Helena, and in 1900 he ran for the governorship of Montana but was defeated.
The Folsoms moved to California when their son, David, Jr., enrolled at Stanford University. The young man was assistant professor of mining engineering there at the time of his father's death.
Source: Lew L. Callaway, Early Montana Masons (Billings, Mont. 1951), pp. 29-33.
---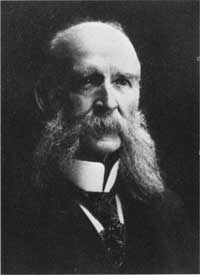 WARREN CALEB GILLETTE. Born in Orleans, N.Y., Mar. 10, 1832; died in Helena, Mont., Sept. 8, 1912. A member of the 1870 Washburn party of Yellowstone explorers, and the leader of the group that remained behind to make a last, desperate search for the lost Truman C. Everts.
Warren was the eldest of five children raised by parents of French Huguenos origin. Upon completing public school he entered Oberlin College, in Ohio, and studied there into his 18th year before succumbing to that restlessness that eventually took him to Montana.
After stopping for a time in Columbus, Ohio, Gillette returned to New York State where he worked as a clerk in Oneida County until 1855. He then removed to Chicago, working for E. R. King & Co., wholesale hatters and furriers, until 1859. On the basis of that experience he opened a retail store at Galena, Ill., but abandoned the business after 2 years. Returning once more to his home State, he worked at the manufacturing of furs in New York City until the spring of 1862, when word of the discovery of gold in Idaho reached the East.
Lured by the prospect of sudden wealth, Gillette made his way westward. As St. Louis he boarded the steamer Shreveport, intending to go by the Missouri River route to Fort Benton landing, and from there overland to the Salmon River mines. But low water stopped the vessel between Fort Buford and the mouth of Milk River, so that its passengers and freight were put ashore short of their Montana destination.
The emigrant party Gillette was with had brought wagons and teams with them, and their journey was continued overland toward Fort Benton. Two days later they met Indians, some of whom were inclined to turn them back. While the Indians were holding a council to decide the matter, the emigrants turned about with the intention of avoiding trouble by voluntarily returning to the Missouri River. But the Indians then informed them they could not go back, but must go on to Fort Benton, which they were glad to do.
By the time this party reached Montana City on Little Prickly Pear Creek it was rumored that gold had been discovered on Grasshopper Creek. While most of the party rested there in "Camp Indecision," a delegation was set to look over the new strike. However, Gillette went on to Deer Lodge (then "La Barge City") where he purchased a cabin with the intention of opening a store.
But the word that came back from Grasshopper Creek was so encouraging that Gillette moved there in December of 1862, becoming a pioneer merchant in the developing town of Bannack. He brought his goods—an assortment of miner's supplies—directly from Fort Benton by packhorse, gaining valuable experience in freighting and the ways of horsethieves while so employed.
The store was moved to the new town of Virginia City after gold was discovered in Alder Gulch in 1863. It was there that Gillette became associated with James King in a partnership that lasted until 1877. With the opening of Last Chance Gulch, King and Gillette moved their stock from Virginia City to Helena, remaining in the freighting and merchandising business there until 1869. After that time the partners engaged in mining operations, particularly in the development of the Diamond City placer mines.
A project undertaken very early by King and Gillette showed their foresight and ingenuity. All travel between Fort Benton and Helena avoided the impassable Little Prickly Pear Canyon by using a difficult road over Medicine Rock and Lion Mountains, but the partners decided it would be to their advantage to build a toll road through the 10-mile canyon. The equipment available for the work was two plows, which cost them $175 apiece, picks, shovels, and blasting powder, and with such means the road was completed in 1866 at a cost of $40,000. Tolls returned that amount within 2 years and the road remained a profitable enterprise to the expiration of the charter in 1875.
At the time of the Yellowstone expedition, Gillette was considered the best woodsman of the party, and his willingness to remain behind in the wilderness, with two soldiers, to continue the search for the lost Truman Everts was a generous act of a man whose humanity was expressed thus in his diary: "I hated to leave for home, while there was a chance of finding poor Everts . . . is he alive? is he dead? in the mountains wandering, he knows not whither?" It was an unsuccessful search, but not for lack of diligence.
After 1877, Gillette turned to State politics and to sheepraising. He served four times in the Legislative Assembly of Montana Territory, twice on its Legislative Council, and was a member of the convention that framed the constitution for statehood. His 12,000-acre ranch near Craig, in Deer Lodge County, carried 20,000 head of Merino sheep and he did much to popularize that breed.
Gillette never married: a spinster sister, Eliza, was his housekeeper and companion until her death in 1897.
Sources: A. W. Bowen & Co., Progressive Men of the State of Montana (Chicago, c. 1902) pp. 177-78; M. A. Leeson, ed., History of Montana, 1739-1885, (Chicago, 1885), p. 1214, and the obituary file, Montana Historical Society, Helena.
---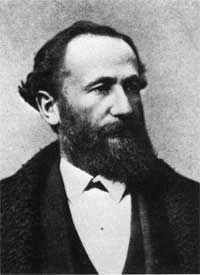 SAMUEL THOMAS HAUSER. Born in Falmouth, Ky., Jan. 10, 1833; died in Helena, Mont., Nov. 10, 1914. A member of the 1870 Washburn party of Yellowstone explorers.
A basic education in the public schools of his native State was improved by the careful tutoring of his cousin, Henry Hill, who was a Yale graduate. In that manner, he gained the qualifications for his first employment.
In 1854, Hauser went to Missouri, where he progressed from a railroad surveyor to an assistant engineer on the construction of the Missouri Pacific Railroad. On the eve of the Civil War, though but 28 years old, he was chief engineer on the Lexington branch of that line.
There in Missouri, in that last year before hostilities, Hauser was involved in a local event that changed his life entirely. He heard that a man was to be tried for his life by a Justice of the Peace of a nearby settlement, and, being skeptical of the legality of such a procedure, he rode over with a friend to see what was going on. They found that a young man stood accused of poisoning a spring, a charge that the "court" sustained without a show of evidence. The trial had been held merely to condemn the man, and with that done a rope was instantly produced for his hanging. At that point Hauser, who was on horseback at the edge of the crowd, made an objection. The onlookers reacted so violently to that interference with their judicial proceedings that only the quick action of his friend saved Hauser from being shot off his horse. The condemned was hanged, and the obvious unfairness of the trial so angered Hauser that he commented on it in the Booneville newspaper (published by George Graham Vest, later U.S. Senator and defender of Yellowstone National Park). As a result, the meddling railroader was warned to leave those parts.
News of the finding of gold in Idaho reached the East at that time and Hauser decided to try his luck there. He boarded a Missouri River steamer which landed him at Fort Benton in June 1862. He went overland to the Salmon River placers, prospected for a time and then moved to Grasshopper Creek that fall. A season in the town of Bannack that developed there convinced Hauser he would have to look elsewhere for his fortune, so he joined James Stuart's "Yellowstone Expedition" of 1863. This exploration of the country along the lower Yellowstone River found no gold, but it did run into hostile Indians whose night attack on the party came near finishing Hauser. In the course of that melee he was struck in the chest by a ball that penetrated a thick notebook he was fortunately carrying, then came to rest on a rib over his heart.
In 1865, N. P. Langford assisted Hauser and William F. Sanders to establish a bank at Virginia City, Montana Territory, under the firm name of S. T. Hauser & Co. Hauser soon after organized a mining company and built the first smelter in the territory at Argensa, and the following year he organized the First National Bank of Helena and the St. Louis Mining Co. at Phillipsburg. His later activities included establishment of banks at Missoula, Butte, Fort Benton, and Bozeman, the building of six branch railways and interest in numerous mining and smelting enterprises.
While in the Yellowstone region with the Washburn party, Hauser used his engineering skill to good purpose on several occasions by measuring the heights of waterfalls and an eruption of the Beehive Geyser, and sketch-mapping Yellowstone Lake. He also kept a messy but revealing diary of much of the trip.
Hauser was always a Democrat in his politics. He was a delegate to the Democratic National Convention in 1884, and was appointed Governor of Montana Territory by President Grover Cleveland in June 1885. He was the first Montana resident to be named Governor, serving 18 months in that capacity.
Samuel Thomas Hauser married Miss Helen Farrar, the daughter of a St. Louis physician, in 1871, and they had two children.
Sources: A. W. Bowen & Co., Progressive Men of the State of Montana (Chicago, c. 1902), pp. 202-03, and the obituary file, Montana Historical Society, Helena.
---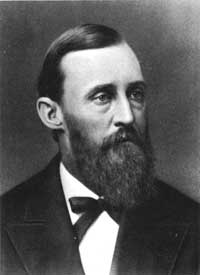 FERDINAND VANDIVEER HAYDEN. Born in Westfield, Mass., Sept. 7, 1829; died in Philadelphia, Pa., Dec. 22, 1887. The U.S. Geologist and head of the Geological Survey of the Territories (Hayden Survey), which made the first official investigation of the Yellowstone region in 1871.
Hayden's boyhood was brief. His father died when he was 10 and he went to live with an uncle in Ohio. There, he began teaching in country schools at the age of 16 and entered Oberlin College 2 years later. Following graduation in 1850, he studied at the Albany Medical School in New York, where he also obtained a sound education in paleontology and geology while earning his medical degree. The diploma proved less important to Hayden than his introduction to the sciences.
Upon leaving medical school in 1853 he was induced to spend a summer collecting tertiary and cretaceous fossils in the White River Badlands near Fort Pierre, Dakota Territory. That adventuring turned Hayden's interest irrevocably toward geology. With financing supplied by individuals, organizations, and the Federal Government, he continued his field work which was his apprenticeship as a scientific explorer.
The Civil War years were passed as a surgeon in the Union Army, from which he was mustered out in 1865 with the rank of brevet lieutenant colonel. Immediately following that conflict Hayden was elected a professor of mineralogy and geology in the medical department of the University of Pennsylvania, but that wedding of his two fields of interest did not last.
Hayden was able to obtain $5,000 of unexpended Federal funds in 1867 for use in conducting a geological survey of the new State of Nebraska. That modest budget launched the Hayden Survey, which was thereafter financed by a combination of appropriated funds and contributions from private sources. When his fledgling organization came under the control of the Secretary of the Interior in 1869, it also received a formal title, becoming "The U.S. Geological Survey of the Territories."
The Washburn expedition of 1870 created a public interest in the Yellowstone region, and Hayden—who had come so close to penetrating its mysteries while a geologist with the Raynolds expedition in 1860—capitalized upon that interest by persuading the Congress to grant him $40,000 for a scientific investigation of its features. The work of the Hayden Survey during the summer of 1871 established a basis of facts that was undoubtedly of crucial importance in obtaining passage of the act that created Yellowstone National Park. But, as certainly, there would have been no legislation without Hayden's persistent efforts on its behalf during the winter of 1871-72.
The Hayden Survey accomplished important work in Yellowstone Park and the surrounding area in 1872 and 1878, before its merger with the surveys of King and Powell to form the U.S. Geological Survey (1879). It has been claimed that Hayden "worked so rapidly and published so quickly that shoddiness became the hallmark of his reports"; yet, overall, he was essentially correct in his geological interpretation of a staggering extent of the unknown West.
Dr. Hayden, who held LL.D. degrees from the Universities of Rochester and Pennsylvania, was a member of 17 scientific societies in this country and also a corresponding member of 70 foreign societies. His published titles exceeded 158 at the time of his retirement from the U.S. Geological Survey in 1886 because of failing health. He died the following year—a man described by historian Chittenden as "intensely nervous, frequently impulsive, but ever generous . . . his honesty and integrity undoubted." Time has proven him a man whose work for his Government, and for science, was a labor of love.
Sources; John Wesley Powell, "Ferdinand V. Hayden," in Ninth Annual Report of the United States Geological Survey to the Secretary of the Interior, 1887-88 (Washington, 1889), pp. 31-38, and Charles A. White, "Memoir of Ferdinand Vandiveer Hayden, 1829-87," in Biographical Memoirs of the National Academy of Science 3 (Washington, 1893), pp. 395-413.
---
DAVID PORTER HEAP. Born in San Stefano, Turkey, in March 1843; died in Pasadena, Calif., Oct. 25, 1910. An army engineer officer attached to the 1871 Barlow party of Yellowstone explorers and co-author of the resulting official report.
The son of the U.S. Minister to Turkey, his basic education was obtained at the Germantown Academy, Pennsylvania, and Georgetown College. He entered the U.S. Military Academy in 1860 and graduated seventh in the class of 1864. He was immediately promoted to first lieutenant, Corps of Engineers, and assigned to the Engineer Battalion of the Army of the Potomac, with which he served for the remainder of the Civil War. He was breveted a captain on Apr. 2, 1865, for gallant and meritorious services during the siege of Petersburg, Va.
After the war he was employed in harbor improvement work on Lake Michigan, and in other engineering work, until February 1870, when he became chief engineer of the Department of Dakota. Thus, his immediate superior was Maj. John W. Barlow, whom he accompanied on a reconnaissance of the Upper Yellowstone in 1871.
Captain Heap returned to his headquarters at St. Paul with the topographic notes, which were thus saved from destruction in the great Chicago fire which consumed Barlow's specimens and photographs, and he was able to produce from them the first map of the Yellowstone region based on adequate instrumental observations.
From March 1875 to May 1877, Heap was in charge of preparations for the participation of the Corps of Engineers in the International Centennial Exhibition, and he represented the United States in 1881 at the International Electrical Exhibition held at Paris, France. He was later engineer of various lighthouse districts, secretary of the Lighthouse Board, and a member of several boards concerned with improvement of rivers and harbors. He retired with the rank of brigadier general on Feb. 16, 1905, after 40 years of service.
Source: Report of the Annual Reunion, June 12th, 1911, prepared by the Association of Graduates, USMA, pp. 89-90.
---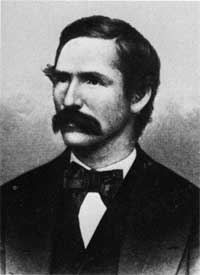 CORNELIUS HEDGES. Born in Westfield, Mass., Oct. 28, 1831; died in Helena, Mont., Apr. 29, 1907. A member of the 1870 Washburn party of Yellowstone explorers, proponent of the idea of reserving the Yellowstone region in the public interest (this was the third expression of the idea), and special correspondent for the Helena Herald.
Hedges received his elementary education in the village school and the academy in his hometown of Westfield, in the Woronoco Valley of Massachusetts. As was the custom of the time, he attended classes mainly in the winter and spent the growing seasons working on his father's acres. The family home was on Broad Street and it was the boy's daily chore to take the slow-moving oxen along "William's driving way" to the fields on the north side of Great River, where he labored with his father. The hard-working, thrifty conservatism of the land he came from is well illustrated in the manner of Hedges' going-away to college. The day before his departure to begin his schooling at Yale, he cradled a field of buckwheat.
Upon graduating in 1853, Hedges taught school at the academy at Euston, Conn., and also "read law" in a local office, as the prevailing practice of studying under an established lawyer was called. After a year of that double duty he entered the Harvard Law School and was graduated in 1855. That same year he was admitted to the practice of law in the courts of Massachusetts on the motion of Benjamin F. Butler.
On July 7, 1856, Hedges married Edna Layette Smith of Southington, Conn. After another period of schoolteaching, the young couple moved to Independence, Iowa, where he opened a law office and assisted in editing a newspaper. From the latter experience Hedges gained a liking for printer's ink that lasted a lifetime.
In 1864, Hedges moved his family back to Connecticut and struck out for the gold fields of Montana. He walked from Independence, Iowa, to Virginia City, Mont., hunting along the route of the slow-moving wagon train. He worked several claims with the usual miner's luck before moving on to a new camp where the town of Helena soon came into existence. There, he made the acquaintance of the local sheriff, who turned some legal business his way. That allowed him to establish a law office and bring his family out to Montana Territory in 1865.
Hedges was a peaceful man who managed to live in that turbulent environment without becoming involved in its violent happenings—except once. He was a staunch Union man, and though the Territory of Montana had been all but taken over by that Southern element that went West to escape the Civil War (known collectively as the "left wing of General Price's army"), he had decided, along with a few men of like sentiments, to show the colors. The town's loyal women sewed a flag, which was run up the day word of General Lee's surrender was received. The Secessionist element swore they would rip the flag down, so Hedges sat all that first night at his office window, rifle in hand, to prevent it. Fortunately, no attempt was made.
By 1870, Hedges was active in Masonic affairs, an elder in the Presbyterian Church, had established a public library, and was an editorial writer for the Helena Herald. He was coming along, but life was not yet easy. His diary indicates that the Yellowstone trip cost him $280, and that he was uneasy about the expense.
It has been stated that the national park idea was a direct outgrowth of a suggestion made by Cornelius Hedges beside a campfire at Madison Junction on the evening of Sept. 19, 1870. There is no reason to doubt that he advanced a proposal for the reservation of the area the Washburn party had just passed through, so that it would be held for the public good rather than for private aggrandizement. In that, however, he was only restating a proposal he had heard Acting Territorial Governor Thomas Francis Meagher make in October 1865. Undoubtedly, Hedges' comrades recognized his proposal as a restatement of an idea that had surfaced twice before (David E. Folsom of the 1869 expedition made a similar suggestion to Washburn prior to the departure of the 1870 party); thus, Hedges' contribution lay not in a novel suggestion, but in that series of fine articles, so descriptive of the Yellowstone region, which he contributed to the Helena Herald on his return. He was a reporter, and it speaks well for his basic honesty that he never personally claimed to have originated the idea—only that "I first suggested the uniting of all our efforts to get it made a National Park, little dreaming that such a thing were possible."
Following his return from the Yellowstone trip, Hedges continued in the quiet, constructive way of life so typical of him. President Grant commissioned him U.S. Attorney for Montana Territory on Mar. 3, 1871, and he became active in the Montana Historical Society in 1873 (serving as recording secretary from 1875 to 1885). He was Superintendent of Public Instruction for Montana from Jan. 27, 1872, to Jan. 15, 1878, and again from Feb. 22, 1883, to Mar. 17, 1885, most of that time having judicial duties also. Hedges was probate judge of the court at Helena from 1875 to 1880, and from 1880 to 1887 he was the Supreme Court reporter.
In 1884, Hedges was a member of the Constitutional Convention for statehood, and in 1889 he became the first Montanan elected to the State Senate from Lewis and Clark County. His late years were spent almost entirely in the service of the Masonic Order, in which he held high and influential offices.
Upon his death, the Helena Daily Record had this to say of him: "Thoughtful, kind, charitable, ever ready to heed the call of the unfortunate, without selfishness or guile, no better man has ever lived in Montana, nor to any is there a higher mead of praise for what he did and gave to Montana."
Sources: Lew L. Callaway Early Montana Masons (Billings, 1951), pp. 10-12; A. W. Bowen & Co., Progressive Men of the State of Montana (Chicago, c. 1902), pp. 1-2; and the obituary file, Montana State Historical Society, Helena.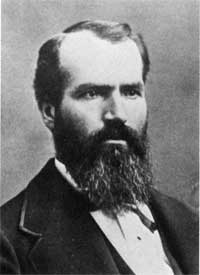 NATHANIEL PITT LANGFORD. Born in Oneida County, N.Y., Aug. 9, 1832; died in St. Paul, Minn., Oct. 18, 1909. A member of the 1870 Washburn party of Yellowstone explorers, author of a book on the expedition and one of the group that worked for establishment of Yellowstone National Park.
As the 11th of 13 children born to George and Chloe (Sweeting) Langford, his formal education was limited to what was available at a rural district school, where the schooling was fitted into the slack season between fall harvesting and spring plowing. Though his youth included more farming than schooling, he developed into a well-informed young man—probably one of the advantages of having many older sisters.
Langford remained at home until after the death of his father in 1853, when he removed to St. Paul, Minn., and entered the banking business (he already had 2 years experience as a clerk in the Oneida Bank of Utica). He stayed in St. Paul until 1862, and in June of that year he joined an expedition bound for the Idaho gold fields under the guidance of James L. Fisk.
The overland trip, accomplished by following a route north of the Missouri River, required 3 months, during which the party had many adventures. Arriving first at Gold Creek in Deer Lodge County, they went next to Bannack after the discovery of gold there. In 1863, Langford moved to yet another strike—at Alder Gulch—and he was present when the first building was erected at Virginia City. He returned to the East that year and enroute his party had a narrow escape from the desperados of Plummer's gang.
Two months after the establishment of the Territory of Montana, Langford was commissioned Collector of Internal Revenue on July 15, 1864. He held the position until 1868, when he was removed by President Andrew Johnson, but reinstated by the Senate. Almost before the tumult had died down, Langford resigned his position of collector on the understanding that Johnson would appoint him to the governorship of Montana. However, the Senate, having fought to secure one position for him, refused to confirm another, so Langford was out of a job.
The year following his visit to the Yellowstone region Langford lectured in the East and worked for reservation of its wonders for the public benefit. After a national park was established, he became its first superintendent, holding that position from May 10, 1872, until Apr. 18, 1877, when he was replaced by Philetus W. Norris. The first superintendency was a sterile period during which the park was neither developed nor protected; indeed, one man, without appropriated funds and already fully employed as U.S. Bank Examiner for the Territories and Pacific Coast States, could hardly have been expected to do more than he did—make three brief visits to the area and prepare one report.
Langford married Emma Wheaton, the daughter of a St. Paul physician, Nov. 1, 1876, but his bride died soon after. Eight years later, he married again—to Clara Wheaton, sister of his first wife. After 1885, his life centered in St. Paul, where he engaged in the insurance business and, beginning in 1897, served as president of the Ramsey County Board of Control, handling city and county relief matters until his death from injuries received in a fall.
Sources: Olin D. Wheeler, "Nathaniel Pitt Langford," in Collections of the Minnesota Historical Society 15 (1912), pp. 631-68; A. W. Orton, "Some Scattered Thoughts On The Early Life of N. P. Langford," an unpublished manuscript in the Yellowstone Park Reference Library (1966); and the Langford Papers in the manuscript collection of the Minnesota Historical Society, St. Paul.
---
WILLIAM LEIPLER. Born in Baden, Germany, in 1845. He was a private of the military escort that accompanied the Washburn party through the Yellowstone region in 1870, and the only casualty on that expedition (he was kicked by Stickney's horse on the return). He evidently was made a sergeant immediately upon the return to Fort Ellis, for that was his grade when he volunteered to go with the party that brought Truman C. Everts back to civilization after his rescue.
Leipler was a pianoforte maker before he enlisted in Company B, 20th Regimens of New York Cavalry, on Nov. 23, 1863. Following his discharge from active service at the end of the Civil War, he was unable to adjust to civilian life and enlisted in Company F, Second Cavalry, on Dec. 7, 1866, becoming the most typical of "old soldiers." Described then as being 5 feet, 8-1/2 inches in height, light-haired, and of a florid complexion, he served with the same cavalry outfit—fighting in the Piegan Campaign, the Sioux Campaign (at Lame Deer, Muddy Creek, and Baker's battle on the Yellowstone River), and in the Nez Perce Campaign—until Aug. 5, 1893, when his request for retirement was approved by Gen. Nelson A. Miles. His retirement address was Roos Alley, Buffalo, N.Y. See The National Archives, RG-94, AGO—Enlistment papers, and carded Service Record, Doc. File 13699 PRD-1893.
NEXT> Biographical Appendix: M-Z