Grand Teton

---

Historic Resource Study

CHAPTER 14:
The Dude Wranglers
---
If you wish to sum up the dude business in a sentence, it consists in giving people homemade bedsteads but forty pound mattresses.

—Struthers Burt, The Diary of a Dude Wrangler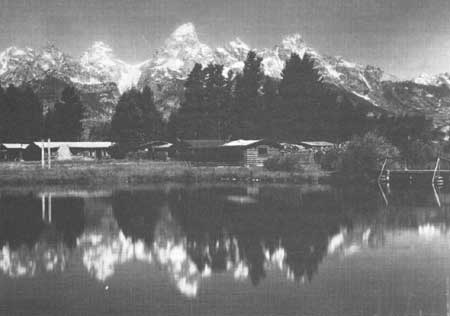 The Bar BC became one of the most famous dude ranches in the Rocky Mountain West. During the Bar BC's heyday in the 1920s, famous writers, artists, and Hollywood filmmakers got "westernized" at the ranch. Jackson Hole Historical Society and Museum
By the time Struthers Burt's autobiographical The Diary of a Dude Wrangler appeared in the Saturday Evening Post in 1924, dude ranching had grown like a mushroom in wet weather." [1] As much as any other business, dude wrangling pioneered the modern tourist industry in the American West, particularly in the Rocky Mountain states of Montana and Wyoming. One historian rated the dude ranch "as the single most unique contribution of the Rocky Mountain West to the every-growing national vacation industry." In turn, the antecedents of dude ranching can be traced to other enterprises—first, and most important, cattle ranching, and second, guiding and outfitting sport hunters. [2]
Travelers first toured the American West in the era of the fur trapper to hunt and take in the scenery. Historian Francis Parkman wrote one of the first travel accounts, The Oregon Trail, published in 1849. After the Civil War, travel in the American West increased as itinerant trappers and settlers guided well-heeled tourists. In Jackson Hole, trappers and hunters like Beaver Dick Leigh often guided dudes, because they were familiar with the Teton country from their trapping and hunting forays. Western landscapes provided ideal settings for dude ranches. Indeed, Struthers Burt believed an attractive setting a prime requisite in choosing a dude ranch site. [3]
No place could top Jackson Hole for scenery. William Baillie-Grohman wrote the earliest known travel narrative of two trips into Jackson Hole, one made in the 1870s and one in 1880. He recorded this scene from a knoll near the Gros Ventre River:
At our feet lay the perfectly level expanse, about eight or ten miles broad and five-and-twenty in length. Traversing the basin lengthwise, we saw the curves of the Snake River—its waters of a beautiful beryl green, and . . . from a distance of five or six miles, of glassy smoothness—winding its way through groves of stately old cottonwood-trees. A month or two before, the Snake had inundated the whole Basin, and the grass that had sprung up retained its bright green tint, giving the whole picture the air of a splendid trimly-kept old park. Beyond the river the eye espied several little lakes, nestling in forest-girt seclusion under the beckling cliffs of the boldest-shaped mountain I am acquainted with, i.e. the Grand Teton Peak, rising in one great sweep. . . . It was the most sublime scenery I have ever seen. [4]
Abundant and diverse fauna and a cast of romantic figures such as Indians, trappers, and soldiers added another dimension to the appeal of the American West. The emergence of dude ranches coincided with America's elevation of the cowboy arguably America's most eminent folk hero. Dude ranches evolved directly from working cattle ranches; their structures and physical layout were patterned after cattle ranches. Western dress mimicked cowboy garb. [5]
While the origins of dude ranching can be traced without difficulty, determining what constituted a dude ranch remains problematic. This has led to debate regarding the first dude ranches in Jackson Hole. [6] Even dude ranchers expressed uncertainty and failed to agree on a common definition. Their testimony in final proof papers demonstrates this uncertainty. One question on the Testimony of Claimant form asked, "is your present claim within the limits of an incorporated town or selected site of a city or town, or used in any way for a trade or business?" Struthers Burt on the Bar BC answered; "Yes, I am engaged in the summer tourist business." Buster Estes, the founder of the STS, responded "no," despite operating a dude ranch at the site. Tony Grace of the Danny Ranch testified in 1927, "have two cabins which I rent in summer." Harold Hammond, co-founder of the White Grass, answered in 1920 that "the claim is used some for summer tourists;" while Peter Karppi of the Half Moon responded that "we handle summer boarders." Either they failed to recognize that dude ranching had become a distinct industry or gave obtuse responses in the belief that people, particularly General Land Office officials, were unfamiliar with dude ranches. [7]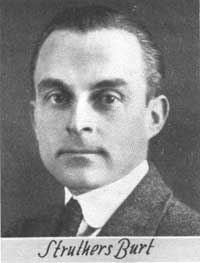 Princeton-educated Struthers Burt was a popular writer whose book, The Diary of a Dude Wrangler, inspired a whole new generation of dude ranchers. Burt was originally opposed to the creation of a national park in Jackson Hole. However, by the 1920s, Burt used his power of the pen in national publications to lobby for the protection of the scenic qualities of Jackson Hole. Jackson Hole Historical Society and Museum
By the early 1920s, however, dude ranchers were beginning to perceive their business as not only a distinct but unique institution. In The Diary of a Dude Wrangler, Struthers Burt reflected that "you come to the dude business slowly in actual life and you come to it usually by chance, just as I did." Burt, by this time dude ranching's most articulate spokesperson, described a dude ranch as simply an ordinary cattle ranch modified somewhat to care for dudes, but not a boarding house or hotel "much as it must seem like one or the other to the ignorant." [8]
The creation of the Dude Ranchers' Association in 1926 reflected the emergence of dude ranches as an institution and their tremendous growth during the 1920s. Association members grappled over the definition of a dude ranch. One goal of the first meeting was to "standardize practices," a reference to activities associated with dude ranching. Some suggested dropping the term "dude," believing it derogatory and undignified. The opinions of pioneer dude ranchers Dick Randall and the Eaton brothers prevailed, however, and the term dude was retained. In the northern Rockies, dude referred to "an outsider who paid for lodging, riding, hunting, or other services," and had no negative association with terms such as greenhorns or tenderfeet. The members voted unanimously to name their organization the Dude Ranchers' Association. [9]
The early membership represented three types of dude ranches. The first were working stock ranches situated in the high plains or foothills of the Rockies. Ranches set in the mountains formed the second group; often, these started as dude ranches rather than stock ranches. The final group consisted of hot springs resorts or spas, where swimming or bathing in waters known for their healing powers was the primary activity. This group later disappeared from the membership rolls. [10]
In 1933, an article appeared in Dude Rancher Magazine which defined a dude ranch as the following: They take paying guests; they evolved from old cattle ranches and many operate as both; they are "composed of little groups of cabins, corrals, and bunkhouses, all of which are familiar to the native westerner of the cattle country, they are rustic and unique;" and they present a way to "enjoy the outdoors under conditions of freedom and naturalness." [11]
In Dude Ranching: A Complete History, Lawrence Borne summarized the most important elements that have characterized dude ranches over the years. They were often the year-round home of the owner or owners. Setting was critical as virtually all were located in the western United States. They provided food, lodging, and horseback riding at one price, called the American plan. The ranch site and activities were situated in remote picturesque areas. Horse back riding constituted the most important recreational activity. Other pursuits included fishing, hiking, hunting, sightseeing and, on occasion, ranch-work. Dude ranchers accepted reservations only and sometimes even required references from prospective guests. They refused walk-in traffic, an important distinction in determining genuine dude ranches in Jackson Hole. Finally, the atmosphere was a "key ingredient," though not readily apparent to observers and often intangible. Borne described a proper dude ranch atmosphere as "informal in manners and dress, people were on a first-name basis, hospitality was genuine, and quests did things together as part of a ranch family. [12]
Borne demonstrated that dude ranching "developed slowly from several divergent sources in different locales and varying circumstances." [13] However, the Eaton brothers—Howard, Willis, and Alden—generally receive credit for establishing the first dude ranch. In 1882, Howard Eaton homesteaded a parcel of land in the North Dakota badlands near the town of Medora. Joined by his brothers and financed by A. C. Huidekoper; Eaton formed the Custer Trail Ranch; a cattle outfit. Guests soon visited the ranch to hunt or experience western life. Bert Rumsey of New York was the first to pay room and board in 1882, though this violated traditional western hospitality. However, the boom-and-bust cycle of cattle ranching became apparent as the drought of 1886, followed by the killing winter of 1886-1887, hit the Eatons hard. Unlike many ranches, the Custer Trail Ranch survived the disaster of 1887, despite severe cattle losses. Meanwhile, the Eatons became aware of another economic drain, the high cost of boarding numerous guests each year. Economic reality drove the Eatons to charge guests $10 per week for room and board in 1891. In 1902, the Eatons sold the Custer Trail Ranch and relocated their dude ranch in the Bighorn Mountains of Wyoming. By this time wrangling dudes provided a solid income. Howard Eaton continued pack trips into Yellowstone National Park, pioneering a significant activity associated with dude ranching. The ranch continues to operate today. [14]
Although not as critical as cattle ranching, guiding hunters contributed to the evolution of dude ranching. Dick Randall, a pioneer dude wrangler, built the foundation of his well-known OTO Dude Ranch on outfitting and guiding hunters. He established a permanent hunting camp in 1888 and converted it to a dude ranch in 1898. Like the Eatons, Randall located his ranch in the Rockies, choosing a site in Montana near the north entrance to Yellowstone. [15]
Between 1900 and 1920, dude wranglers established ranches throughout the northern Rockies following the example of the Eatons and Randall. An Englishman started the IXL Dude Ranch near the Eatons. After 1900, the Cody Wyoming, area developed into a center for tourism and dude ranching. Billy Howell started the Holm Lodge, originally a stage stop between Cody and Yellowstone National Park. After visiting a homestead near Cody, Irving H. "Larry" Larom returned to purchase it in 1915, and with a partner named Winthrop Brooks, established the famous Valley Ranch. Dude rancher Charles M. Moore gradually found himself wrangling dudes, similar to Struthers Burt's experience. At first, Moore established a boys' camp at his ranch near Dubois, Wyoming, where he conducted pack trips, taught outdoor skills, and a smattering of natural sciences. After World War I, he converted his camp to a full-fledged dude ranch. Both Larom and Moore became prominent dude ranchers, organizers and advocates of the business, and conservationists. Dude ranching came to Jackson Hole in the same period. [16]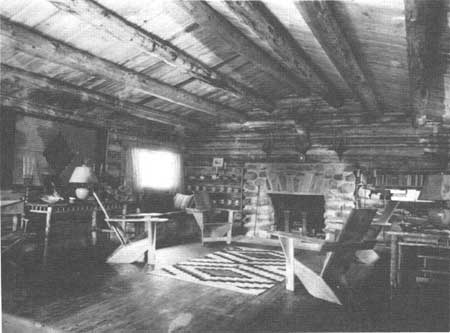 White Grass Dude Ranch interior. Jackson Hole Historical Society and Museum
People have disagreed over the first dude ranch in Jackson Hole. Questions over definition are the main cause of the dispute. It is generally accepted that Struthers Burt and Louis Joy became the first dude wranglers, when they built the JY in 1908. In 1932, the Jackson's Hole Courier "differed with Mr. Burt" regarding his claim to being the valley's first dude rancher. The article's author pointed out that Stephen Leek had guided dudes prior to 1900 and that Ben Sheffield had built the Teton Lodge at Moran in 1903. However, neither fit the characteristics of a dude ranch as defined by the Dude Ranchers' Association. [17]
Stephen Leek arrived in Jackson Hole in 1888, accompanied by his partner, an obscure man named Nick Gass. While camped on the west bank of the Snake River at its inlet to Jackson Lake, Leek met Elwood Hoffer, a hunting guide from Livingston, Montana, who was guiding a client. Hoffer may have inspired Leek to try his hand at outfitting. In 1889, Leek began serving as a hunting guide, as did pioneer Emile Wolff. In 1903, Ben Sheffield, also from Livingston, bought the Frank Lovell homestead at the outlet of Jackson Lake to serve as a headquarters for his outfitting business.
According to local tradition, John Carnes referred to his homestead on Flat Creek as his "dude ranch," although no evidence exists to indicate Carnes operated it as such. At an unknown date, homesteader Harvey Glidden tried to convert his Elks Ranch (also shown as Elko Ranch) to a dude outfit. Again, no evidence shows that Glidden succeeded. Some sources have described John Sargent's Merymere and the nearby Lakeview Ranch, owned by Herb Whiteman and the Heighos, as dude ranches but this appears to be careless use of the term. Good evidence demonstrates that neither were dude ranches.
Using Borne's criteria, none of the previous examples qualify as dude ranches. Leek conducted his outfitting business from his South Park ranch and built a lodge at the north shore of Leigh Lake. He guided hunters, but never provided long-term room and board or horseback riding as a recreational activity. Sheffield's Teton Lodge manifested elements of a dude ranch, but accepted overnight or transient traffic, an unacceptable practice at an authentic dude ranch. [18]
The first bonafide dude ranches in Jackson Hole were the JY, the Bar BC, and the White Grass. Burt and Louis Joy began boarding dudes at the JY in 1908. Because of a poor relationship with Joy, Burt broke off the partnership and formed the Bar BC with Horace Carncross in 1912. A year later, wrangler Harold Hammond and one of the first Bar BC dudes, George Tucker Bispham, homesteaded adjacent 160-acre parcels and formed the White Grass Ranch. Planning to start a cattle ranch, they chose to wrangle dudes instead of cattle in 1919.
In 1914, war broke out in Europe, eventually engulfing many of the world's countries. Because the First World War cut off safe travel across the Atlantic and in Europe, Americans looked to their own country for vacations. Starved for holiday destinations, easterners discovered the West. The Bar BC expanded in these years. In 1912, Burt and Carncross scrambled in May and June to complete the construction of cabins and a main house for their first dudes. Six dudes spent the summer, but it was enough to encourage expansion of the ranch. In 1917, both partners borrowed $9,200 from the Philadelphia Trust Company, putting up the Bar BC as collateral security. A large amount of money for the time, it was used to expand the ranch. In July Charles Fox, a local contractor, and a crew arrived at the Bar BC to "do some building." The war years launched the "golden age" of dude ranching, a period lasting from 1919 to 1929. [19]
Accordingly, dude ranches flourished in Jackson Hole in the 1920s. In addition to the growth in western tourism, which generated demand for facilities, the dramatic slump in cattle prices led some ranchers to start taking in dudes. The Van Cleve family's Lazy K Bar in Montana was an example of this sort of development. By the mid-1920s, more than 60 dude ranches existed in the core states of Wyoming and Montana and were spreading to other states such as Colorado. [20]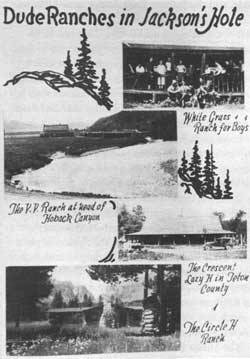 Dude ranch advertisement. Jackson Hole Historical Society and Museum
Following the lead of the JY, Bar BC, and White Grass, aspiring dude wranglers started ranches in Jackson Hole. The Danny Ranch, the STS, the Half Moon, the Trail Ranch, the Double Diamond, the Castle Rock, the Circle H, the Flying V, the Red Rock, the V Bar V, the Triangle X, the Gros Ventre, and the Warbonnet were established. In addition, the Elbo, Flagg Ranch, the Cross and Crescent, the Flying Diamond, the Teton Lodge, and the Jackson Lake Lodge were listed in a Union Pacific guide to dude ranches, though whether any of them qualified as dude ranches is doubtful. [21]
During this period, dude ranches in Jackson Hole established their character and influenced tourism in a significant way. More dude ranches than hotels existed in the valley and facilities that could not be considered dude ranches were listed as such in brochures. Jackson Hole dude ranches were mountain ranches situated in the midst of spectacular mountain scenery. Few were working cattle ranches. Jack Woodman described his Flying V as a "producing horse and cattle ranch." Burt and Carncross intended to expand to cattle ranching, relegating the dude business to a secondary activity, but never achieved this aim. They bought the Anderson place on the Gros Ventre in 1916 intending to raise hay for nearly 100 head of saddle horses. Calling it the Lower Bar BC, they began raising cattle. Hammond and Bispham intended the White Grass to be a cattle ranch, but started taking in dudes in 1919. These were the exceptions, rather than the norm. [22]
The Union Pacific promoted the dude ranches in Jackson Hole. "Once reported to be the secluded refuge of outlaws and cattle rustlers," a Union Pacific brochure portrayed the valley as a fine hunting and fishing region and "one of the most beautiful scenically, in the country." The town of Jackson retained "much of its frontier atmosphere," yet was "equipped with all the essential conveniences of civilization." The "Old West" atmosphere, mountain scenery and abundant fish and wildlife characterized the ambiance of dude ranches in Jackson Hole. [23]
Specific information about dudes is difficult to locate, but available sources indicate they were Easterners or from heavily populated centers in the Midwest. Owen Wister, Burt, and Carncross drew their clientele from Philadelphia and its surrounding environs, starting the so-called "Philadelphia connection" with Jackson Hole. Some early dudes at the Bar BC were former associates of Burt at Princeton University. The Double Diamond Boys' Ranch recruited its clients from the Philadelphia area. Guests had to be financially well-off to afford a holiday at dude ranches. Dudes tended to be more educated than average Americans. The Bar BC attracted writers, possibly because both Struthers and Katharine Burt were established authors. When journalist Harry W. Frantz's typewriter was unloaded at the Bar BC, a cowboy laughed and remarked "that's the eighth typewriter on the ranch." [24] Burt found Bar BC guests to be a diverse group:
We have entertained millionaires and poets and artists, business men of every description, spoiled little bobbed-hair flappers and large selfish women who have allowed their minds and bodies to grow fat; angels and those who weren't; people whose homes were in every part of the country from New York to San Francisco; Prohibitionists and Anti-Prohibitionists, Fundamentalists and Modernists, Reactionaries and Radicals, Futurists and Classicist, those who enjoy Ethel Dell and Frank Crane and those who read nothing but D. H. Lawrence and The Dial; the bow-legged and knock-kneed; the fortunate creatures with legs resembling Venus and Apollo—for, like the street car conductor, there is one thing at least every dude-wrangler knows, and that is the shape of the lower limbs of the men, women, and children on his place; Englishmen and Frenchmen and Canadians; and with a few exceptions this rule has held good. [25]
What drew affluent people to dude ranches? The cultural and natural setting has been alluded to already, but informality in dress and manners was another lure. The emergence of dude ranches coincided with a rebellion against convention. A growing middle class questioned and rejected dress codes enforced by most hotels, particularly in dining rooms. A Bar BC brochure suggested that men wear "ordinary clothes" for railway travel, but for the dude ranch listed the following items:
felt hat, 2 neck handkerchiefs (silk or bandanna); 2 flannel shirts, 2 pair trousers (khaki and wool, long or short as preferred); 1/2 doz. heavy wool socks, 1/2 doz. suits woolen underwear; waist overalls, light mackinaw, waistcoat, with large pockets; coat or heavy sweater; 1 pair heavy boots, pair riding boots; 1 pair camp shoes, moccasins or rubber soled; heavy gloves or gauntlets.
Women received a similar list:
Felt hat; neck handkerchief; riding suits (breeches, or divided skirts); raincoat for riding; heavy boots; field boots or riding boots; heavy sweater; heavy (wool-lined) coat; heavy wool stockings, etc.
In addition, lightweight clothing was suggested for warmer days. "In most cases any clothes will do, provided they are sufficiently old, and comfortable." The JY claimed proudly that it did not conform to summer hotel conventionalities, ranch clothes being worn almost entirely." Dude wranglers, according to Burt, encouraged "Eastern damsels" to don western dress not to look like cowgirls, rather "because it is good for the souls and adds color" to the dude business. Some went to extremes, donning gaudy outfits they perceived to be cowboy dress, but appeared outlandish to experienced dudes and Westerners. One account described the spectacle of a dude dressed in lavender chaps, another in bright orange chaps. Even wranglers adopted more colorful apparel as western dress became more ornamental. Local residents coined a derogatory term for such dress—diamond-pointed. In the town of Jackson, stores carried western clothing such as cowboy hats, boots, belts, and denim jeans, then called waist overalls. Western dress became the preferred apparel of many dudes. [26]
Regarding living arrangements, dudes lived among the owners and wranglers. The Castle Rock Ranch proclaimed itself a "Home Away From Home." Indeed, dude ranches were very individualistic in that they manifested the personality of their owners or managers and attracted dudes of similar character, who regarded the ranch as a second home. It was impossible to assemble universally compatible dudes at larger dude ranches. Burt conceded that they need not "adore" each other, but learn to tolerate and be polite to each other. One writer recalled dining at a dude ranch in the valley where the hostess sat at the head of the table and rang a cowbell for service. While the waitress served food, the hostess dished food to her plate before passing it on to the guests. The author speculated that this may have been a usual custom at dude ranches, "but appears so woefully unfitting with dude ranch technique." The custom was likely peculiar to this hostess. [27]
Dude ranches in the 1920s provided a western outdoor experience with few discomforts experienced by real cowpunchers. The trick was to balance simplicity with comfort or, as Struthers Burt portrayed the dude business, "giving people homemade bedsteads but forty pound mattresses." Food at dude ranches needed to be simple, yet wholesome and tasty. In the early years at the Bar BC, Nathaniel Burt recalled that canned food provided much of the fare, supplemented for a very short time by fresh produce from the vegetable garden. The first dude at the Bar BC in 1912 dined on canned fruits, coffee, beans, and carrots, while cabins were being completed. He did not complain, "but ate his bad food contentedly and slept on the ground, and made friends immediately." In 1911, Owen Wister brought his family to the JY at the foot of Phelps Lake. His daughter, Fanny Kemble Wister, recalled less than appetizing cuisine. "Food at the ranch was often scanty, being driven 104 miles by team over the mountains from St. Anthony Idaho." Canned tomatoes were common, supplemented on occasion by fresh peas from Bill Menor, who Wister's daughter mistakenly believed raised the only vegetables in Jackson Hole. Meat consisted of elk and "Dried, smoked, salted bear meat (like dark brown leather)." At breakfast, she often found dead flies plastered between the flapjacks, like so many winged raisins. [28]
By the 1920s, the food had improved significantly, transportation had become more reliable, and many dude ranches in Jackson Hole prided themselves on their self-sufficiency. The Bar BC advertised its meals as tempting, supplemented by an "excellent garden" and dairy. Icehouses prevented food spoilage. H. H. Harrison's Circle H was a producing hay ranch, which also had a garden and dairy cows. Woodman's Flying V advertised daily supplies of milk, cream, eggs, and vegetables produced at the ranch. At the JY, the management produced fresh eggs, vegetables, milk, and meats. The Double Diamond and STS provided fresh vegetables and dairy products. Others bought these supplies. Wholesome food and outdoor life proved a great draw for dude ranches. [29]
Although a key attraction of a dude ranch experience was the opportunity to "rough it," ranchers made concessions to modern conveniences. Dudes lived most often in small single and double cabins set around a main house. The main house could include a dining room, kitchen, and sitting room, or it could anchor a complex of smaller buildings used for these functions. The JY had separate cabins for the living room and dining room. Dudes were seldom lodged in the main house. The Flying V was one exception, as the main lodge contained a few guest rooms. In Jackson Hole, dude ranch buildings were overwhelmingly rustic log structures. Roofs were dirt and pole in the early years, but board-covered, with rolled asphalt roofing became most common; later, wood shingle roofs the more common. Fireplaces were usually built of native quartzite cobble. As was the case at the Bar BC, dude ranchers obtained standard window and door frames ordered through catalogues or from sources in Idaho.
The dude ranch experience represented a compromise between western rustic ambience and comfort. Dude ranchers made concessions to the comfort of clients, but resisted providing what they considered luxuries. Two luxuries were indoor plumbing and electricity. Many dude ranches relied on kerosene lamps well into the 1930s, while others in stalled electricity—a notable improvement. Pit toilets were the standard sanitary facilities, while tin tubs filled with hot water hauled from a laundry or kitchen served as bathing facilities. Simplicity characterized the Bar BC's charm. Dudes "roughed it in comfort," as "all necessary comforts are provided, but luxuries are neither expected nor desired." As of 1927, the ranch supplied hot water and portable tubs for bathing. Buster and Frances Estes provided the same service each morning at the STS. Other dude ranches succumbed to pressure for comfort. The Crescent Lazy H boasted electric lights and a bath house with showers. Going a step further, the Elbo, new in 1927, offered the latest in indoor plumbing; each four-room cabin had hot water, a bath, and a toilet, while hot water, shower, and tub baths were available for each of the six one and two-room cabins. However, the Elbo resembled a "cabin camp," the predecessor of the modern motel more than a dude ranch. Henry Stewart, the owner of the JY, compromised; dudes could wash themselves old-style by having a tub and hot water brought to their cabins, or use a central bathhouse with hot and cold running water. Thus, even as the dude ranch arrived as an institution, technological improvements such as indoor plumbing, electric power and, especially the automobile, influenced peoples' expectations and altered the dude ranch. [30]
Dude ranches in Jackson Hole offered traditional activities. Horseback riding was the primary recreational activity, followed closely by pack trips, hunting, and fishing. Some dude ranches mentioned hiking, but its omission from most lists suggests that it was not all that popular with dudes. Phelps Lake provided an icy but convenient swimming hole for JY dudes, while the White Grass had a concrete lined pool and the Bar BC a ditch-fed swimming hole. Bowing to the times, the Cross and Crescent Ranch, a small facility at Moran, advertised automobile tours of Yellowstone. But then, so did the venerable JY, offering dudes motor trips to Yellowstone and other scenic areas. They provided boats at some ranches, both for fishing and sightseeing. Only the JY mentioned mountain climbing as an activity, which was just emerging as a recreational sport in the 1920s. [31]
---
---
grte/hrs/hrs14.htm
Last Updated: 24-Jul-2004