---
Survey of Historic Sites and Buildings
HENDRICKSON HOUSE
Delaware



Location: New Castle County, East Seventh and Church Streets, on the grounds of Holy Trinity (Old Swedes) Church, Wilmington.
This is one of the few extant Swedish colonial houses. Erected some time before 1690 by Hendrick Johnson as a wedding present for his son Andrew, it was originally located on the father's property on Crum Creek at Essington, Pa. The property was sold in 1958 to an aircraft corporation, which offered the house to any group that would remove it. The house was later moved to the grounds of Holy Trinity Church, where it now serves as a museum and library commemorating Swedish settlement. Of stone construction, measuring 40 by 15 feet, it has one large and one small room on the first floor and a single large room with dormer windows on the second floor. A narrow, winding stairway connects the two levels. Both first-floor rooms have fireplaces. Originally, the house had 3 small windows, which contained 48 panes of glass.
MCINTIRE HOUSE
Delaware



Location: New Castle County, 8 Strand, New Castle.
This house is probably the oldest in New Castle, which contains many colonial buildings of historical and architectural interest. Evidently built around 1690, it is a superlative specimen of a small townhouse of the 17th century. Fortunately, it survived the disastrous New Castle fire of 1824. The design and excellence of paneling and fireplace treatment delight devotees of colonial buildings. Privately owned, the house is open only on New Castle Day, in the spring.
Amstel House, erected in the early 18th century, is one of many historic structures preserved in New Castle, Delaware. (Courtesy, Delaware State Development Department, Dover.)
OLD DUTCH HOUSE
Delaware



Location: New Castle County, 32 East Third Street, New Castle.
This house is a fine example of a small, early Dutch colonial dwelling. Apparently erected during the latter half of the 17th century, when New Castle was still a small village, it may be the oldest house in Delaware. The unknown builder provided exceptionally low and wide eaves, a single dormer, and a huge central chimney. Beneath the unusual front eave is a stout door, which is flanked by two shuttered, low-lying windows. The simplicity and smallness of the house contrast sharply with the grander and larger buildings of New Castle's later days. The house, which is also known as the Dutch House Museum, contains an excellent collection of Dutch furniture. Restored by the Delaware Society for the Preservation of Antiquities in 1938 and now owned by the New Castle Historical Society, it is open to the public throughout the year.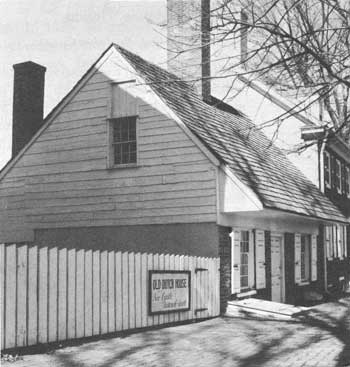 Old Dutch House, in New Castle, Delaware, is a charming survivor of Dutch settlement in the Delaware River Valley.
SWEDISH BLOCKHOUSE
Delaware



Location: New Castle County, on Naaman's Creek, just west of U.S. 13, about 1/2 mile south of Delaware-Pennsylvania boundary.
This two-story stone structure was probably erected in 1654 by the Governor of New Sweden, Johan Rising. It has a steep hip roof. The small loopholes beneath the eaves enabled muskets to be fired at attackers. A narrow stairway leads from the first to the second floor. A corner chimney and brick oven are located on the first floor. Dutch soldiers took over the blockhouse in 1655, when New Sweden fell into Dutch hands, but 6 years later it fell to the Indians. It changed hands twice during the War for Independence. During the 18th century, it was incorporated into an inn, and remains part of a public house to this day.
---
http://www.cr.nps.gov/history/online_books/explorers-settlers/sitee6.htm
Last Updated: 22-Mar-2005