---
Survey of Historic Sites and Buildings
CABRILLO NATIONAL MONUMENT
California



Location: San Diego County, on Point Loma, 10 miles southwest of downtown San Diego, via Pacific Boulevard (U.S. 101) and Rosecrans Street; address, 1800 Cabrillo Memorial Drive, San Diego, CA 92106-3601.
Cabrillo National Monument commemorates the discovery of the coast of Alta California in 1542 by Juan Rodriguez Cabrillo, a Portuguese navigator in the service of Spain. Cabrillo's landing at San Diego Bay, which he called San Miguel Bay, marks the first contact of Europeans with that part of the New World. The expedition, consisting of two small vessels, the San Salvador and Victoria, originated at Navidad, on the west coast of present Mexico. It was the first Spanish expedition to pass beyond Cabo del Engaño (Cape Deceit).
At San Diego Bay, the ships anchored behind the highland of Point Loma. On going ashore, apparently at Ballast Point, a group of men were attacked by a small party of Indians, but land parties briefly explored the region. Cabrillo sailed northward along the California coast, and sighted or landed at many places. Unfortunately, he died, at San Miguel Island, in January 1543. His grave, the location of which is unknown and unmarked, is probably near Cuyler Harbor. Bartolomé Ferrelo, the chief pilot, who succeeded to command, again turned northward and reached the northernmost point of the expedition, probably the general area of the Rogue River in present southern Oregon.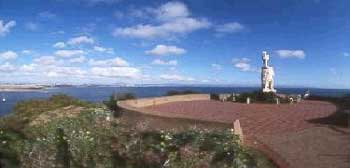 Cabrillo National Monument.
From Cabrillo National Monument one of the outstanding seascapes of the world can be viewed: an inspiring scene comprising the ocean, bays, islands, mountains, foothills, valleys, and plains that surround the city of San Diego. Also visible are the following sites located on Ballast Point in the Fort Rosecrans Military Reservation on Point Loma: the probable landing place of Cabrillo, September 28, 1542; the landing place of Sebastián Vizcaíno, who named the bay San Diego, in November 1602; and the former site of the Spanish coastal battery, Fort Guijarros, built in 1797.
The 81-acre National Monument, established in 1913, contains one of the first lighthouses on the Pacific coast, the San Diego Lighthouse, put into operation in 1855. A visitor center contains exhibits relating to Spanish exploration and settlement.
---
http://www.cr.nps.gov/history/online_books/explorers-settlers/sitea5.htm
Last Updated: 22-Mar-2005