---
Survey of Historic Sites and Buildings
VIRGIN ISLANDS NATIONAL PARK
Virgin Islands



Location: St. John Island, Virgin Islands; address, 1300 Cruz Bay Creek, St. John, VI 00830.
This park consists of about two-thirds of St. John Island, the most beautiful and least disturbed of the three major American Virgin Islands. A veritable island paradise, St. John is of interest chiefly because of its unique natural wonders. However, its history, as well as that of the islands, is also absorbing. Columbus discovered the islands in 1493, on his second voyage to the New World, and named them in honor of Saint Ursula and her 11,000 virgins. In the years that followed, Dutch, English, Spanish, French, and Danish adventurers came to the islands. The Danes first arrived in the 1670's, but did not found a permanent colony on St. John until 1717. Before long, the settlers took over all the land on the island that could support the cultivation of sugar and cotton, and imported slaves. Slave unrest often disturbed the peace, however, until the King of Denmark abolished slavery in 1848, a move that helped bring about the end of the plantations, many of whose ruins may still be seen in the park.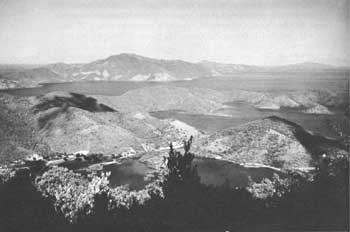 St. John Island, about two-thirds of which comprises Virgin Islands National Park, has unique natural beauty. Although discovered by Columbus in 1493, it was not colonized until the first part of the 18th century.
The United States acquired St. John, along with the other Danish Virgin Islands, from Denmark in 1917. In 1956, Congress authorized the establishment of the park, which was dedicated on December 1, 1956, when Jackson Hole Preserve, Inc., of which Laurance Rockefeller is president, presented more than 5,000 acres of the original parkland to the people of the United States. The population of less than 1,000 that remains on the island is concentrated in the Cruz Bay and Coral Bay areas outside the park. Scheduled boat service is available at Red Hook Landing, St. Thomas Island, for the 30-minute passage to the park entrance at Cruz Bay, St. John Island.
---
http://www.cr.nps.gov/history/online_books/explorers-settlers/sitea35.htm
Last Updated: 22-Mar-2005