---
Survey of Historic Sites and Buildings
SALT RIVER BAY NATIONAL HISTORIC PARK & ECOLOGICAL PRESERVE
(Columbus Landing Site)
Virgin Islands



Location: St. Croix Island, 4 miles west of Christiansted, west side of Salt River Bay.
Ownership and Administration. Jointly managed by the Government of the Virgin Islands and the National Park Service.
Significance. This site is the earliest one now under the U.S. flag that is associated with Columbus. On November 14, 1493, on his second voyage to the New World, Columbus discovered an island with the Indian name of Ay Ay, which he named Santa Cruz. Landing in a small boat from the fleet anchorage in the bay, a party of Columbus' men attacked a small group of Indians, killing one and capturing the others. This is apparently the first recorded armed conflict between Europeans and aboriginal Americans. After the men named a nearby cape the "Cape of the Arrow," the fleet sailed on.
Little is known of the subsequent history of the island until the French conquered it in 1650 and renamed it St. Croix. During their 4- to 5-year occupation of the island, they built Fort Sale on the west side of Salt River Bay. The residence of the French Governor was on the east side, as well as a small village called Bassin, on the site of Christiansted. At the time of the French exodus in 1695, the population was only 147 white persons and 623 Negro slaves.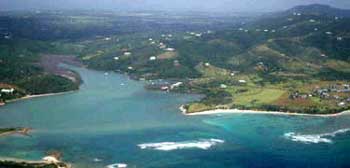 Salt River Bay National Historical Park and Ecological Preserve.
Present Appearance. The site, a prominent knoll on the west side of the bay, is unimproved and covered with brush and some trees. It embraces the remains of Fort Sale and an aboriginal site. The latter, 6 acres covered by potsherds and shells, has been excavated extensively. Fort Sale was an earthwork fortification, and the site is now covered with sod. It has not been investigated archeologically.
In 1958, the Legislature of the Virgin Islands passed a bill providing for the acquisition of two tracts of land on Salt River Bay totaling 50.05 acres that would encompass the entire historic and archeological area. The Government of the Virgin Islands planned to develop and maintain this land as a historical and public recreational area. Five acres of land at the old fort site were purchased in 1961. [68]
In 1992, Congress created Salt River Bay National Historical Park and Ecological Preserve as part of the National Park System. The National Park Service and Government of the United States Virgin Islands jointly manage this 1,015-acre park.
NHL Designation: 10/09/60
---
http://www.cr.nps.gov/history/online_books/explorers-settlers/sitea34.htm
Last Updated: 22-Mar-2005