---
Survey of Historic Sites and Buildings
TUMACÁCORI NATIONAL MONUMENT
Arizona



Location: Santa Cruz County, on U.S. 89, about 48 miles south of Tucson; address, P.O. Box 67, Tumacacori, Ariz. 85640.
This monument features a typical old mission church that illustrates Spanish colonial endeavor and commemorates the introduction of Christianity into what is now southern Arizona. The mission of San José de Tumacácori was a northern outpost of a mission chain constructed by Franciscan priests in the 1700's on sites established by the Jesuits in what was then the State of Sonora, New Spain.
The great Jesuit missionary-explorer Father Eusebio Francisco Kino first came into the Tumacacori region in 1691 when he visited the small Sobaipuri Indian village of San Cayetano de Tumacácori, thought to have been situated within a few miles of the present mission. By 1698, Tumacácori had an "earth-roofed house of adobe," fields of wheat, and herds of cattle, sheep, and goats. When a missionary was assigned to Guevavi, to the southeast, Tumacácori became a visita of that mission.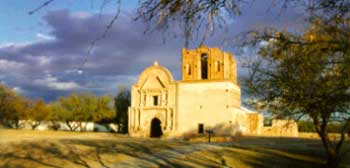 Tumacácori Mission.
The year after the Pima Rebellion of 1751, Spanish authorities moved the village of San Cayetano de Tumacácori to the place where the mission now stands and renamed it San José de Tumacácori. They erected a small mission at the site and founded a presidio at Tubac, 3 miles to the north. In 1773, Apache raids forced the closing of Guevavi, and San José de Tumacácori Mission—then under the Franciscans—became district headquarters. Construction of the present building started around 1800, apparently, and it was in use by 1822, when the Mexican period began.
Under Mexican administration, the power of the Roman Catholic Church weakened. Missions were required to become parish churches, and the Government supplied no funds to support mission activity. As late as 1841, a priest is known to have been at Tumacácori, but in 1844 Mexico sold the mission lands to a private citizen. Four years later, when the last devout Indians left Tumacácori, they took with them to San Xavier del Bac Mission, near Tucson, certain church furnishings, including statues that are still used there. The Tumacácori church fell into ruins, but its massiveness preserved it from complete destruction.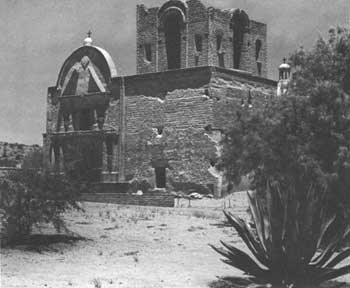 Modern view of San José de Tumacácori Mission, Arizona. Built by Franciscan priests on the site of an earlier mission, San José served as the northern outpost of a Sonoran mission chain.
Tumacácori National Monument, totaling 10 acres, was established in 1908. Administered by the National Park Service, it is no longer associated with any religious order. Some repair work was done to the old buildings in 1921, including a new roof over the long nave. Repair work since then has been limited entirely to preserving existing original construction. A reminder that Spain was active on the frontier in the Southwest long before the United States became a nation, this typical old mission church remains today an inspiring symbol of the faith, courage, and vigor of the early missionary priests, as well as of the great loyalty and devotion of the Indian converts.
---
http://www.cr.nps.gov/history/online_books/explorers-settlers/sitea3.htm
Last Updated: 22-Mar-2005