---
Survey of Historic Sites and Buildings
ACADIA NATIONAL PARK
Maine



Location: Hancock County; park headquarters at Bar Harbor, Mount Desert Island; address, P.O. Box 177, Eagle Lake Road, Bar Harbor, ME 04609-0177.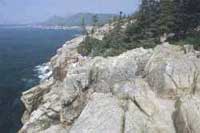 Acadia National Park.
La Cadie (Acadia) is a name derived from an Indian word meaning "the place," and was originally applied by the French to the North American coast from present Nova Scotia to New Jersey. In 1604, Pierre du Guast, Sieur de Monts, a Huguenot gentleman and soldier, undertook to establish Acadia as a New World dominion of France. Assisted by Samuel de Champlain, he founded a colony on an island in the St. Croix River; the settlers later relocated at Port Royal. Champlain then embarked upon further explorations and discovered Mount Desert Island, now in Acadia National Park. In 1613, this island became the site of the first French Jesuit mission in America, Saint Sauveur, on Fernald Point in Somes Sound. At this mission began the epic of French-English rivalry n North America; a few weeks after its founding, Capt. Samuel Argall sailed up from Virginia and destroyed it.
For the next 150 years, the present Maine coast was a sort of no man's land. Sieur de la Mothe Cadillac, later founder of Detroit and Governor of Louisiana, owned Mount Desert Island in the late 1600's and may have resided for a time on its east shore. No permanent settlement was made there, however, until after the British victory over the French in 1763. At that time, groups from other parts of New England founded settlements. The island passed through the hands of many owners during the ensuing years: the Province of Massachusetts; Sir Francis Bernard, English Governor of the Province; Sir Francis' son; and Cadillac's granddaughter. Eventually, it was subdivided among the sturdy New Englanders who had earlier settled there and engaged in farming, lumbering, shipbuilding, and fishing.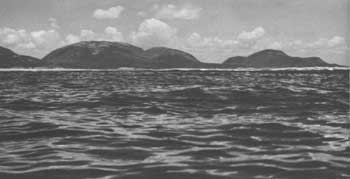 In 1604, Samuel de Champlain, the famous French explorer, discovered and named Mount Desert Island, pictured here. In 1613, the island was the site of a Jesuit mission, but permanent occupation did not occur until just after the French and Indian War, when some New England colonists settled there.
The advent of steampower in the later 1800's resulted in drastic changes as steamboats began to bring in large numbers of summer visitors. Bar Harbor subsequently became synonymous with summertime among America's wealthier citizens. In 1916, a Presidential proclamation recognized the special scenic beauties of the area by creating Sieur de Monts National Monument; it was later called Lafayette National Park, the first National Park east of the Mississippi River. In 1929, the name was changed to Acadia. Primarily of interest for its marine scenery and its natural features, it is also historically noteworthy.
---
http://www.cr.nps.gov/history/online_books/explorers-settlers/sitea16.htm
Last Updated: 22-Mar-2005