---
Survey of Historic Sites and Buildings
ST. CROIX ISLAND INTERNATIONAL HISTORIC SITE
Maine



Location: Washington County, in the mouth of the St. Croix River.
In 1604, Pierre du Guast, Sieur de Monts, a French Huguenot, aided by Samuel de Champlain, established a colony on this island. It was one of the first French New World settlements and, though unsuccessful, was a challenge to England for the colonization of North America. The colonists suffered a disastrous winter; lack of food and water caused a scurvy epidemic, and many of them died. After a month of searching for a better site, in 1605 the leaders moved the colony across the Bay of Fundy to the site of Port Royal, Nova Scotia. In 1613, the British destroyed all of the buildings left on the island. Archeological investigation by the National Park Service has revealed burials and other traces of the original French settlement. Public Law 87, 81st Congress, approved June 8, 1949, authorized establishment of St. Croix Island National Monument and subsequently re-designated St. Croix International Historic Site on September 25, 1984.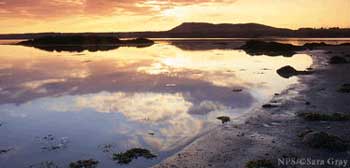 St. Croix Island International Historic Site
---
http://www.cr.nps.gov/history/online_books/explorers-settlers/sitea17.htm
Last Updated: 22-Mar-2005