---
Survey of Historic Sites and Buildings
FORT FREDERICA NATIONAL MONUMENT
Georgia



Location: Glynn County, on St. Simons Island, via Brunswick-St. Simons Highway or inland waterway, 12 miles north of Brunswick; address, 6515 Frederica Rd., St. Simons Island, GA 31522.
Fort Frederica was headquarters for Gen. James Oglethorpe's military operations against the Spanish in Florida during the War of Jenkins' Ear (1739-42), a part of the Anglo-Spanish struggle for control of the Southeastern part of the present United States. An old British fortification on St. Simons Island dating from the early days of Georgia history, the fort illustrates Britain's determination to hold this area of the coast—an area claimed by the Spanish, who were well entrenched at St. Augustine. Built in 1736 by a group of colonists led by Oglethorpe—who had first arrived in Georgia with a group of settlers in 1733 and founded Savannah—it was surrounded by a typical English village, the southernmost British settlement at the time. Two years later, troops from England and Gibral tar arrived.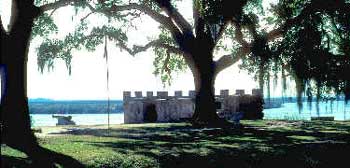 Fort Frederica National Monument.
The year after the founding of Fort Frederica, soldiers stationed at Fort Frederick, near present Port Royal, S.C., had been transferred to St. Simons Island, where they built an additional fortification, Fort St. Simons, or Delegal's Fort. The British built a series of other fortifications in the region, including Fort St. George, on Fort George Island, and Fort St. Andrew, on Cumberland Island. Fort Frederica was the headquarters and became the springboard for attack and base for defense against Spanish Florida.
Within a decade after the end of the War of Jenkins' Ear—during which Spain had futilely attacked Fort Frederica in a last attempt to gain the Georgia territory she had claimed for two-and-a-half centuries—the fort was practically abandoned. By 1756, the English had withdrawn the few soldiers stationed at the fort, removed many of the cannon and used them to fortify other parts of Georgia, and the town had fallen into ruins. Under the terms of the Treaty of Paris in 1763, which ended the French and Indian War, Britain acquired Florida and British-Spanish tensions eased in the region.
Archeological excavations at Fort Frederica National Monument have unearthed the long-buried foundations of many dwellings. Within the fort area, various buildings have been excavated, including the bastion towers and the barracks building as well as the town gate and the moat. Markers explain the excavations.
---
http://www.cr.nps.gov/history/online_books/explorers-settlers/sitea14.htm
Last Updated: 22-Mar-2005