---
Survey of Historic Sites and Buildings
FORT SAN CARLOS DE BARRANCAS
(part of Gulf Islands National Seashore)
Florida



Location: Escambia County, U.S. Naval Air Station, Pensacola.
Ownership and Administration. U.S. Government; Department of Defense.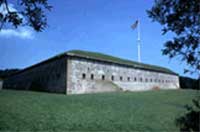 Fort Barrancas, Florida.
Significance. Fort San Carlos de Barrancas was originally a semicircular fortification of Pensacola brick, built in 1787 during the last Spanish occupation of West Florida. The high bluff on which it was placed, called by the Spaniards "Barrancas de Santo Tomé," was the site of the earlier Fort San Carlos de Austria, which dated from the first permanent Spanish settlement on Pensacola Bay, in 1698. In 1719, a French force destroyed this first fort and nothing remains of it today. From 1763 to 1781, Pensacola was under British control, and its capture by a Spanish expedition in 1781 marked the beginning of the last period of Spanish rule. The new Fort San Carlos was a defense bastion in West Florida; and, with St. Augustine, a foothold in the Southeastern United States.
Spanish collaboration with the British forces during the War of 1812 led Andrew Jackson to move into Pensacola in 1814. The occupying British force retreated rapidly to their warships after blowing up Fort San Carlos. When Jackson withdrew to New Orleans, the Spanish returned and began to rebuild the fort. During the Seminole Indian War, 4 years later, Jackson again attacked Pensacola. In accepting the surrender of the Spanish Governor, in Fort San Carlos, he in effect seized control of West Florida for the United States. He returned as Provisional Governor of the new territory 3 years later.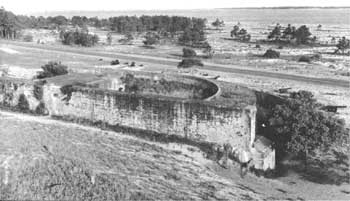 Fort San Carlos de Barrancas, Florida. In the late 18th century, the Spanish constructed the fort to guard Pensacola, the capital of Spanish West Florida.
As a part of the general tightening of coastal defenses during the years 1833-44, U.S. troops strengthened the defenses at the mouth of Pensacola Bay. They constructed a four-sided brick fortification, Fort Barrancas, immediately in the rear of and connected to Fort San Carlos; and, as part of the defensive complex, built Fort Redoubt about 1,000 yards north of Fort Barrancas. During the Civil War, Forts San Carlos and Barrancas were first in the hands of Florida State troops and then the Union forces.
Present Appearance. In the late 1960's, the forts were in poor condition. [15] Fort Pickens underwent extensive repairs by the National Park Service and was reopened in 1976. Following a $1.2 million, eighteen-month restoration project, Fort Barrancas reopened in 1980.
NHL Designation: 10/09/60
---
http://www.cr.nps.gov/history/online_books/explorers-settlers/sitea13.htm
Last Updated: 22-Mar-2005