Death Valley

---

Historic Resource Study
A History of Mining

SECTION III:
INVENTORY OF HISTORICAL RESOURCES THE WEST SIDE
---
A. Southern Panamints and West Side Road (continued)
11. Montgomery (Panamint) Mine
a) History
This one-half-mile-square mining area is located about sixteen miles west of West Side Road and about 4.3 miles northwest of Warm Spring (Indian Ranch). The two main sets of workings lie between about 3,700 and 4,450 feet in elevation and are reached via an access road trending for about two miles uphill north from the Butte Valley intersection. The works cover the ridge between the Warm Spring and Galena canyon drainages and are the most westerly of the talc sites within Death Valley National Monument. The Galena and Warm Spring canyon areas have been the source of all talc produced from the monument since 1974. The fourteen claims comprising the first discoveries here were filed by Owen Montgomery and Harrison P. Gower around 1940. The Sierra Talc Company later leased the property, which is now owned by Cyprus Industrial Minerals Company and consists of nineteen contiguous unpatented lode mining claims: Amargosa #1-2, Amargosa No. 3, Amargosa #4, Amargosa Nos. 5-10, Sunrise, Sunrise Nos. 1-3, Panamint, Panamint No. 2, Frances Nos. 1-2, and Snow Flake. Location of these claims spanned a period of thirty-eight years, from March 1936 to September 1974.
In the three years during World War II when high-quality talc, was restricted to use in electrical insulators, the mine was worked steadily because its product could be used as a substitute for steatite-grade talc in non-strategic areas. This has been the only period of sustained underground production. After 1946 operations were intermittent and mainly assessment oriented in nature. Through 1959 only about 6,000 tons of commercial talc had been produced. Production now is estimated to average 25,000 tons per year, meaning a total production of 175,000 tons since pit mining was initiated. The deposit is considered to be nearly half mined out at this time. [280]
Because of the instability of the talc-containing bodies in the area, work underground proved extremely inefficient, requiring extensive timbering and resulting in only a small recovery rate. In 1971, therefore, a decision was made to turn to surface mining, which seemed warranted by indications of heavy reserves found through exploratory drilling. Since 1972 Cyprus Industrial Minerals Company, a division of Cyprus Mines Corporation, has been developing a pit with a projected depth of 300 feet on its southeast side and measuring 850 feet square in perimeter. Access will be at the northwest end. The total area disrupted so far by mining operations totals about 64.5 acres.
The Panamint Mine today is active and producing about 2,000 tons per month. Because it was in full production before passage of the 28 September 1976 act repealing the mineral entry provision for certain National Park Service areas, the present operators have been authorized to continue operations temporarily pending approval of their proposed Plan of Operations. The proposal is to continue open-pit mining until mid-1985 when the remaining 200,000 tons of recoverable ore will be mined out. [281]
b) Present Status
The older section of workings (Montgomery Mine), about 200 feet square in area, probably dates from the early 1940s. Visible from the entrance are one adit trending south and an inclined shaft to the east. The underground workings consist of an east-trending 250-foot-long drift connected to the surface at its west end by a south-trending adit and also joined to a 150-foot-long crosscut and winze east of this adit. Most of the salable talc is thought to have been removed from these areas, although the entire extent of the deposit is uncertain. The tendency of the ground to fracture and the resultant hazardous underground working conditions have precluded further work here. [282]
Remnants of a tramway remain leading southwest around the ridge from this early mine to a four-chute wooden ore bin with metal flashing still in place. Immediately north of this bin on the hillside is some wooden debris--possibly the ruins of an earlier tramway and chute system. A front-dumping swivel ore car was found overturned near the chute remains. The more recent open-pit work with large terrace cuts visible on top of the ridge east of the Montgomery works, at an altitude of about 4,400 feet, involves blasting work and benching into the ridge. Currently the pit measures about 700 feet by 800 feet. Downslope and southwest of the chute remains and west of the pit in a saddle of the same ridge is the stockpile area for talc removed from the latter operation. The ore is transported by truck to mills at Los Angeles ,and Keeler, or to Dunn Siding, California, for shipment to mills in Grand Island, Nebraska, and Mexico City, Mexico. [283]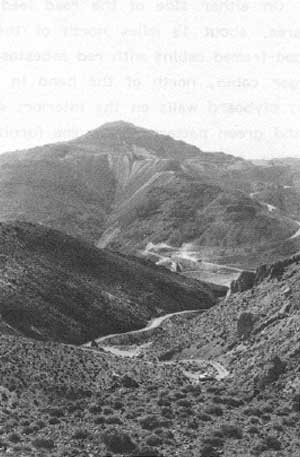 Illustration 78. View east toward Montgomery (Panamint) Mine from burro trail heading west toward Panamint Treasure Mine on Gold Hill. Photo by Linda W. Greene, 1978.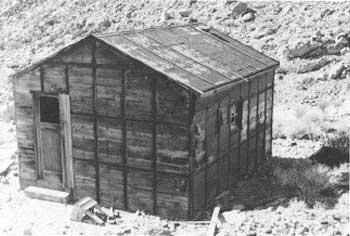 Illustration 79. Early talc miner's shack on road to Montgomery (Panamint) Mine. Note small broken table in front fashioned from dynamite box. Photo by Linda W. Greene, 1978.
On either side of the road leading up to the Panamint mining area, about 1-1/4 miles north of the Butte Valley cutoff, are two wood-framed cabins with red asbestos-covered gable roofing. The larger cabin, north of the bend in the road, has six-paned windows; plyboard walls on the interior; a linoleum floor in a red, black, and green pattern; and some furniture consisting of bedsprings, a table, benches, built-in shelves, and a small table on legs fashioned from an Atlas powder box. The smaller shack has unfinished walls and ceiling. Dumps up the hillside north of these cabins indicate that there may have been more such structures in the vicinity at some time--it was probably a residential area for men working the Montgomery Mine during World War II.
c) Evaluation and Recommendations
The older Montgomery Mine does not meet the criteria of evaluation for the National Register. Because it is surrounded by active strip mining, the site retains little historical integrity; none of the newer pit workings has any historical significance. The ore car near the old chute could be utilized by the park museum in interpretive programs. The shacks down the road toward Warm Spring probably date from the World War II period and are not outstanding type specimens. They were undoubtedly contemporaneous with settlements at Goldbelt and Ibex springs, which are better examples of talc-mining communities of that era because they contain more residences and related structures on site. The small Atlas powder box stool found in the northernmost of the two cabins should be acquired for use in park interpretive programs as typifying the sort of homemade furniture found at a remote desert mine.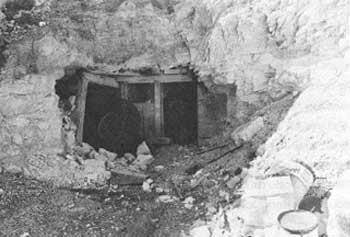 Illustration 80. Earliest openings at Montgomery (Panamint) Mine. Photo by John A. Latschar, 1978.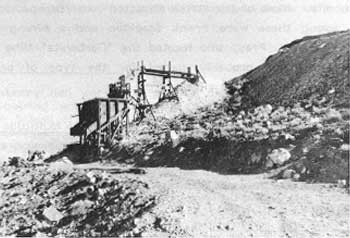 Illustration 81. Ore bin probably associated with the above adits. Photo by John A. Latschar, 1978.
---
---
deva/hrs/section3a11.htm
Last Updated: 22-Dec-2003