Warships Associated With
World War II in the Pacific

---

USS INAUGURAL
| | |
| --- | --- |
| Minesweepers | Admirable class |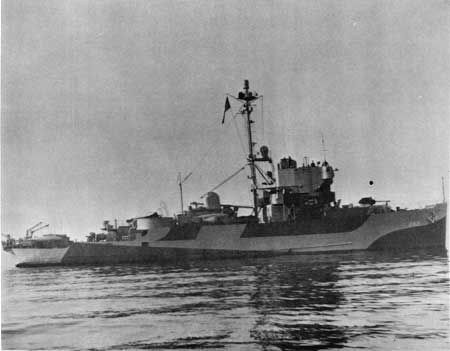 USS Inaugural, St. Louis, MO
(Photo by U.S. Navy, 1945)
Name:
USS Inaugural (AM-242)
Location:
300 North Wharft Street, St. Louis, Missouri
Owner:
St. Louis Concessions
Condition:
Fair, altered

---

Displacement:
900 tons full load
Length:
185 feet
Width:
33 feet
Draft:
10 feet full load
Speed:
15 knots
Armament:
One 3"/50 caliber deck gun; one rocket launcher; two depth charge racks; various combinations of antiaircraft guns.
Crew:
104 wartime

---

Builder:
Winslow Marine Railway & Shipbuilding Co.
Launched:
October 1, 1944
Commissioned:
December 30, 1944

Description
USS Inaugural (AM-242) was built by the Winslow Marine Railway & Shipbuilding Co., Winslow, Washington. She was launched on October 1, 1944, and was commis sioned on December 30, 1944.
USS Inaugural is a fleet minesweeper of the Admirable class. Admirable class minesweepers were basic minesweepers similiar to the British Bangor class designed to meet minimum requirements for size, speed, and endurance. They were fitted for both wire and acoustic sweeping and could also double as anti submarine warfare and antiaircraft ships. Admirable class minesweepers formed the majority of American minesweepers built during World War II.
USS Inaugural is in fair condition. The ship has been neglected for many years and has lost a substantial amount of her World War II integrity. Many parts of the interior of the ship are missing equipment and fittings. The exterior of the ship is in better condition but many of the original guns are in need of restoration. USS Inaugural retains her minesweeping cable.
USS Inaugural is now berthed in the Mississippi river at the North leg of the Gateway Arch. The ship was recently transferred to St. Louis Concessions, St. Louis, Missouri, and is being restored to her World War II condition.
Role of the Minesweeper in World War II
The fleet minesweeper was one of the many support ships designed to service and protect the larger naval vessels in operation against the Japanese in World War II.
Although the Japanese had done little mining in the path of the United States navy they were known to have purchased thousands of British and American mines after World War I. Many of these mines were used in the Philippines and in the waters close to Japan where they caused considerable trouble. The purpose of the fleet minesweeper was to arrive before the fleet and sweep the area for mines. Fleet minesweepers remained with the fleet, during operation, constantly sweeping to insure safe operation for the larger ships of the navy. Fleet minesweepers were the first to arrive in enemy waters and the last to leave. Their job, although not glamorous or well known by the American public, was absolutely essential to the safety and success of American naval operations against Japan in World War II.
USS Inaugural represents fleet minesweepers that fought against Japan in World War II for the following reasons:
USS Inaugural is an example of an Admirable class fleet minesweeper that fought against Japan in World War II. Admirable class minesweepers formed the largest class of American minesweepers ordered during the war and proved to be one of the most successful classes of minesweepers. They were also employed as patrol and escort vessels.

USS Inaugural earned two battle stars for her World War II service.
Bibliography
Chesnau, Roger. Conway's All the World's Fighting Ships 1922-1946. New York: Mayflower Books, 1980.
Lenton, H. T. American Gunboats and Minesweepers. New York: Arco Publishing Company, Inc., 1974.
Morrison, Samuel Elliot. Vol. 14. Boston: Little, Brown & Co., 1960.
Photograph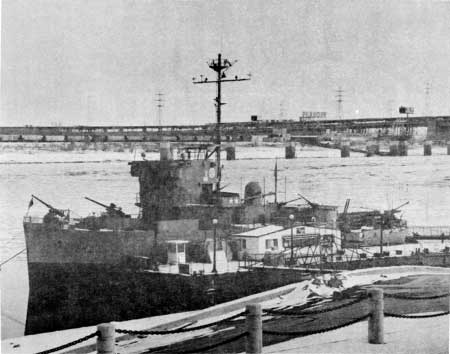 USS Inaugural, exterior view
(Photo by St. Louis Concessions, 1985)