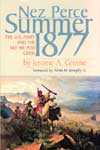 Nez Perce Summer, 1877
---
MENU
---
Eruption and White Bird Canyon
Looking Glass's Camp and Cottonwood
Kamiah, Weippe, and Fort Fizzle
Cow Island and Cow Creek Canyon
Bear's Paw: Attack and Defense
Bear's Paw: Siege and Surrender
---
Nez Perce Summer, 1877

---

Chapter 13: Bear's Paw: Siege and Surrender
Chapter 13:
Bear's Paw: Siege and Surrender (continued)
---
Under the truce, the men of both sides advanced to retrieve their dead and wounded from the previous day's fighting. Some of the injured soldiers had died in the night from their wounds or from exposure. "One man was found with his throat cut," penned a Second cavalryman. "He was shot through the bowels. It's supposed that he did it with his own hands." [18] Everywhere between the lines the scene was of carnage and devastation. "The sight is frightful to see so many dead soldiers, Indians, horses & ponies lying about," observed a trooper. [19] With the gunfire suspended, burials began, the soldiers placing the bodies in a trench excavated about 150 yards back from the edge on the south bluff where part of the Seventh Cavalry attack had been repelled. [20]
At the tent, the meeting between Joseph and Miles proceeded. Joseph shook hands with the colonel, who invited him to sit inside and "talk this matter over." The meeting that followed was noncommittal on the part of Joseph. Through Tom Hill, he told Miles that in the fighting of the previous day his brother, Ollokot, among others, had been killed. He probably mentioned the loss of Toohoolhoolzote, as well as that of Looking Glass, who was shot through the head as he stood in a pit to see what he thought might be the approach of reinforcing Sioux. [21] Joseph told Miles that, although he wanted to surrender, his views did not necessarily extend to the others and that, in fact, many of the people opposed giving up. What happened next in this meeting is not altogether clear. Miles maintained that he instructed Joseph that he must surrender and bring his arms forward and place them on the ground; partial compliance yielded but a few weapons "which amounted to nothing," declared Miles. Joseph hesitated about giving up any more, explaining that his people required some guns for hunting game. [22] Eventually, at the apparent stalemate, the Nez Perce leader and his colleagues started back to their people, but Miles, despite the armistice and with no explanation then or later for his actions, intervened and took Joseph prisoner, turning him over to Lieutenant Long to guard. [23] Tom Hill described this event: "Joseph and the other four started to the camp, but Miles told me to remain. They had gone only about twenty-five yards, when Miles told me to call Joseph back. When the chief came back, the General sent me over to the camp and kept Joseph." [24] Miles's action was a clear affront to the Nez Perces as well as a direct violation of the concept of truce. [25] It is apparent that Miles promoted the suspension of arms in order to foster a dialogue with the Nez Perce leadership while gaining information about the people's condition. The truce also allowed for retrieval of the casualties between the lines. But what Miles did in arresting Joseph was to denounce his own armistice through an act of perfidy. In conventional warfare, governed by custom and well-established rules, it is doubtful that Miles would have breached such a truce. But in his quest for victory, he likely rationalized that the unconventional nature of warfare with Indians gave him license to disregard formality, despite the obvious duplicity of his actions. [26]
But what followed frustrated whatever plan Miles had devised and created consternation throughout the army command. It involved Second Lieutenant Lovell H. Jerome, Company H, Second Cavalry, a well-bred New Yorker who had graduated from West Point in 1870. [27] Apparently on Miles's direction to take advantage of the suspension of hostilities and find out the condition and circumstances of the besieged tribesmen, Jerome rode directly into the Nez Perce entrenchments. [28] According to some of those present, "he was instructed to review and report upon the Indian position and every detail of the Indian fortifications." [29] Jerome, described by Yellow Wolf as "a strong looking young man" wearing a yellow slicker, [30] was apparently in the company of some Cheyennes when he entered the camp. He was in the act of looking around when the Nez Perces received word that Joseph had been forcibly detained by Miles, whereon the warriors seized the officer to insure that no harm would come to their leader. The Cheyenne, Young Two Moon, recalled the alarm given by another scout to "try and get out of the camp and leave the Nez Perces to themselves." Some shooting, presumably from the soldier positions, erupted after the scouts had cleared the entrenchments, but apparently ceased within moments. Young Two Moon looked back and saw "three men holding the lieutenant's horse." Two more warriors were holding Jerome's arms and leading him back inside the defenses. "He did not resist." [31]
Yellow Wolf said that the Nez Perce White Bull became angry after learning what had happened to Joseph and wanted to kill Jerome but was restrained by the others, who turned the officer over to Yellow Bull and Wottolen, who took good care of him. [32] Jerome left several accounts of his time with the Nez Perces, each of which became increasingly cloudy as time elapsed from the event. Perhaps his best account was that given in the presence of his fellow officers within two weeks of Bear's Paw:
What I did while I was in the Indian camp was to look around for the best place for Miles to put in his shells, and to see how their rifle pits were arranged, and whether it would be possible for us to take them by assault. I had the whole thing in my mind by the next day, when I expected to leave. On that day [October 1] I received a message from Miles early in the forenoon. Miles evidently wanted to keep Joseph, but wanted me to escape. I believe now that if I had not gone into that camp under the General's order, he, being deprived of the information which I gave him afterward, would have withdraw—nholding Joseph as his prisoner—with his force to the cover of the distant woods, and there entrenched himself. The fact is he was very anxious, as all of us were, lest Sitting Bull should come to the Nez Perces' assistance. I can testify that the Nez Perces really expected that Sitting Bull would aid them, though of course I don't know how well their hope was grounded. While I was in their camp several warriors spoke of this matter. [33]
In his account, Jerome noted that soon after he had been taken hostage the Nez Perces placed him into a shelter pit with about fifteen other people. Soon he noticed shots being fired into the Nez Perce position despite the presence of the truce flag. "I was alarmed and disgusted," he said. Presently, two warriors—one of them Tom Hilla—ccompanied him to another pit because they feared that others might harm him. There, with two blankets to cover him, he spent an uneasy night. Throughout his presence in the camp, Jerome was treated well to the extent of being allowed to retain his pistol, although because of the occasional heavy firing, nobody slept. The lieutenant was struck by the buoyant cheerfulness of the Nez Perces despite their circumstances, one warrior commenting to him with obvious humor: "If it don't get warmer than this we'll have to go to fighting again." [34]
Miles was not at all pleased to learn of Jerome's detention in the Nez Perce camp, for it confounded his own incarceration of Joseph probably for purposes of seeking the people's final submission. [35] As frustrated as Miles became over the ill-timed venture, the officers and soldiers held decidedly mixed opinions about it. Lieutenant Woodruff wrote home that the command had little sympathy with Jerome. "We were all very much incensed at him." [36] And Captain Snyder noted in his diary that Jerome's dilemma had been brought on by "his own folly." [37] Apparently his company members, however, supported his boldness and bragged about it later, saying "that Jerome had performed as foolhardy an act as, up to that time, had occurred." [38] In any event, as evidenced by his subsequent assignments in regard to the Terry commission, Jerome was in no way penalized for the ruin of Miles's plan. [39]
Nez Perce reminiscent statements indicate that while Jerome fared well among his captors, Joseph did not. Yellow Wolf said that "Joseph was hobbled hands and feet. They took a double blanket. Soldiers rolled him in it like you roll papoose on cradle board. Chief Joseph could not use arms, could not walk about. He was put where there were mules, and not in soldier tent." [40] Yellow Wolf further said that a note from Jerome to Miles on the morning of October 2 describing his own good treatment led the soldiers to remove the hobbles from Joseph. [41] None of the military accounts—either official or personal—confirm that such extreme measures were employed. And Joseph did not mention this treatment in his account of the conflict, only that when Yellow Bull visited to check on his condition "General Miles would not let me leave the tent to see my friend alone." [42]
Because Jerome's predicament had compromised any meaningful result Miles may have entertained by holding Joseph indefinitely, plans were made to exchange the hostages on the morning of October 2. Messages passed between the camps. At the appointed time, Joseph appeared, accompanied by Miles and Lieutenant Maus, and they advanced under a white flag carried by Maus to a halfway point between the lines. There, Joseph and Jerome shook hands, then turned and went with their respective parties to their lines. [43] Jerome described the scene:
There were three Indians along with me. I suppose that was an interesting position. With the suspicion of treachery on both sides, thirteen of our men lay in their trenches scarcely forty rods off, with the rifles held at a dead rest on Joseph and my three Indian guards. More than twenty Indians had an equally sure sight over their Winchester's and Henry's [sic] straight at General Miles and me. I have since learned that Miles' staff officer held a cocked revolver in his bosom ready to fix Joseph if I should be harmed. The transfer passed without trouble, and I was restored to the command of my company. [44]
Jerome passed on to Miles whatever intelligence he had gained during his tenure in the camp. He had counted only about 250 people, of whom but 100 were warriors. He said that when the men entered the rifle pits they carried three guns apiece, "one a repeating rifle for close quarters." [45] The warriors, meanwhile, debated mounting an all-out charge on the troops to free themselves. Tom Hill started forward with his gun, but attracted only two followers and turned back. "I made up my mind to tell the people to quit fighting," he said. [46]
At about 4:00 p.m. on the afternoon of October 1, while Joseph and Jerome still reposed in their respective detainment areas, Quartermaster Francis M. Gibson's wagon train finally pulled up with Captain Brotherton's escort, eliciting a rousing cheer from the troops. "Yellowstone" Kelly and another scout, sent by Miles the preceding night to guide it forward, had passed the train in the darkness and had then been diverted by the discovery of some stampeded cavalry horses two miles from the army camp that Kelly later rounded up and brought in. With the train came the tents for the command and especially for the wounded. But the placement of the latter after dark drew fire from the warriors when their interiors were lighted, compelling Tilton to move the wounded via stretchers back to a more protected hospital site next to Miles's headquarters along the Snake Creek bottom. There, remembered a sergeant, "the tents where the wounded were were put down and walled up to protect them fr[om] cold." [47] Of the two ambulances that had accompanied the train, one had been abandoned on the trail, and the other was in dilapidated shape, its top missing. [48] Also arriving was the bronze twelve-pounder Napoleon gun, whose presence would soon add a new and horrifying dimension to Miles's efforts to dislodge the people. [49]
Continued >>>