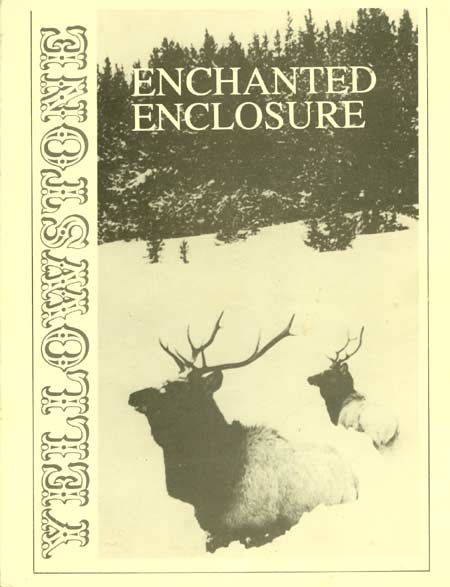 Historic Roads in the National Park System
---
MENU
---
---

---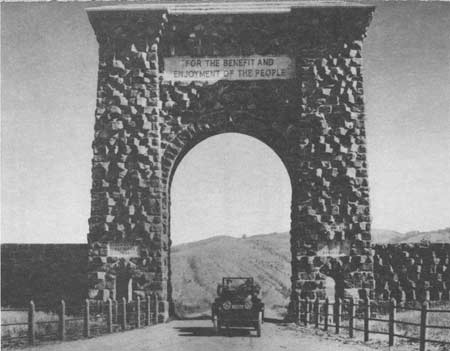 Designed and built by Army Engineers, the Entrance Arch at Gardiner was dedicated by President Theodore Roosevelt in 1903. (National Archives)

FOREWORD
---
Yellowstone National Park has been an important part of our natural heritage for more than a century; even so, some of the men who preserved this great work of nature for the enjoyment of mankind have yet to receive full recognition. Members of the U. S. Army Corps of Engineers were among the first to explore the park area and to urge that it be set aside and protected. Engineers were also responsible for designing, building, and maintaining the system of scenic roads which opened the wonders of Yellowstone to the public.
In Enchanted Enclosure, Dr. Baldwin has brought together for the first time original reports which tell the story — often a dramatic one — of the dedicated service of the Engineers to the cause of conservation. His book should appeal to the general reader as well as to the specialist.
WILLIAM C. GRIBBLE, JR.
Lieutenant General, USA
Chief of Engineers

THE AUTHOR
---
Professor Kenneth H. Baldwin, a special in Nineteenth-Century American Literature, is Chairman of the English Department in the Humanities Division of the University of Maryland, Baltimore County. He holds a Ph.D. degree from The John Hopkins University.

ACKNOWLEDGMENTS
---
The author is deeply indebted to all the members of the Office, Chief of Engineers, U. S. Army, who aided in the preparation of this volume. Special thanks are due to Robt. W. Blakeley, whose interest and support made this study possible; to Jesse A. Remington and Lenore Fine, who gave generously of their time and historical knowledge; to Dorothe M. Grand, who edited the manuscript; to Agnes D. Riedel and Ruth E. Steers, who typed the final copy; and to Carl E. Anderson, who designed the book and oversaw its publication.
Professor Baldwin is solely responsible for interpretations made, conclusions drawn, and any errors of omission or commission.