ANIAKCHAK

---

Beyond the Moon Crater Myth
A New History of the Aniakchak Landscape
A Historic Resource Study for Aniakchak National Monument and Preserve

TABLE OF CONTENTS
---
Cover: The Abandoned Village of Katmai, 1913, by M. Horner, courtesy of NPS. Photograph taken roughly one year after the June 6, 1912 eruption of Novarupta, Katmai National Park and Preserve.

Moving Beyond the Moon Crater Myth
Introduction
A New History of the Aniakchak Landscape: The Challenge, the Place, and Purpose of Study
Chapter One
Father Hubbard's Geological Wonder World: Perpetuating the "Moon Crater Myth" in Aniakchak National Monument and Preserve
Anecdotes from Aniakchak
Reflections on Working in Aniakchak by Tina Neal

Pre-Contact Period (pre-1741)
Chapter Two
The Living World of Aniakchak
Anecdotes from Aniakchak
Archeology in the Park — An Aniakchak Journal by Brian Hoffman

Russian Period (1741-1917)
Chapter Three
1741: A Brave New World Begins
Chapter Four
Russian Orthodoxy: Bridging the Old World with the New
Anecdotes from Aniakchak
A Sense of Place by Patricia Partnow

Early American Period (1867-1930)
Chapter Five
Incorporating Aniakchak: American Fur Traders, Oil Prospectors, and Reindeer Herders
Chapter Six
Aniakchak Ensnared: The Canned Salmon Industry in Ugashik, Chignik, and Aniakchak Bay
Chapter Seven
The Knights of Woeful Countenance: Fox Farmers, Local Trappers, and Clam Canners
Anecdotes from Aniakchak
On the Kanatak Trail by Paul Boskoffsky
Pieces of the Wind by Wendy Erd
Helen Neilsen: Life on a Blue Fox Island as told to Susie Pedersen

Hubbard's Explorations (1930-1932)
Chapter Eight
Exploring the Moon Crater of Alaska: From Foot to Flight
Anecdotes from Aniakchak
Frank Wilson's Account of the 1931 Eruption as told to Father Hubbard

World War II and Cold War Period (1935-1960)
Chapter Nine
From Wilderness Frontier to Wartime Front

Modern Aniakchak (1950s-present)
Chapter Ten
Father Hubbard's Aniakchak Legacy
Anecdotes from Aniakchak
A Dinosaur Discovery in Aniakchak National Monument by Anthony Fiorillo

Conclusion
Aniakchak: A Place People Do Know, and Have Known, for a Very Long Time!
Appendix
Historic Properties Summaries and Recommendations

ISBN# 978-0-9796432-2-4
---

As the nation's principal conservation agency, the Department of the Interior has responsibility for most of our nationally owned public lands and natural and cultural resources. This includes fostering the wisest use of our land and water resources, protecting our fish and wildlife, preserving the environmental and cultural values of our national parks and historical places, and providing for enjoyment of life through outdoor recreation.

The Cultural Resources Programs of the National Park Service have responsibilities that include stewardship of historic buildings, museum collections, archeological sites, cultural landscapes, oral and written histories, and ethnographic resources.

Our missiong is to identify, evalute and preseve the cultural resources of the park areas and to bring an understanding of these resources to the public. Congress has mandated that we preserve these resources because they are important components of our national and personal identity.

---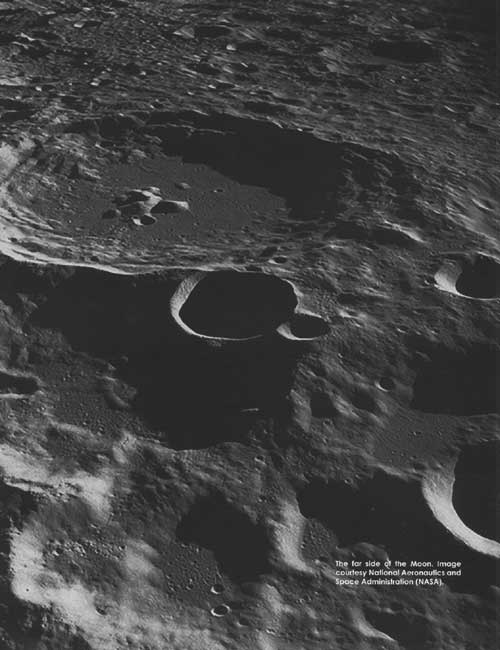 The far side of the Moon. Image courtesy National Aeronautics and Space Administration (NASA).
---
---
hrs/contents.htm
Last Updated: 03-Aug-2009