AMISTAD

---

American Indian Tribal Affiliation Study
Phase I: Ethnohistoric Literature Review

TABLE OF CONTENTS
---
Chapter 1. Purpose of this Work
This Study and its Scope
Methodology
The Practice of Ethnohistory and the Biases of Its Practitioners
Summary of Agency and Tribal Contacts
Organization of this Document
Notes

Chapter 2. Ethnohistory 1535-1750
Introduction
The Environment
Summary of Native American History (1535-1750)
Notes

Chapter 3. Ethnohistory 1750-1880
Summary of Native American History (1750-1880)
Notes

Chapter 4. Archeological Sites
Overview of the Archeology
The Sites
Summary
Notes

Chapter 5. Summary and Recommendations
Affiliation Summary
Recommendations
Notes

Appendix 1. Native Groups Mentioned in Records at Mission San Juan Bautista
Appendix 2. Native Groups Mentioned in San Antonio Missions' Records
Appendix 3. Estimated Populations of Selected Native Groups, 1834-1905
Appendix 4. Native American Groups in and Around Amistad NRA (1600-1914)
Appendix 5. Native American Consultations
Appendix 6. Travel Literature
Appendix 7. Archeological Sites with Radiocarbon Dates, Rock Art, Arrow Points, or Sherds Post-Dating A.D. 1200


LIST OF FIGURES
---
1. Location of Amistad Reservoir and the Amistad NRA lands
2. Excavations in progress at the Devils Mouth site
3. Copy of a page of a document from the Berlandier papers
4. The geographic macro- and micro-regions considered in this study
5. Transcript from the Sacramental records at Mission San Bernardo
6. Copy of the census taken in 1859 at the Upper or Comanche Reserve
7. Francisco Alvarez Barreiro's Plano corographico in 1729
8. Map of the Republic of Texas in 1836
9. Rockshelters along the Rio Grande
10. Example of polychrome rock art at site 41VV79
11. The general area of Texas on a map drawn ca. 1545
12. Estimated routes of Fr. Manuel de la Cruz and the Bosque-Larios expedition
13. Drawing of Kickapoo ca. 1828
14. Lipan Apache as drawn ca. 1828 during the Berlandier expedition
15. Tahchee, a Cherokee leader who lived in Texas in the 1820s
16. Comanche as drawn ca. 1828 during the Berlandier visit to Texas
17. Comanche village in Texas
18. Toro-Mucho, chief of a band of Kioways
19. Noco-Shimatt-Tash-Tanaki, Seminole Chief in 1854
20. Seminole Maroon Charles Daniels, in uniform
21. Photograph of Sergeant Johnson or "Wears-Beads" from the late 1860s
22. Map from 1851 showing historic Caddoan speaking villages on the Brazos River
23. Cliffs along the Rio Grande in the Amistad NRA
24. Stone ring excavated at the Tonto or Live Oak Hole site (41VV828)
25. Figure with European dress at Vaquero Shelter (41VV77)
26. Rock art panel at site 41VV485, Dolan Springs
27. Mission and three crosses drawn at Vaquero Shelter (41VV77)
28. Mission Structure at site 41VV343
29. Missionary and church-like structure at site 41VV180
30. Riders impaled with spears at site 41VV339
31. Dancing figures from 41VV7, Castle Canyon site




LIST OF TABLES
---
1. Native Groups Living North of the Rio Grande in the 1670s
2. Native Groups that Inhabited or Used the Amistad NRA During the 17th and 18th Centuries
3. Arrow Points from two Rockshelters in Northern Mexico
4. Sites in the Lower Pecos with Features, Artifacts, Radiocarbon Dates, or Rock Art Post-Dating A.D. 1200
5. Reports of Apache or Comanche Camping on or Crossing Lands of the Amistad NRA
6. Historic era Native American Rock art Sites in the Micro-Region
7. Federally Recognized Tribes Affiliated with or Possibly Affiliated with the Lands of the Amistad NRA


---
Jointly published by
The Texas Department of Transportation
Environmental Affairs Division
Archeological Studies Program, Report No. 34

&

The National Park Service
Study Completed for the NPS Under Purchase Order 1443PX12598084
Amistad National Recreation Area, Del Rio, Texas
Published in cooperation with the National Park Service Amistad National Recreation Area
Copyright © 2002 by the Texas Department of Transportation (TxDOT)
All rights reserved.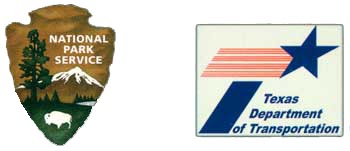 TxDOT owns all rights, title, and interest in and to all data and other information developed for this project. Brief passages from this publication may be reproduced without permission provided that credit is given to TxDOT and the author. Permission to reprint an entire chapter or section, figures and tables must be obtained in advance from the Supervisor of the Archeological Studies Program, Environmental Affairs Division, Texas Department of Transportation, 125 East 11th Street, Austin, Texas, 78701. Copies of this publication have been deposited with the Texas State Library in compliance with the State Depository requirements.
Printed in the United States of America at


On acid-free 60 lb. paper
January 2002
For further information on this and other TxDOT archeological publications, please contact
Texas Department of Transportation
Environmental Affairs Division
Archeological Studies Program
Nancy A. Kenmotsu, Ph.D., Supervisor

Archeological Studies Program Report No. 34
A. McGraw, Series Editor

Editing and production of this report was directed by
Timothy K. Perttula, Ph.D.
Archeological & Environmental Consultants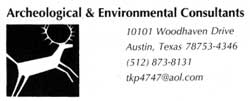 ISBN 1-930 788-14-2


Dedicated to
Dr. Thomas N. Campbell
and Dr. J. Charles Kelley,
mentors and gentlemen.
---
---
amis/aspr-34/contents.htm
Last Updated: 24-Apr-2007