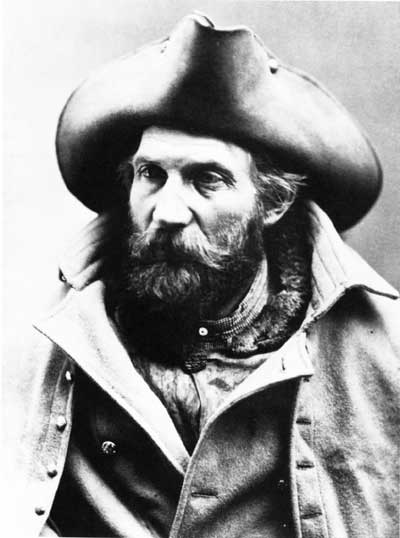 Harry Yount (Yellowstone National Park collection)
Enigmatic Icon: The Life and Times of Harry Yount
by William R. Supernaugh

Originally published in the Annals of Wyoming: The Wyoming History Journal, Spring 1998 , Vol. 70 No. 2
©1998, Wyoming State Historical Society
The resource protection focus of today's law enforcement Park Ranger of the U. S. Department of the Interior's National Park Service (NPS) is, by some historians, traced back to Yellowstone, the first national park, and one of its earliest employees, Harry Yount. Today, Harry Yount is securely positioned in the legend and culture of the Service. Thanks to the efforts of NPS historians and ephemera collectors, Harry Yount is commemorated and remembered by the bureau which did not come about until 1916, 35 years after he was employed at Yellowstone.
Best known for the two reports he wrote as Yellowstone's first and only gamekeeper, Yount's life before and after his brief but compelling tenure at the Park remains virtually untold. This article attempts to gather the available references from official records and the popular literature relating to the NPS into a single monograph from which more scholarly investigations may, in time, flesh out the story of the man who lies behind the legend and myth which has given rise to a figure of heroic proportion.
---
Little is known about Yount's early years. His given name had, until recently, been lost and he has been referred to in print variously as "Harry C. Yount" and "Harry S. Yount." [1] The most informative look into Yount's personal history comes from a series of interviews conducted between 1921 and 1924, by Thomas J. Bryant and published in the Annals of Wyoming. [2] This is the only known first-person account of Yount's early life and, while tantalizingly incomplete, it offers valuable insights into his pre-Yellowstone years.
According to Bryant's recordings, Harry Yount's family tradition referred to the arrival of two brothers with the name of "YOUNKERS" who settled at Younkers (now Yonkers), New York. One of the brothers, it was said, moved west to Pennsylvania where the family name underwent a change from Younkers to Yount. Harry indicated to Bryant that he had a brother who lived in Illinois and two brothers who had settled in California many years previous to the interview. Bryant concluded that Harry had lost all contact with his relatives over the years. [3]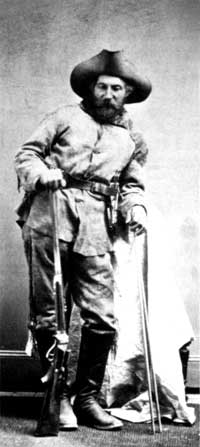 Family lore aside, nothing has yet been found to substantiate the early New York ties. Berks County, Pennsylvania appears to be the ancestral home of the Younts in America who trace their roots back to Hans George and Anna Maria Jundt who arrived, with four of their five children, at Philadelphia in 1731, from a village on the Rhine in Alsace. [4] The fifth child, Andrew Yount, arrived in Philadelphia in 1751. His children all migrated to Randolph County, North Carolina, and are shown as landowners by the 1780's, joining their cousins whom had made the trip much earlier. Andrew has been identified as the progenitor of the Quaker branch of the Yount family; a son, John, migrated to Missouri, as did his grown children, all of the Quaker faith. Harry Yount's place of birth is now believed to be Washington County, Missouri although his exact birth date remains unconfirmed from public documents. [5]
Even though 1847 is given as Harry's date of birth in one history of Wyoming, [6] Bryant's article speculates that 1837 would be more believable based on his perception of the physical evidence of aging and talking to residents of Wheatland who stated he, "...was born in the same year as Grover Cleveland...", placing his birth in 1837. [7] The Census, Army Pension Records and Yount's enlistment papers provide a more probable birth date of 1839; [8] Harry provided March 18 in a 1915 Pension affidavit. These sources show that "Harry" was christened Henry S., by which he continued to be officially known during his Army years (1861-1865) and continuing through his lengthy correspondence with the Bureau of Pensions between 1898 and 1915.
Washington County, Missouri, lies approximately 40 miles southwest of St. Louis. The 1850 Census for Harmony Township, Washington County, Missouri, identifies eleven-year-old Henry, son of David Yount, as having two older brothers, Caleb and John, still living at home. This is consistent with the 1840 census for the same area, which places one male under five and two between 10 and 15 in David's household. [9] During his youth he apparently received some education in Missouri as he was shown to be passably literate in later years.
Harry was a two-time Union veteran of the Civil War, serving first by enlisting in Co. F, Phelps' Regiment of Missouri Infantry. During this six-month term of service (November 19,1861 to May 12, 1862), he participated in the events leading to the Battle of Elkhorn Tavern (Pea Ridge), Arkansas, March 6-8. [10] On March 5, 1862 he received a leg wound, was captured, marched to Fort Smith, Arkansas, and held as a prisoner of war for 28 days before being exchanged. [11] Yount, who reenlisted shortly after mustering out of Phelps' Regiment in May, was enrolled in Co. H, 8th Missouri Cavalry for a three-year term of service starting on August 9, 1862, in Springfield, Missouri, and ending on July 20, 1865, in Little Rock, Arkansas. [12] The 8th Missouri served in the border states of Missouri and Arkansas, seeing action in eleven engagements. Harry rose through the ranks from private to corporal, then sergeant and, finally, serving as Company Quartermaster Sergeant.
---
Following the war, he came to Wyoming Territory in 1866 via Nebraska City, Nebraska, site of the first Fort Kearny, hiring on as a "bull whacker" for the Army along the Bozeman Trail between Fort Laramie and Fort C. F. Smith in southern Montana, east and north of present-day Yellowstone National Park. [13] This was during a period of unrest on the frontier and Yount was reportedly engaged in several skirmishes with the Sioux and Cheyenne while delivering freight. [14]
He also worked for a time as a buffalo hunter in this general area of Wyoming. [15] According to one source, Yount had worked as a hunter, trapper, guide and scout between his discharge from the Army in 1865 and his employment at Yellowstone in 1880. For a number of years he served as a contract hunter for the Smithsonian Institution, providing specimens of western fauna for exhibits. [16]
During a significant portion of this time, Harry Yount had served as a guide and packer for the Hayden Geological Survey, spending seven summers in New Mexico, Utah, Arizona, Colorado and Wyoming. [17] Between expeditions with Hayden (approximately 1872-79), Yount spent at least six winters hunting and trapping the Laramie Range of mountains below Laramie Peak, where he evidently maintained a cabin. [18]
Yount never married. He became engaged to Estella Braun prior to his arrival in Wyoming. Braun, from a farming family in Michigan, had later relocated to Detroit. She was employed as a telegraph operator with Western Union. During an expedition to the Four Corners region in 1867-8, he learned that his fiancé had been killed while on vacation when her Detroit-bound train was involved with a collision with another engine. [19]
---
Yellowstone National Park's second superintendent, Philetus W. Norris (1877-82), set the stage for Yount's entry into the annals of NPS history. [20] A lack of finds and general understanding of the remote nature of the area handicapped Yellowstone's first superintendent. He left in 1877, annoyed at Congress' failure to adequately fund the park's development. Norris was more successful in obtaining funds from Congress and an initial appropriation of $10,000 was made in 1878, followed by an increase to $15,000 in 1880. [21] Norris used $1,000 of this windfall to pay for a year-round position of "Gamekeeper", which had the exclusive objective of reporting on the wildlife of Yellowstone National Park and protecting them from undue slaughter.
No one claims knowledge as to just how the gamekeeper concept came about. Clearly, Norris wanted to take action to protect the wildlife from indiscriminate slaughter; hunting was not regulated in Yellowstone until 1877 and not prohibited until 1883. He indirectly proposed the position in his report of 1877 wherein he suggested establishing a game reserve in the park's northeast corner, particularly the broad Lamar River valley. [22]
It is likely that Superintendent Norris' policy of wildlife protection and management led to the appointment of Harry Yount as "gamekeeper" in 1880. Although instructed to report to Superintendent Norris, Yount received his appointment from Secretary of the Interior Carl Schurz and Henneberger surmises that the position was created by someone in the Secretary's Office. [23] As to why Yount was selected, the record remains unclear. His past experience, familiarity with the park and contacts with people integral to the park's exploration and establishment doubtlessly were factors.
Henneberger speculates that Norris likely first met Yount during the 1878 Hayden expedition to Yellowstone for which he was listed as a "wrangler and packer." [24] Too, as a long-term temporary employee of the Department of the Interior, (Hayden's Survey was chartered by the Secretary and later folded into the U. S. Geological Survey) he may have already been known within the Interior bureaucracy. [25]
"Rocky Mountain Harry" Yount has been described as, "... a typical leatherstocking frontiersman. He was rough, tough, and intelligent." [26] After building a winter cabin in the park in 1880, he became one of the first white men known to spend time on a year-round basis in Yellowstone. Independent and resourceful, able to subsist on his own without close supervision, and having a familiarity and knowledge of the natural processes surrounding him, Harry Yount has become an archetypal model for the National Park Ranger. Horace Albright, a founding father and the second Director of the National Park Service, wrote of Yount, "After that first winter alone, with only the geysers, the elk and the other animals for company, Harry Yount pointed out in a report that it was impossible for one man to patrol the park. He urged the formation of a ranger force. So Harry Yount is credited with being the father of the ranger service, as well as the first national park ranger. [27]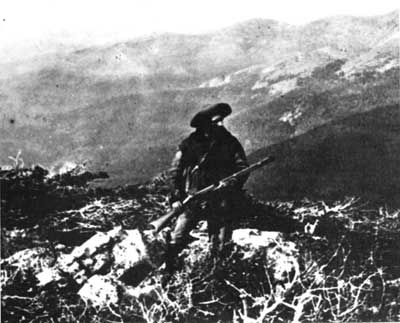 Harry Yount in the mountains.
Harry Yount, for all that his tenure at Yellowstone spanned a mere 14 months, left a lasting legacy. His articulate and insightful 1880 "Report of Gamekeeper" documents his travels through the Park and his general observations on wildlife and the inability of one person to adequately protect the park's resources. [28] He calls for the establishment of a seasonal workforce to protect the wildlife and other park resources from the depredation of park visitors; a model that the NPS follows to this day. In addition to his role as gamekeeper, Yount's duties included providing meat for the employees, guiding visiting dignitaries and accompanying Superintendent Norris on his explorations of the Park.
Yount spent the winter of 1880-81 in his cabin at the confluence of the Lamar River and Soda Butte Valleys, occasionally joined by one or another of the park employees wintering over at Mammoth Hot Springs, but generally alone from November to April. [29] His second and final report in September of 1881 documents his natural history and meteorological observations and summer travels. Also, similar to the one prepared in 1880, he again calls, "... for a small reliable police force as the most practical way of seeing that the game is protected from wanton slaughter, the forests from careless use of fire, and the enforcement of the other all laws, rules, and regulations for the protection and improvement of the park."
Superintendent Norris, upon his return to the Park in. the spring of 1881 expressed disappointment in Yount's performance as it pertained to road maintenance and development, a task upon which Norris apparently placed high priority. [30] There was an obvious difference of opinion as to the worth of the gamekeeper position. Yount felt that the task of safeguarding the park's wildlife was more than one person could reasonably be expected to do. During this time, Norris wrote Secretary of the Interior Schurz, indicating that he was recommending the position of gamekeeper be discontinued, effective July 1, 1882. He expressed the opinion that Yount, while, "... a sober and trusty man I should ordinarily hire at regular wages as an excellent hunter, still he is that and nothing else, being by tastes and habits, a gameslayer and not a game preserver."
In a June letter to Schurz, Norris stated he had arranged for Yount to resign at the end of the season and return to Cheyenne. Indeed, Yount tendered his resignation in his 1881 Report of Gamekeeper, citing the need to, "... resume private enterprises now requiring my personal attention."
---
Harry Yount's life and travels between his departure from Yellowstone in the fall of 1881 and 1912, when he settled in Wheatland, Platte County, Wyoming, approximately 70 miles north of Cheyenne, is as yet largely undocumented. [31] He lived for a time in Uva, Laramie County, Wyoming; pension records in his file dated between June, 1891, and March, 1893, provide his place of residence. Harry reportedly homesteaded on a tract of land at the foot of Sugar Loaf Mountain and subsequently sold it to H. M. Small. His obituary reported his nearly 40 years of prospecting in the Laramie Mountains (especially the Bluegrass District) where he, in conjunction with several partners developed extensive copper and graphite prospects. His ability to maintain a modest means of support in his later years is attributed to his successful development and sale of one claim there. Yount also discovered and developed a marble quarry west of Wheatland in the 1890s. [32] He is reported to have maintained an interest in prospecting and mineral development up until his death. The Wheatland Times, May 22, 1924, issue, which reported Yount's death, indicates that on the day prior to his death, he had been seeking a ride into the hills west of Wheatland where he believed a gold outcrop lay.
---
Yount died in Wheatland a little after noon on May 16, 1924. According to witnesses, he had made his regular morning walk to downtown from his home in the west part of town, a "modest three room brick building," with a frame addition. As he was returning home, "while near the Lutheran church he was seen ... to sink to the earth where he soon expired." Yount's death certificate gives the cause of death as, "Suspended Heart Action" and gives his age as 88; the latter now appears to be in error and his age was more likely 85. In accordance with the provisions of his will, drawn up by Mr. Bryant, he was buried in the Lakeview Cemetery at Cheyenne, "... where all the old timers he used to know were buried." [33] His grave, marked by a military style marble headstone, reads "Q.M.SGT HARRY S. YOUNT CO.H MO.CAV."
Harry is gone but his name lives on. Yount (or Younts) Peak, a major peak in the Absaroka Range located on the east side of the Continental Divide approximately 20 miles southeast of Yellowstone National Park's southeast corner is named in commemoration of this legendary frontiersman. [34] The headwaters of the Yellowstone River arise on its flanks and flow into the Park and Yellowstone Lake.
---
Harry Yount is credited with setting the standards for performance and service by which the public has come to judge the rangers of today. Now, he lends his name to a recognition program that honors NPS employees for the art and science of "rangering." The National Park Service, in 1994, established the Harry Yount Award, given to individual employees whose, "... overall impact, record of accomplishments, and excellence in traditional ranger duties have created an appreciation for the park ranger profession on the part of the public and other members of the profession." [35]
---
Notes
1 Scoyen, Eivind T. "The Evolution of the Protection Function." Lecture manuscript dated August 11, 1965, 14. Scoyen, born at old Fort Yellowstone in 1896, and retiring from the National Park Service as Associate Director in 1962, often lectured at the Service's Albright Training Center, Grand Canyon, Arizona, on aspects of Service history. His notes, apparently incorrect, read "Harry C. Yount." A published interview with Yount by Thomas Julian Bryant, "Harry S. Yount," Annals of Wyoming 3(1925-26), 171, is consistent with other published accounts. Bryant's interview includes a reference to a slate colored marble or fine granite stone carved into the shape of a "book" which he was shown by Yount and which was incised, "Harry S. Yount, Scout and Guide" on the front.
2 Bryant, "Harry S. Yount." Bryant first met Harry Yount on May 15, 1921, as Harry and two other veterans of the Civil War were speaking at a program and dinner arranged by a Wheatland, Wyoming, schoolteacher. The subsequent friendship that grew between the aged frontiersman and Bryant led to his recording the reminiscences Yount shared up until his death on May 16, 1924.
3 Henry was the tenth often children born to David Yount and Catherine Shell. Edith W. Huggins, The Yount (Jundt) Family in Europe and America (Raleigh, N. C.: Privately printed, 1986), 218. Brothers Caleb (born 1832) and John (born 1835) are shown to have emigrated to the Napa Valley of California. It is presumed they joined their uncle, George Calvert Yount, an early California frontiersman and reportedly the first white man to settle, in 1831, in the Napa Valley.
4 William C. Yount, A brief sketch of the origin of the Yount family in America (1936). The relationship of David to John Yount has been established as son to father by genealogical work compiled by Edith W. Huggins in her work on this line of the Yount family. (See footnote 3). David was part of the Quaker immigration from North Carolina to Missouri. Two Yount families, headed by Ira and Azariah Yount, lived near David in 1850 (and each with a son, David), and are two of the older brothers of Henry (Harry). They are buried in a Quaker Cemetery near Potosi, Washington County, Missouri.
5 Civil War Pension Records file SC 825, 586. His birth date reads "March 18, 18(unreadable)". Huggins' genealogy of the Yount family provides a date of March 18, 1839. This is consistent with both the census records and subsequent military records.
6 History of Wyoming (Chicago: A. W. Bowen and Company, Publishers, 1903), cited in Bryant.
8 The 1850 Washington County, Missouri census for Harmony Township, conducted December 9, 1850, lists household 1258 as David Yount, a farmer of 55 years of age, born in North Carolina, and three sons; Caleb age 18, John age 15 and Henry age 11, placing his date of birth in 1839. The 1840 census again lists David with one son under the age of one: this is most likely Henry (or Harry).
9 U. S. Census Records, Missouri, 1840 and 1850. We also learn that David Yount was born in North Carolina in 1795 and that he was apparently a widower or living alone by the time the 1850 census was conducted. David does not appear in the 1860 enumeration for Missouri but his death is given as 1881 in Huggins, with burial at Lewisburg, Dallas County, Missouri.
10 Civil War Records, National Archives. The Official Records indicate the 25th, 35th, 36th, 44th, and 59th Ill.; 2d, 3d, 12th, 15th, 17th, 24th, and Phelp's Mo.; 8th, and 22d Ind.; 4th and 9th Iowa; 3d Iowa Cav.; 3d and 15th Ill. Cav.; 1st, 4th, 5th, and 6th Mo. Cav.; and artillery units from the above states were represented. Henry S. Yount enlisted in Phelps' Regiment at Rolla, Missouri October 19, 1861.
11 Yount apparently was troubled by leg problems ever after. His pension claims cite early damage to both legs (rheumatism) attributed to his having to march barefoot over the cold, wet roads to Fort Smith following his capture. Under the provisions of the Act of June 27, 1890, Harry applied for an Invalid Pension for the war related injuries to his feet. He was awarded a monthly pension of $6 in November 1892, retroactive to November 1890. This was raised to $12 in July 1900. Under the provisions of the Act of May 11, 1912, Harry applied for an increased pension and though the records provided by the National Archives do not indicate if the request was honored, the Wheatland World reported in January 1913, that Harry's pension was retroactively increased to $25 per month dating from May 27, 1912.
12 National Archives, Veterans Record; SC 825,586. He enlisted in Capt. Jones' Company (which soon became Co. H) of the 8th Missouri Cavalry at Lebanon, Missouri on August 9, 1862 as a Private. He was promoted to Corporal April 14, 1863 and again to Sergeant, December 9, 1863, On June 13, 1864 he was promoted to Company Quartermaster Sergeant. Harry mustered out at Little Rock, Arkansas on July 20, 1965.
13 John W. Henneberger, "The History of the National Park Ranger," unpublished manuscript, 1959, 24. An earlier manuscript prepared by Henneberger and which served as a draft of the larger treatise, "Preserve and Protect," gives the date of 1866, which appears to have been extracted from Bryant's work.
14 Bryant wrote Harry was involved with Indians while first working for the Army in Wyoming. In the account he reports a party of Indians followed his ox-drawn wagon, part of a larger bull train, from near Fort Laramie to Fort C, F. Smith. By remaining awake and constantly moving for four days and nights, the train avoided coming under attack, Harry is reported to have fired his carbine in response to one Sioux warrior who repeatedly fired upon the train from horseback, hitting and apparently killing his horse. Yount recounted the danger of hunting bear and elk in the "early days" due to the activities of hostile Indians. While believing the Indians would kill him if they could, he seemed not to blame the Indians for defending what was their country originally.
15 Bryant, 168. Bryant relates an episode with Yount in which he states he had, "killed many buffalo for tourists at Cheyenne, getting a dollar apiece for buffalo tongues alone." Yount also restates the national policy of the time regarding the relationship between the Plains Indians and bison. "He said it was a pity to kill off the buffaloes, which were here in immense numbers, but it was the only way to get rid of the Indians, as the buffalo was their main source of subsistence."
16 Bryant, 168 Yount provided study skins, including mountain lions and "pheasant." The latter likely refer to sharp-tailed or sage grouse inasmuch as the ringneck pheasant was not established in Wyoming until the 1880's. Citing Yount's previous work collecting specimens of wild animals for the Smithsonian as part of the Hayden Expedition, Spencer F. Baird of the Smithsonian Institution contacted Yount in October, 1875. A long list of Rocky Mountain mammal specimens was requested for use in the Centennial Exposition in Philadelphia the following year. (Smithsonian Institution Archives, personal correspondence). Yount likely complied with the request. Photographs of the exposition reveal a number of wildlife mounts in the exhibit halls.
17 Henneberger, citing Bryant. The dates of Hayden's subsequent explorations are not noted but this likely covers the period 1872-1879, Bryant detailed several incidents that Yount related from his travels with the Hayden expeditions, including visits to the cliff ruins of Mesa Verde and the Grand Tetons.
18 Bryant, 165. Bryant recorded several stories about tracking and killing grizzly bears near Laramie Peak and in the Laramie Range. These include references to his returning to his cabin for supplies or a team of mules, but the general location is not known.
19 Bryant, 167-8. It is unknown if Braun was employed out west or where the train wreck occurred that reportedly took her life.
20 Hiram Martin Chittenden, Yellowstone National Park (Palo Alto: Stanford University Press, 1954), 104-106. Norris succeeded Nathaniel P. Langford, chosen to be the Park's first superintendent following Yellowstone's establishment in 1872. A principal in the 1870 Washburn-Langford-Doane Expedition he later spoke and wrote widely on the previously ignored natural wonders encountered on that expedition.
21 Norris served until February 1882. A noted writer about and explorer of the park, his prime drive seems to have been the construction of roads within Yellowstone to increase access and lure potential commercial interest. He was responsible for having built much of the original infrastructure of the park. Henneberger, 31.
22 Aubrey Haines, The Yellowstone Story, (Boulder: University Press of Colorado, 1977), I, 252. Norris proposed that the bighorn sheep and herds of buffalo, elk, and deer be protected (and incidently domesticated and sold) by, "...two or three spirited, intelligent herdsmen...". Merrill D. Beale, The Story of Man in Yellowstone (Yellowstone: Yellowstone Library and Museum Assoc., 1956), 241, briefly outlines the history of hunting and game protection in Yellowstone.
23 Annual Reports of the Superintendent, Yellowstone National Park, 1880. Appendix A, 50. Yount was in Cheyenne, Wyoming Territory, when notice of his appointment letter, dated June 21, 1880, reached him. He accepted at once but was hindered by unusually deep snows and floods in the mountains, requiring him to travel by train and coach via Ogden, Utah, and Bozeman, Montana, finally reaching park headquarters on July 6. The position paid 1,000 per annum and was not removable by the Superintendent, thus truly a Secretarial appointment. Henneberger, 23.
24 Aubrey Haines, Yellowstone National Park: Its Exploration and Establishment (Washington: NPS, 1974), 143. Secretary of the Interior Columbus Delano appointed Ferdinand Vandiveer Hayden in 1871. His report on the Yellowstone region added to the push to set the area aside as a government reservation. He returned to Yellowstone in 1878; Yount is listed as a member of the Survey party.
25 Haines, 143. The U. S. Geological Survey was created in 1879 by the blending of Hayden's Survey with that of two others, King's and Powell's.
27 Horace Albright and Frank J. Taylor, Oh Ranger!: A Book About the National Parks (New York: Dodd, Mead and Co., 1929), 5-7, and frontispiece illustration of Harry Yount. This passage is also quoted in Haines' book.
28 Yount, 1880. Shortly after his July entrance on duty, Yount met Secretary Schurz and his party, guiding them from near the southwest corner at the South Madison to the northeast corner at Clark's Fork canyon. Upon his return to Mammoth Hot Springs he circumnavigated Yellowstone Lake and explored the area around Lewis and Shoshone Lakes, remarking on the abundance of wildlife. After once again returning to Mammoth Hot Springs, he set out to construct his winter camp at the confluence of the East Fork (Lamar) and Soda Butte Valleys at a point where he could guard the elk and bison wintering grounds against hunters. He concludes his report, dated November 25, 1880, with a strong recommendation that protection of the wildlife be extended parkwide. This task, he laments, is too much for one man and he urges appointing, "...a small, active, reliable police force, to receive regular pay during the spring and summer at least...". He continues, "It is evident that such a force could, in addition to the protection of game, assist the superintendent of the Park in enforcing the laws, rules, and regulations for protection of guideboards and bridges, and the preservation of the countless and widely scattered geyser-cones and other matchless wonders of the Park."
29 Yount, Report of Gamekeeper.
31 Bryant, 171. Vaunt responded to Bryant in 1923 that he had lived in Wheatland for, "ten or twelve years." Pension records dated in May 1912, provide a Wheatland address.
32 Wyoming: Platte County Heritage. (Wheatland: Platte County Extension Homemakers Council, 1981), 474-5. Harry S. Yount filed on 140 acres of land in Laramie County at least as early as 1887. He later lost this through foreclosure where it was purchased by Henry Sturth at a sheriff's sale in August, 1895. Yount and several partners received a patent March 1, 1892, for the "Yount Marble Placer Mining Claim" in Sec. 3, T24N, R70W, Sixth Principal Meridian in Laramie County, comprising approximately 156 acres. However, Yount had already deeded his one-eighth interest to Harry Crain in 1889. Over time, principal ownership of this claim also devolved to Sturth. As of the 1970's, the Yount Marble Placer Claim had been sold several times and finally had been put into operation, producing crushed marble for landscaping, aquarium gravel and architecture.
34 Chittenden stated that the peak commemorates Harry Yount. However, Webster's Biographical Dictionary, (1976 ed.), 1611, attributes the peak's name to George Concepcion Yount (1794-1865). George C. Yount, Harry's uncle, is credited with extended trapping trips into the west during the late 1820s, prior to his settling in California in the 1830s. Despite this contradiction, documents provided the author by the U.S. Geological Service, Office of Geographic Names, substantiate Chittenden's claim. Both Mae Urbanek, Wyoming Place Names (Boulder: Johnson Publishing, 1967), 223, and Orrin Bonney and Lorraine Bonney, Guide to the Wyoming Mountains and Wilderness Areas, (Chicago: Swallow Press, 1977), attribute the name of 12,165-foot Younts Peak to Harry.
35 USDI, NPS, 1995. Memorandum from Regional Director, Midwest Region to Superintendents, Midwest Region, dated January 10, 1995, 6 p. The 1995 award recipient was Richard T. Gale, Deputy Chief Ranger of the National Park Service, Washington, D.C.; the 1996 recipient was Tommie Patrick Lee, Chief Ranger of Glen Canyon National Recreation Area, Arizona-Utah, and the 1997 recipient was Jim Brady, Superintendent of Glacier Bay National Park, Alaska. The 1998 Harry Yount Award recognized Mike Anderson, District Ranger at Cape Hatteras National Seashore, North Carolina.
---
William R. Supernaugh is superintendent of Badlands National Park, South Dakota.
---