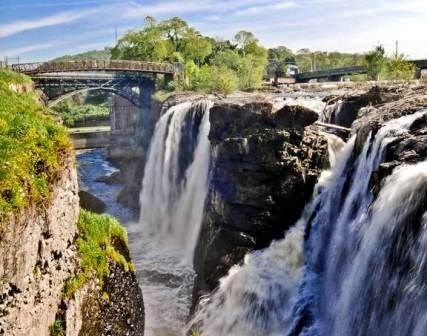 Waterfalls, ancient geology, engineering landmarks, and the economic birth of a new nation - these are just a few of the things you will discover on your visit to the City of Paterson and the Paterson Great Falls National Historical Park.







Learn more...
Our Story:
History of Paterson and its Great Falls
Guided walking tours and special programs
Paterson Museum on 2 Market Street (2-3 minute walk from the park).
"Mill Mile" - a self-guided free walking tour app or cell phone tour.

Have time?
Check out these thematically related sites, both within a 10 minute drive of the park:
Lambert Castle; 3 Valley Road, Paterson, NJ
American Labor Museum (Botto House); 83 Norwood Street, Haledon, NJ

Restaurants/Lodging:

Restaurants in Paterson, NJ
Restaurants from 2016 Savor Paterson Festival.
Lodging within a 15 mile radius of the park.