Roni Seibel Liebowitz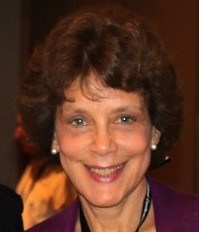 Roni Seibel Liebowitz was born at Barnert Memorial in 1943. She lived in the family home, the same house her mother, Thelma Auerbach, had grown up in, at 453 E. 26th Street between 10th and 11th Avenue in Paterson.

Thelma's parents were immigrants. Sarah Bella Przybilska and Jacob Urback met in Lodz, on the loom. Jacob came to America August 3, 1904 and went to Lawrence, Massachusetts to work in the wool mills. Eventually, though, he learned he was allergic to wool and he made his way to Paterson. Together with his wife's brother, he opened the Bilsky-Urback mill that operated at 33 Dale Avenue. They made broadsilk and operated forty box looms.

Thelma attended PS #21 and Eastside High School. She became a bookkeeper and worked for her Uncle Phil Bilsky in the family business. She met her husband, Joseph Seibel, at his sister's house two doors down on 26th Street.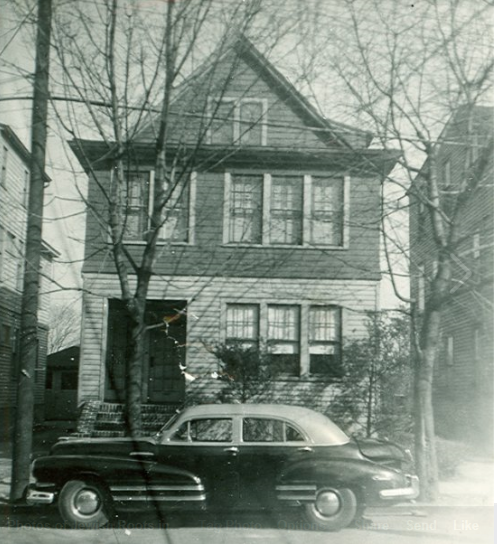 Roni recalls her two-family house with a big attic apartment. Her grandfather owned the building but soon sold it to her father. She and her parents lived on the second floor. Her grandparents lived on the third. She remembers big Passover Seders at the house, where her grandfather led the service. The family attended Temple Emanuel. Her grandfather, a Socialist, did not attend. She recalls Jackie Donovan Dance and recitals and drama lessons. She remembers Bibsy's Fine Foods grocery store on 10th Avenue and department stores Meyer Brothers and Quackenbush's. But Roni also remembers with fondness Richie's Chinese restaurant and Sussman's Pharmacy on 10th Avenue between 25th and 26th Streets and ordering a hot dog with everything on it at Toby's.

She didn't meet her own father until she was two years old; he'd been serving in the U.S. Navy in the South Pacific.

Roni, a genealogist, founded Jewish Roots in Paterson on Facebook. It was a way, she says, to reconnect and she marvels at the friendship and camaraderie that continue even after many years.

Although Roni moved to Fair Lawn at the age of 12 in 1955, her Paterson upbringing is still important to her. It gave her a sense of belonging where extended families lived together.
Roni Seibel Liebowitz

Roni Seibel Liebowitz speaks about life in Paterson.

Credit / Author:

Roni Seibel Liebowitz/NPS Intern Barbara Krasner

Date created:

2020-10-14 00:00:00.0
Interview Transcript
| | |
| --- | --- |
| Interviewer: | Okay, so today is November 20th. It is 10:34 am. This is Barbara Krasner and I'm on the phone with Roni Seibel Liebowitz, who has graciously agreed to this interview about growing up in Paterson. Good morning, Renee. |
| Liebowitz: | Roni. |
| Interviewer: | Roni, sorry. |
| Liebowitz: | I have to laugh, because you know Renee Steinig? |
| Interviewer: | Yeah, I know, and I keep getting the two of you confused. |
| Liebowitz: | Whenever we go to conferences, people call me Renee, they call her Rhoda, Roni. So we have a photo now of the three of us and whenever someone comes over and does it, we pull out—we each have a photo—we pull out the photo and say, which one did you want to talk to? |
| Interviewer: | Well, I apologize for that, sorry, Roni. |
| Liebowitz: | It happens all the time. |
| Interviewer: | So, I want to start with a rather broad question: Just tell me about your connection to Paterson. |
| Liebowitz: | Oh, my, really goes back. I was born there, and my mother was born there. I lived there until the summer between fifth and sixth grade when we moved to Fair Lawn, which was a rather common thing to do for people in Paterson. |
| Interviewer: | So, when, give me some years. |
| Liebowitz: | Some years, okay, I was born in December '43 and lived on Paterson on E. 26th Street between 10th and 11th, and we moved to Fair Lawn in the summer of '55. |
| Interviewer: | Okay. |
| Liebowitz: | I had finished fifth grade in Paterson. |
| Interviewer: | And what was your mother's name? |
| Liebowitz: | Thelma. |
| Interviewer: | And her maiden name? |
| Liebowitz: | [laughs] They used the spelling A-u-e-r-b-a-c-h, Auerbach. But, we know going back to the history in Poland, it was always Urbach, U-r-b-a-c-h. |
| Interviewer: | Okay. |
| Liebowitz: | And in fact, my grandfather used U-r-b-a-c-k, you know, it had more, one of the cousins used the spelling Auerbach in the early 1900s, and because it was a more prestigious name, I think, it has rabbinical connections… |
| Interviewer: | Yeah… |
| Liebowitz: | But yeah, my family is no connection with Auerbach, really, except some of them used that name. |
| Interviewer: | Okay, and where were they from in Poland? |
| Liebowitz: | She's my second cousin. |
| Interviewer: | I'm sorry? |
| Liebowitz: | Her husband, her family used Auerbach. |
| Interviewer: | And where was the family from in Europe? |
| Liebowitz: | My mother's, my maternal grandmother was from Bełchatów, and eventually moved to Lodz, where she met her second husband, my grandfather. Her first husband died in the Twenties [may mean his twenties]. And my, my maternal grandfather was from Wengrow (Węgrów), W-e-g-r-o-w, but pronounced Vengrove. And my father's family, they were the wanderers, though. They were supposedly from Klimontów, both the Klosses and the Seibels, but I'm finding, I think they were also, close family was also in Galitzia. |
| Interviewer: | And for the record, and for the tape, Galitzia was a part of Poland that was annexed by Austria-Hungary in the partitions of Poland. So, how did your family get to Paterson? |
| Liebowitz: | My, I think it was, let me think, about 1904 my maternal grandfather came over to the States to Lawrence in Massachusetts… |
| Interviewer: | And what was his name? |
| Liebowitz: | Because of the silk, the wool mills there. |
| Interviewer: | Right. What was his name? |
| Liebowitz: | And then brought over the family the following year, about 1905. And I think two children were born there. I think. Then my grandfather became allergic to wool, so they moved to Paterson, I think, I was trying to figure this out, it could have been around 1916, because my mother was born, my aunt, the one who's five years older, was born in Lawrence in 1913, but my mother, who was born in 1918, was born in Paterson. So I think I once found out something that indicated they moved, oh, it was one of the naturalization papers, I think they went to New Jersey in April of 1916. |
| Interviewer: | Okay. And what was your grandfather's name? |
| Liebowitz: | Jacob, he said Urback, U-r-b-a-c-k. |
| Interviewer: | Okay. And had he been involved in weaving in… |
| Liebowitz: | Yeah. He and his wife's brother, Phil, what was Przybilsky, but changed it to Bilsky in the States, or before they came over, they worked… |
| Interviewer: | So, Jacob came to New Jersey, came to Paterson, and he has a background in weaving in some way, and he was a mill owner. |
| Liebowitz: | On the loom, that's how he met my grandmother, he worked on the loom in Lodz. They met in Lodz. My grandmother's first husband, that's where they lived when they left Bełchatów. Most people when they left Bełchatów, they went to Lodz. And he worked with her on a loom and then they got married. |
| Interviewer: | Oh, that's nice. |
| Liebowitz: | Yeah. And I think the first child who was from the first husband born either right before or right after the first husband died. So she didn't know until she was 13 that my grandfather wasn't her real father. |
| Interviewer: | Oh, okay. Okay, and what was your grandmother's name? |
| Liebowitz: | Sara, and back in Poland, it was Przybilsky, P-r-z-y-b-i-l-s-k-a, Pryzbilska, different spelling. |
| Interviewer: | Okay. |
| Liebowitz: | And when they came over, it was changed to Bilsky. |
| Interviewer: | Right. |
| Liebowitz: | B-i-l-s-k-y. |
| Interviewer: | All right. So, he's got a broadsilk business… |
| Liebowitz: | Yeah. |
| Interviewer: | Did you know your grandfather? |
| Liebowitz: | Oh, yeah. I knew the maternal one, yeah. I didn't know my paternal ones at all. One died right before I was born and one right after. But, yeah, they in fact, where we lived, it was like a two-family house, but it was really three families, because the attic, there was a big attic apartment, it was made into an apartment, so I think my grandfather actually owned the building, and then my parents bought it, and so my parents lived in the second floor, where my mother actually grew up, and my grandparents lived above us, moved up to the, it was a regular size apartment in the attic. |
| Interviewer: | Yeah. Do you remember anything about the schools? |
| Liebowitz: | Oh, sure, I went to PS 21, and I had a sister then who had a heart condition and she died later on, but there were steps there, so actually she wasn't in school yet probably [inaudible] that was an issue. She was what was called a blue baby… |
| Interviewer: | Uh-huh. |
| Liebowitz: | Yeah, so I went to PS 21 and I had a lot of friends there. |
| Interviewer: | And tell me about your friends. Were they of similar or different ethnic backgrounds than you? |
| Liebowitz: | There was a mix. There were many who were Jewish. In fact, I wasn't in touch with, you know, I lost touch with many of the girlfriends who had married names now, so once I put up Jewish Roots in Paterson on Facebook, many of them joined and we reconnected, which was, you know, lovely. |
| Interviewer: | Yeah. |
| Liebowitz: | And we're still in touch, you know, I was young when I left, I was like 12… |
| Interviewer: | Yeah. |
| Liebowitz: | Years old, but still, it was fun being in touch again. And what really, I had a sister, after she was at Johns Hopkins for heart surgery, when she was, I was 12, she was 8, it was successful, but she was too weak, and she ended up dying as a result of it, and these people told me stories about my sister… |
| Interviewer: | Oh. |
| Liebowitz: | Which was wonderful, because I thought no one would remember her. |
| Interviewer: | Oh. |
| Liebowitz: | By then we were in Fair Lawn already. But I guess they heard about it, as a child you remember when someone your age dies… |
| Interviewer: | Yeah, yeah. |
| Liebowitz: | So many of them made comments, a few people wrote, oh, I used to play with your sister at your house on 26th Street, you know, that kind of thing. So that's one real plus about Facebook. |
| Interviewer: | Yeah. |
| Liebowitz: | Yeah. |
| Interviewer: | So, I think you mentioned you were born at Barnert? |
| Liebowitz: | Yes. |
| Interviewer: | Is that correct? |
| Liebowitz: | Yes. |
| Interviewer: | And where did the family go to shul (synagogue)? |
| Liebowitz: | In Paterson, it was Temple Emanuel. |
| Interviewer: | Okay. |
| Liebowitz: | I don't know how much they went. But yeah, it was the big one. |
| Interviewer: | And what do you recall about your family holidays? |
| Liebowitz: | Oh, they were always at my mom's house. We had the big Seder, you know, we're talking about Paterson, but yeah, I remember my aunts and uncles coming, and the tables being opened in the dining room to the living room, my grandfather would lead the Seder, and my cousin's who's my age, a few months apart, she would always come [inaudible] it was always a happy occasion. [inaudible] |
| Interviewer: | Okay. Did you have a lot of family in Paterson? |
| Liebowitz: | Yes. Yeah. That's what we miss now is the mobility of people. You have to get on a plane… |
| Interviewer: | Yeah. |
| Liebowitz: | To see them, but, I had an aunt, because they had to take my sister to Johns Hopkins once a year, you know, for the surgery… |
| Interviewer: | Yeah. |
| Liebowitz: | And so my grandparents were upstairs, they would, you know, be able to take care of me. My closest aunt, one of my closest aunts, lived down on 10th Avenue, which wasn't far, so I would see her often. And yeah, I had other relatives, Seibel relatives, my father's side, living in [inaudible] they all lived in Paterson. |
| Interviewer: | Did your parents meet in Paterson? |
| Liebowitz: | Yes. My mother was living at the house she was born in, you know, where I lived, at 453 E. 26th Street, and my father's sister was two doors down, and he came to stay with her at one time. She was married, and that's how they met. |
| Interviewer: | Oh, cool. |
| Liebowitz: | He'd pick her up outside after, she would go out on a date, and then she'd get home, the guy would pull away or whatever and leave, he would go spend time with her. [laughs] Cheap date. |
| Interviewer: | And was that before the war? |
| Liebowitz: | Pardon me? |
| Interviewer: | Was that before the war? |
| Liebowitz: | Yes, because I didn't meet my father until I was two years old. He was in the Navy. He was drafted. |
| Interviewer: | Okay. |
| Liebowitz: | South Pacific. |
| Interviewer: | Yeah. All right, and do you remember what school your mother went to? Did, I assume she also went to PS 21? |
| Liebowitz: | PS 21 as well and then she went to East Side High School. |
| Interviewer: | Uh huh. Right. And then she went to work? |
| Liebowitz: | East Side High School. |
| Interviewer: | Yeah, and then she went to work? |
| Liebowitz: | Oh, yeah, in fact earlier my grandfather, who had, he was going to take her out of high school, to work when she was at that age… |
| Interviewer: | Yeah. |
| Liebowitz: | The older sisters talked him out of it, so that she could finish high school. So she then became a bookkeeper. |
| Interviewer: | Okay. For the family business? |
| Liebowitz: | It was for, she worked, she didn't like him, she worked for my grandmother's brother, Bilsky, Phil Bilsky. |
| Interviewer: | Okay. All right, so do you remember anything about shopping in Paterson? |
| Liebowitz: | Oh, yeah. We went to Meyer Brothers, in fact, my husband, a friend of my husband's father was a manager of some department there, but I didn't know my husband yet, and there was Quackenbush across the street, and I remember going to Richie's Chinese restaurant on 10th Avenue. We were on 26th Street and that was 10th Avenue between 25th and 26th, and there was a deli on the corner of 10th Avenue and 26th, and oh, we always went to Toby's. Next-door neighbors owned it, the Taubs owned it. Brothers. That's where you'd get the hot dogs with everything on it… |
| Interviewer: | Yeah. Were they called Texas wieners? |
| Liebowitz: | No. |
| Interviewer: | No? |
| Liebowitz: | It was, oh, I don't remember the name, no, it was a different name. |
| Interviewer: | And do you remember any kosher butchers? |
| Liebowitz: | There was a kosher, on 10th Avenue, near, Bibsy's, there was a Bibsy's, one of my mother's friends' family owned it. It was a grocery store, and I'm pretty sure there was a kosher butcher right near there. I don't remember. |
| Interviewer: | Okay. Had you gone to the Great Falls? |
| Liebowitz: | Not often, yeah, I saw it, but you know, we didn't take trips to it or anything at all. |
| Interviewer: | Did you feel that Paterson was any kind of special place? |
| Liebowitz: | I don't know that I felt it at the time, but looking back, sure, but of course it was my childhood, so… |
| Interviewer: | Yeah. |
| Liebowitz: | You look back at that. And I can see now with so many people on the Paterson site on Facebook, the closeness, the connections going through East Side High School, because they all went to East Side High School, so there was something really special about that, yeah. I went to dance, a few of us went to Jackie Donovan Dance, which was also in Paterson, the other side of Paterson, and for the recitals, I took elocution, it's called drama… |
| Interviewer: | Yeah. |
| Liebowitz: | It was also at someone's house in Paterson. So, there was a lot going on there. |
| Interviewer: | Why did the family move to Fair Lawn? |
| Liebowitz: | Because it was a single house and that was the trend, I think. I don't know what was happening in Paterson, you know, I don't recall people moving in where we'd want to move out, people just, I guess, wanted their own homes rather than living in a two- or three-family house. |
| Interviewer: | Do you remember when your grandfather's business closed? |
| Liebowitz: | No. My mother was the youngest. The oldest one from the first marriage, she was pregnant the same time my grandmother was pregnant with my mother. |
| Interviewer: | Wow. |
| Liebowitz: | So, in fact, I think her sister had to talk her out of an abortion, because she was embarrassed that her daughter was pregnant at the same time. |
| Interviewer: | Ah. |
| Liebowitz: | So, I forget what we were talking about, what was your question? |
| Interviewer: | When the business closed. |
| Liebowitz: | I don't remember my grandfather going to work, so he was already retired. |
| Interviewer: | Uh huh. |
| Liebowitz: | Yeah, because she was the youngest. I just remember him making snow. Out of egg yolks, egg whites. |
| Interviewer: | Oh. |
| Liebowitz: | He'd make a pfannkuchen [pancake]… |
| Interviewer: | Yeah. |
| Liebowitz: | He used to make them at Passover and make it in our kitchen, and he would always tell me he was making snow, till they peaked. |
| Interviewer: | That's cute. |
| Liebowitz: | Yeah. I mean, you know, they spoke Yiddish. I don't know we communicated, I think I understood a lot of it. Now I wish I had continued. |
| Interviewer: | Yeah. |
| Liebowitz: | Of course, we all do, but he'd be down at our house quite a bit and I'd go upstairs sometimes on Friday night, just me, you know, my mother had my sister downstairs… |
| Interviewer: | And what was the Friday night like? |
| Liebowitz: | My grandfather was a Socialist, so he wasn't into synagogue or any of that. But my grandmother and her sister, my, her sister Rivka, older sister, used to go to the temple on the holidays. Not every Saturday, on the holidays. I don't remember, but my mother had told me that. So, I think Friday night was a special, more special upstairs. I think she lit candles, but I'm not 100 percent sure. |
| Interviewer: | Were there any traditional foods? |
| Liebowitz: | My mother wasn't a big cook, but because they didn't teach her, because she was the youngest… |
| Interviewer: | Yeah. |
| Liebowitz: | So, yeah, there was a certain vegetable soup, that maybe you even had the Manischewitz little packets, you know… |
| Interviewer: | Yeah. |
| Liebowitz: | It could have been that in it. And then we usually on Friday night would have chicken with the soup, and maybe gefilte fish. But my mother did not light the candles. I do, I started it when I had kids. |
| Interviewer: | Yeah. Was it homemade gefilte fish? |
| Liebowitz: | Oh, no. No. |
| Interviewer: | What do you want people of today's generation to know about Paterson? |
| Liebowitz: | Let me think. That it was, well, you know, when you think back to your childhood, I think we kind of glorify it a little bit… |
| Interviewer: | Yeah, yeah. |
| Liebowitz: | Since we were children. But I think of it as a very special place. When you read some of the things on Jewish Roots in Paterson, a lot of people, even those who faded, went to East Side High School, because families were still living close to each other, I think that was special. |
| Interviewer: | Yeah. |
| Liebowitz: | And that wasn't just Paterson, I guess that could have been Clifton or anyplace. Families tended to, you know, stay closer together than they do now. |
| Interviewer: | Yeah. |
| Liebowitz: | And because my mother's family was large, but it wasn't considered that big back then, I had lots of cousins. And it was just a sense of belonging. And even in the schools, I mean, there was a different relationship with the teachers, because you had one teacher, well, now I guess they still do that, but you just felt like this was where you belonged, you know. You'd go to like Toby's or some of the other places and you knew the people who worked there… |
| Interviewer: | Yeah. |
| Liebowitz: | Or you'd go to the supermarket, the grocery store rather, and I know the Berkowitzes, I mean, my mother played mah-jongg with their mother, you know, and then we'd go there and get our groceries, so it was just closely-knit that way. It felt that way to me. |
| Interviewer: | Well, you must have felt some connection in order to start Jewish Roots in Paterson. |
| Liebowitz: | Yeah, yeah. |
| Interviewer: | So why did you start that? |
| Liebowitz: | I guess, because I felt some connection. And that's when my own family was whole. I mean, I still had a sister. And that was very meaningful to me. Very difficult, which I denied. I kind of put it off. |
| Interviewer: | Yeah. |
| Liebowitz: | Recognize what I had gone through until later on, but afterwards when we were in Fair Lawn, she died when we were living in Fair Lawn already, my parents adopted my brother right from birth, because they tried to conceive and couldn't, and almost a year to the day later, my other sister was born. |
| Interviewer: | Oh. |
| Liebowitz: | So, that's why there's a huge age gap in our, you know, ages, 15 or 16 years apart. |
| Interviewer: | Yeah. |
| Liebowitz: | They're a year apart. And what I liked about that, also on Jewish Roots in Paterson, which I didn't anticipate, was that people would write to me, tell me about things they did with my sister. |
| Interviewer: | Yeah. |
| Liebowitz: | So that was special. |
| Interviewer: | So how long has that page been running? |
| Liebowitz: | Well, it's changed a lot which really bothers me. We used to, it used to be, I don't know if you know the original Groups on Facebook. It used to be we had discussion topics, so someone could go back and see like if they talked about what schools they went to. Now it seems every few weeks or so the same thing is repeated because new people join and they don't know all this has been said already. |
| Interviewer: | Yeah. |
| Liebowitz: | And several of the pictures have disappeared that were originally on it. I had a lot of class pictures up, which I keep saying I'll redo. So it's kind of changed its focus. We had a group about genealogy, you know… |
| Interviewer: | Yeah. |
| Liebowitz: | Topics that people would keep adding to, so you wouldn't have the same thing over and over again. |
| Interviewer: | Okay. Is there anything else you want to say about growing up in Paterson? |
| Liebowitz: | I'll probably think of something after we hang up. I think part of the reason it was special was because families…oh, the other thing, women didn't work, or very few worked. So the mothers were friends, the mothers were on the block, you know, and you knew the other mothers on the block and they became friends, and it was like, it's not like now, every two doors down I don't know who the people are. |
| Interviewer: | Yeah. |
| Liebowitz: | I knew everyone on that block. We were on 26th between 10th and 11th. I could do down each house, so that was another, in fact, we used to play across the driveway, I remember Toni dolls, our generation, yeah, Toni dolls… |
| Interviewer: | Toni? |
| Liebowitz: | And we used to play in the window… |
| Interviewer: | Oh. |
| Liebowitz: | Like puppet shows across the driveway, and now you live in these houses with all the lawns around them and everything, it's just [laughs] you gain something and you lose something. |
| Interviewer: | Yeah. Besides the dolls, do you remember any other games you played? |
| Liebowitz: | Oh, yeah, we played on the stoop with a ball, you know, because we had a few steps going up to the two doors going up to the different floors… |
| Interviewer: | Uh huh. |
| Liebowitz: | We would play with the, throw the ball, against the stoop. |
| Interviewer: | Right. |
| Liebowitz: | I forget what you call it, that was part of it. And hopscotch, that was very popular, and we played dress-up a lot, putting on shows when company… |
| Interviewer: | Yeah. |
| Liebowitz: | I would do that. And, what else? Oh, jumping rope was also, things were done out on the street. |
| Interviewer: | Yeah. |
| Liebowitz: | It wasn't like organized, you know, games like what the kids have now. They don't know what to do if the coach doesn't show up. |
| Interviewer: | Yeah, yeah. |
| Liebowitz: | A bunch of kids went with their baseballs and their bats to practice, you know, elementary school, they all got there and the coach didn't come, so what did they do? They went home. And all these bats, they could have had a pick-up game. |
| Interviewer: | Yeah. |
| Liebowitz: | They don't do that anymore. So… |
| Interviewer: | Did you ever go to West Side or East Side Park? |
| Liebowitz: | Oh, yeah, we went to East Side Park. Yeah, we went to East Side Park. |
| Interviewer: | And what did you do there? |
| Liebowitz: | I don't remember. I can't think of anything in particular. Yeah, walking, hiking around it. |
| Interviewer: | Okay, do you remember Hinchliffe Stadium? |
| Liebowitz: | No. |
| Interviewer: | Barbour's Pond? |
| Liebowitz: | Which pond? |
| Interviewer: | Barbour's. |
| Liebowitz: | No. |
| Interviewer: | Garret Mountain? |
| Liebowitz: | I remember Garret Mountain, but I don't remember being there or going there, but I remember what we did. Hiking. |
| Interviewer: | Okay, okay. Well, if you remember anything else, you can always send me an email. |
| Liebowitz: | Okay. |
| Interviewer: | I will send you the forms. |
| Liebowitz: | [inaudible] |
| Interviewer: | I'm sorry? |
| Liebowitz: | I don't remember meeting my father when I was two years old. |
| Interviewer: | Well, you were just two. |
| Liebowitz: | Yeah. |
| Interviewer: | So what I will be doing is writing up a little story for the web and then probably pieces of this interview will be on the website also. |
| Liebowitz: | Okay, let me know when. |
| Interviewer: | Okay. |
| Liebowitz: | Very good. |
| Interviewer: | Thank you. It is now just a little after eleven, so thank you, Roni, but stay on the line for a minute, I'm just going to close out. |
| Liebowitz: | Okay. |
| | END |
Last updated: June 19, 2019