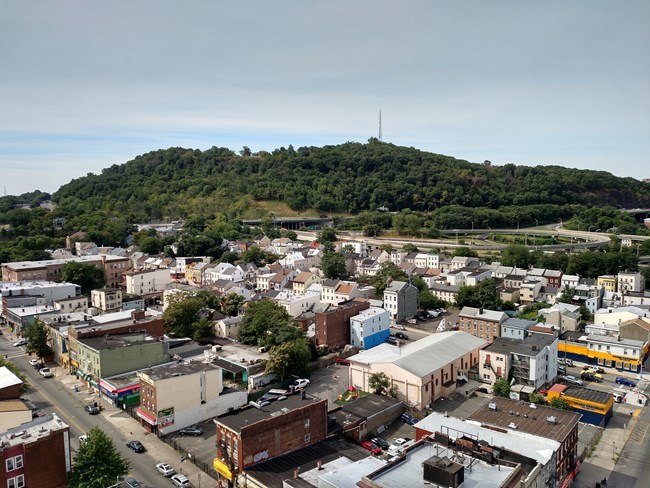 Little Dublin - An early 19th century Irish immigrant neighborhood in Paterson.
Alexander Hamilton founded Paterson to serve as the nation's first industrial city, and an industrial city needs workers. That demand in a still sparsely populated rural nation began to be filled by the Irish, who began arriving in sizable numbers around 1820. The Irish eventually left an indelible stamp on the young city, giving the name Dublin to one of the city's first immigrant neighborhoods. In doing so, they inaugurated one of the first waves of immigrants in a trend that continues to this day.
The first Irish to arrive in North America were predominantly Scots-Irish, Presbyterians from the Province of Ulster who fought bravely for the Continental Army in the Revolution and eventually settled in the Appalachian Mountains to farm small tracts of land. Their influence can still be heard in the Celtic scales and rhythms of American folk and country music.
As the nation grew in the 1820s it needed workers to build the Erie Canal and Morris Canal, and these projects as well as the need for factory workers began to attract poor Irish Catholic immigrants, who had limited rights in their homeland under British rule. When they came to Paterson, they settled in walking distance of the mills that were served by the raceway from the falls. Their neighborhood was in the area west of Main Street, bordered by Mill Street, Van Houten Street and Oliver Street. The numbers of Irish grew steadily as Paterson grew and as waves of immigrants began to flee Ireland in the wake of the Great Famine of the 1840s. Eventually the Irish neighborhood became known as the Dublin section. For decades inhabitants of the area drew water from a spring at the intersection of Mill and Oliver Streets which became known as the Dublin Spring.
Though there are still many people who grew up in Paterson who remember the name Dublin section, the area has been transformed, both by highway construction and by subsequent waves of new immigrants. In the second half of the 19th century Italian immigrants began to move in and around the Dublin section, and there is still a small enclave around St. Michael's Church on Cianci Street. In an interesting twist, an Italian American artist, Gaetano Federici, created a sculpture of a boy with a canteen to commemorate the Dublin Spring. The sculpture sat at Mill and Oliver Streets for decades until it was moved to a plaza on Oliver to make way for highway construction. Today much of what was the Dublin section has been replaced by Little Lima, populated by immigrants from Peru. So the tradition of new immigrants continues, two centuries after the first wave of Irish came to stay.
Written by Volunteer Tim

For further reference:
http://www.rootsweb.ancestry.com/~njpchsgc/pce/dublin_sect_paterson.htm
http://www.lambertcastle.org/dublinspring.html
http://sites.bergen.org/ourstory/Resources/industrialrevolution/paterson/primarysources/alexander_library/walkingtourpaterson.pdf
The Irish Americans: A History by Jay P. Dolan, 2008, Bloomsbury Press
http://www.patersonnj.gov/department/division.php?structureid=123
http://federicicollections.com/index.html
Federici Walking tour map
http://federicicollections.com/walkingtour.html